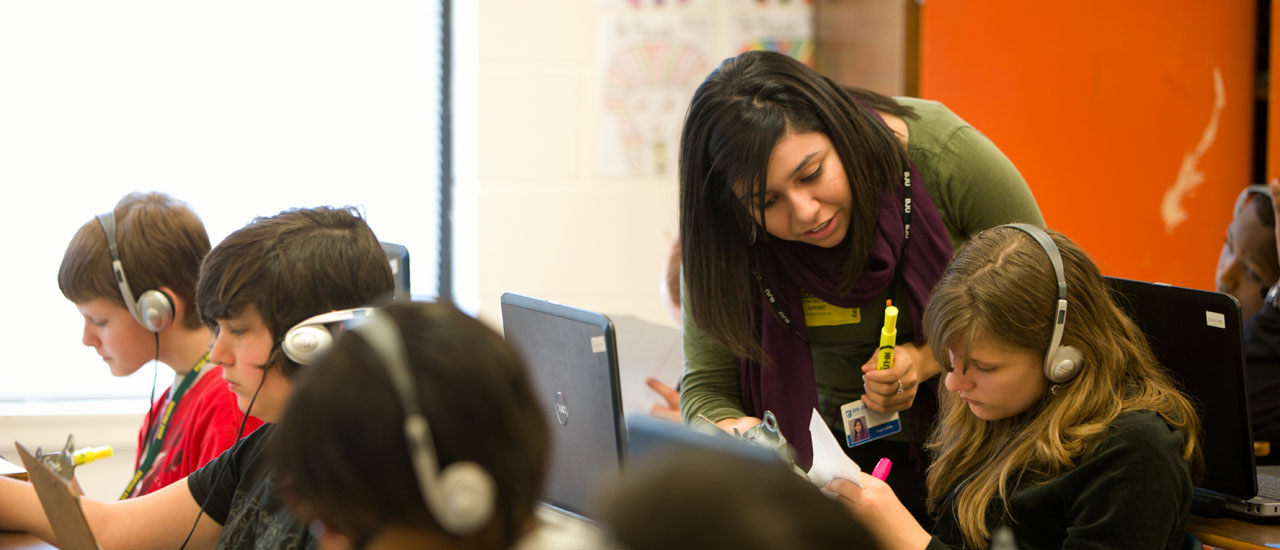 Middle School Education
Bachelor of Science
Our program meets Association for Middle Level Education standards and is approved by the S.C. Department of Education.
Are you interested in influencing young people as they transition from childhood to adolescence? Studying middle school education at Bob Jones University will prepare you to be an effective, innovative and Christ-centered educator at one of the most exciting times in young people's lives.
The program meets AMLE (Association for Middle Level Education) standards and is approved by the South Carolina Department of Education, leading to initial South Carolina state licensure (certification to teach grades 5-8 in a public school setting). Graduates have gone on to teach all over the United States and across the world.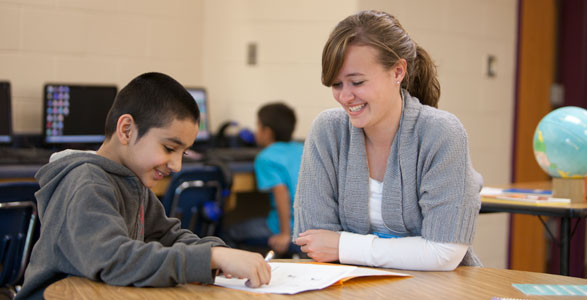 Program
If you're specializing in language arts/social studies, you'll enjoy classes like Teaching Adolescent Literature and National Government. If you're specializing in math/science, you'll enjoy classes like Theory of Geometry and General Geology. For both tracks, education classes such as Classroom Communication, Teaching Reading in the Content Areas, and Middle School Curriculum & Organization will prove invaluable as you prepare to teach.
Our methods classes will challenge you to think outside the box. You'll learn many effective educational strategies as well as receive training in the most up-to-date educational technology, providing even more exciting tools to help your students learn.
Most important, you'll gain plenty of real-life experience in the classroom through practicum and clinical practice.
BJU Core
You'll also benefit from the BJU Core, a unique combination of Bible and liberal arts courses taken by every BJU student. Bible courses, as well as daily chapel services and godly professors, will nurture your growth in Christlikeness. Liberal arts courses will broaden your horizons and equip you with skills essential both for teaching and for all of life—skills such as critical thinking and problem-solving, effective communication, ethical decision making, adaptability and much more.
Electives
Because the middle school education program is comprehensive, there are no electives included. However, you can take online courses during the summer to free up your class schedule during the semester.
You may expand your teaching credentials by taking classes required for certification in a high school subject area (in addition to taking the Praxis II tests for that subject area). You may also supplement your program with classes related to your subject area, such as creative writing or computer science. Or you may choose to fit in extra classes according to your personal interests.
Rachel Powell, '10
Substitute teacher for Alexandria City Public Schools, Alexandria, Va.
The education program thoroughly prepared me with the necessary content knowledge and educational experience to teach middle school students effectively. If you are looking for a high-quality education program from a biblical worldview, I would highly recommend BJU.

My training at Bob Jones University equipped me for the classroom through the excellent balance of education courses and core content courses. Learning educational strategies and how to use technology effectively, including how to create quality PowerPoint presentations and original bulletin boards, helped me immensely during my first year of teaching.

An extremely helpful part of the education program was the ability to get hands-on experience in the classroom. I loved getting helpful feedback on my lessons from veteran teachers, as well as my BJU supervisors. Student teaching gave me wonderful opportunities to practice my classroom management skills and to gain experience presenting quality, engaging lessons. Having the opportunity to create long-term lesson plans, assess student work, and attend school staff meetings was immensely helpful in familiarizing me with the day-to-day responsibilities of a classroom teacher.
Jobs
The following is a sample of careers our graduates have pursued.
Teacher in public, private or Christian elementary school
Teacher in public, private or Christian middle school
Missionary teacher
Homeschool teacher
Daycare or preschool worker/administrator
Instructional coordinator
Released-Time Bible teacher
Early interventionist
Worker/director of community development program
Worker/director of camp program
Graduate Experience
Our graduates have held various positions including:
Language arts/social studies teacher, Northwood Middle School, Greenville, S.C.
5-6th grade teacher, Arrowhead Christian Academy in Glendale, Ariz.
English teacher, Shanghai Institute of Health Sciences, Shanghai, China
Math/science teacher, Northwest Middle School in Travelers Rest, S.C.
Math/science teacher, Seoul Christian School, Seoul, South Korea
Language arts/social studies teacher, Berea Middle School, Greenville, S.C.
Career Support Assistance
BJU offers students a variety of ways to network with employers and organizations. A multitude of job opportunities are posted each year on CareerCentral, our online placement service.
At the annual Christian School Recruitment Conference, representatives from approximately 60 Christian schools—across the United States and overseas—visit our campus to present their ministries, network with students and conduct interviews with prospective graduates. The Career Services office also helps students by holding seminars on resume preparation and interview techniques.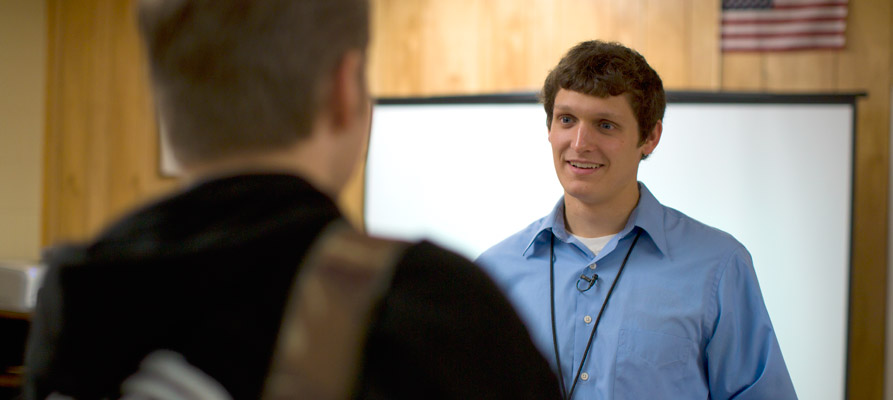 Clinical Practice
Both content knowledge and classroom experience are essential for confident teaching. Your teaching preparation moves gently from classroom observations to after-school tutoring to practicum two mornings a week. Meanwhile, your methods classes will give you plenty of practice in lesson planning.
By the time you begin your clinical practice your senior year, you will be well prepared with numerous lesson plans under your belt and at least 100 hours of classroom experience. Clinical practice, the capstone experience of your teaching preparation, gives you the opportunity to work with a mentor teacher in a local public school and receive timely feedback in weekly meetings with a BJU professor. This semester of clinical practice, along with completion of required classes, passing scores in the PRAXIS II exam and a favorable recommendation, leads to South Carolina state teacher licensure for grades 5-8.
Washington Center Challenge Day
Every fall Bob Jones University hosts the Special Olympics Developmental Games for students from Washington Center, a school for children and young people with severe mental disabilities. Education students from BJU assist the student athletes in activities and games as the athletes' families and teachers cheer them on.
Community Service Council
Through the Community Service Council, education students at BJU are able to assist with many community events for children, including Enchanted Tracks and field days at various elementary schools in town.
University Educators Association
The University Educators Association provides programs and activities that complement BJU's teacher preparation program.
Professional development. Students have the opportunity to hear speakers who are experts and practitioners in their particular field.
Opportunities to attend Christian School Teachers' Conventions and other professional meetings.
Provision of professional materials.
Social interaction with other future teachers.
Opportunities to serve and to enlist others to participate in BJES Field Day activities and other educational functions.
Faculty
No matter which subject area you choose to focus on, you will find your teachers experienced in and passionate about their field. Many of your faculty have a terminal degree in their field and all have years of teaching experience.
Even more importantly, all of your faculty approach their subject from a Biblical worldview, whether it is teaching a recent six-day creation, tracing God's sovereignty in history, evaluating literature in light of God's Word or believing that mathematical truth depends on and comes from God.
Sample Course Outline
1st Year
2nd Year
English Elective (3 credits)
Electives (3 credits)
3rd Year
English Elective (3 credits)
Electives (1 credits)
4th Year
Program
BJU Core
Elective
Program Objectives
Each student will:
Work collaboratively with families, community, colleagues and other partners.
Design lessons with assessments that address variation in learning styles, developmental levels, ability levels and diversity among young adolescent learners.
Apply the central concepts, tools of inquiry, standards and structures of content in their chosen teaching fields.
Describe the major concepts and principles underlying foundations of middle level education.
What's my next step?