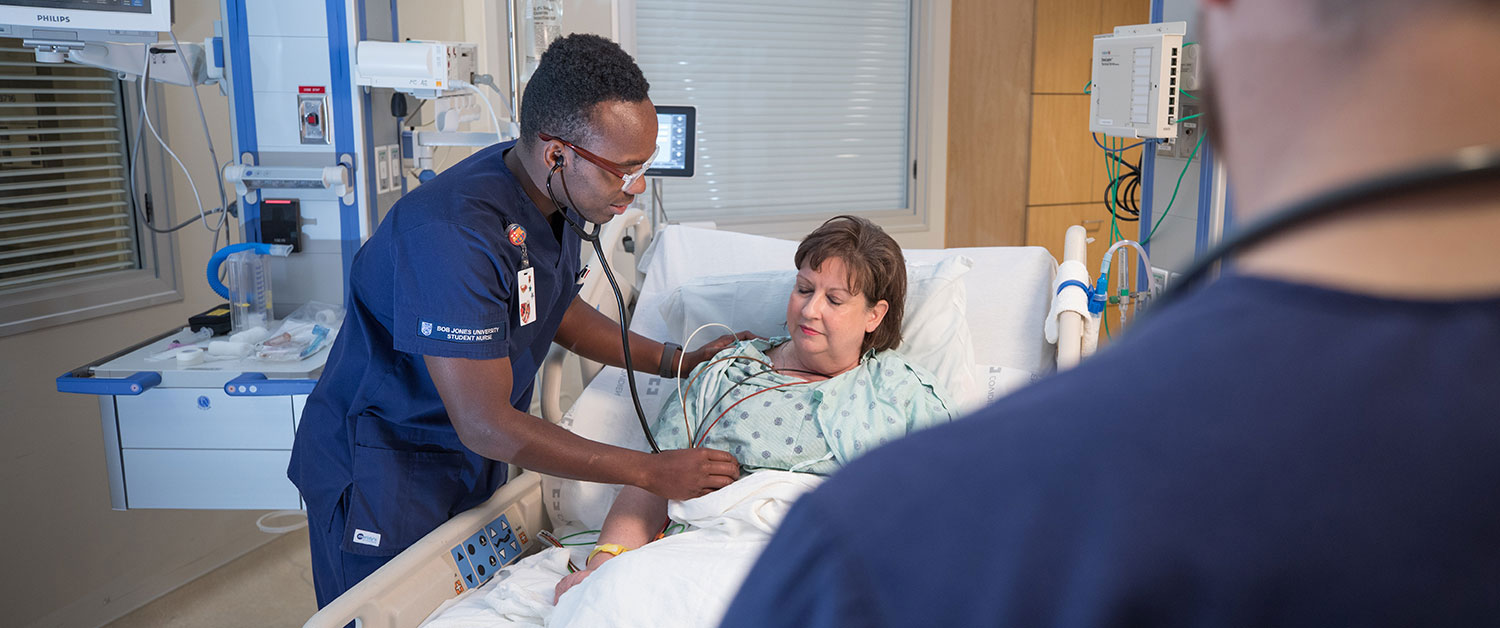 Nursing
Bachelor of Science in Nursing
Program Overview
As a nurse you'll have the chance to transform a patient's experience—just by the way you administer medication, treat wounds, communicate essential information, provide emotional support and so much more.
Through the challenging classes and clinical program at BJU, you'll be equipped with the skills and the confidence you need to succeed. But beyond that, you'll be inspired to view nursing as a calling, not just a career. To view your patients as souls, created in the image of God. To view your daily tasks as a chance to show Christ's love in tangible ways.
Your Future
The nursing major at BJU opens the door to many career possibilities including:

Nursing fields

Anesthesiology
Acute Care
Cardiology
Cardiovascular ICU
Dialysis
Emergency Department
Labor/Delivery
Long-term Care
Medical Missions
Medical Surgical ICU
Neonatal ICU
Neuro-trauma ICU
OB Clinical Nurse Education
Operating room
Oncology
Orthopedics
Pediatrics
Rehabilitation
Wound Clinic

Public and private hospitals
Doctors' offices
Missionary service
Nursing homes
Health departments
Rehabilitation centers
School nurse
Public health nursing
Large teaching hospitals
Other community services
Career Support
BJU offers students a variety of ways to network with employers and organizations. A multitude of job opportunities are posted each year on Career Central, our online job board. In addition, more than 60 businesses and 150 Christian schools/mission boards/Christian organizations come on campus to recruit students through on-campus interviews and job/ministry fairs.
Career Services also helps students by holding seminars on resume preparation and interview techniques.
Accreditation & Recognition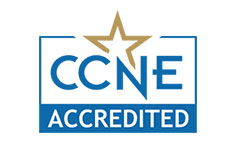 The baccalaureate degree program in nursing at BJU is accredited by the Commission on Collegiate Nursing Education (ccneaccreditation.org).
The nursing simulation lab has received provisional accreditation from the Society for Simulation in Healthcare (ssih.org).
Our nursing program is approved by the South Carolina Board of Nursing.
Testimonials
Marie Bell, '17
I love that that working in healthcare gives us the privilege of getting to know our communities in such a personal way. In nursing, specifically for me in the emergency department, we are placed in a unique position. We don't have to find hurting people to minister to—they come to us! To me it is a beautiful stewardship; not because I am doing anything special, but because God lets us see and be a part of what He is already doing in the lives of others. My heart's prayer is for discernment and a skillful hand, to be a reflection of the love, joy and peace that comes through Christ, and to be a blessing to those God brings through our doors.

Looking back on my time at BJU, I am so grateful for the MANY clinical opportunities we had in so many settings. The strong background in critical thinking, nursing procedure, chemistry, physiology and pathology laid a foundation to now apply hospital policy and procedure.

As a student, I was able to travel with Medical Missions Outreach to Guyana, Honduras, and the Dominican Republic doing week-long medical and vision clinics. After graduation I was been able to go again with MMO to Tanzania, this time as a nurse! This year I will be going to Peru and later to India to serve with the medical team and local churches there. A particular joy of mine in nursing since graduation has been volunteering at our local pregnancy center and training to be a nurse sonographer for limited obstetric ultrasounds.

I am grateful for the time I had to learn and see what nursing CAN BE, and now for the privilege to use it.
Learning Experience
As a nursing student at BJU, you'll gain a solid academic foundation through intensive courses such as Human Anatomy & Physiology, Pharmacology and Microbiology (to name just a few).
You'll also gain important hands-on experience through a patient simulator lab with adult, maternal, child and newborn simulators, providing as life-like an experience as possible, complete with breath sounds and vital signs.
Before graduating, you'll complete six semesters of clinical experience (most RN programs feature only four semesters of clinicals). Practicum, a capstone experience during your senior year, will solidify your nursing skills and judgment, as well as give you opportunities for development of leadership and management skills.
To ensure your success, you'll use ATI as a resource to supplement your mastery of nursing school content; track your progress and ultimately prepare to pass the state board NCLEX exam.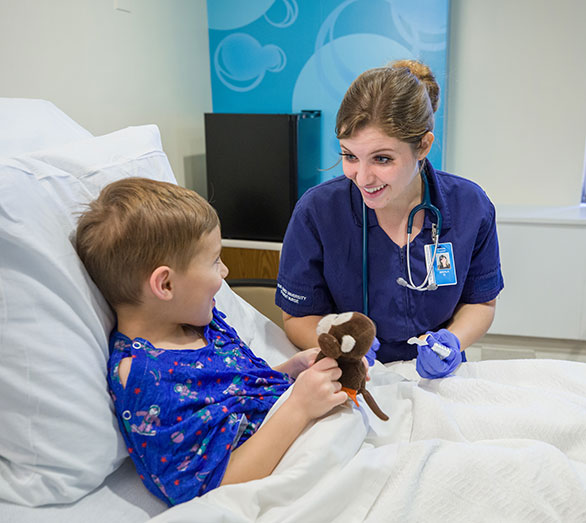 BJU Core
You'll also benefit from the BJU Core, a unique combination of Bible and liberal arts courses taken by every BJU student. Bible courses, as well as daily chapel services and godly professors, will nurture your growth in Christlikeness. Liberal arts courses will broaden your horizons and equip you with skills essential both for nursing and for all of life—skills such as critical thinking and problem-solving, effective communication, ethical decision making, adaptability and much more.
Electives
The nursing program is highly specialized, leaving little room for elective classes. However, nursing faculty members do encourage nursing students to take extra counseling, ministry or Bible classes as they are able, in order to further prepare themselves for serving the Lord.
Minimum Requirements for Acceptance into Clinical Nursing Courses
Successful completion of the following courses with a final grade of C- or above (preferred: A or B)

Bio 102: Principles of Biology
Bio 303: Human Anatomy and Physiology
Chm 105: Foundations of Chemistry

Successful completion of the ATI (Assessment Technologies Institute) TEAS Nursing Pre-Admission Test (offered in the spring semester of each year). Students with an Academic Preparedness Level of Proficient will be given first priority for admission into clinical nursing courses.
GPA: Student must maintain a grade point average of 2.75 or above at BJU or in coursework transferred to BJU.
Interview with the Division Chair as needed.
Recommended: An ACT score of 20 or above on the math, science and composite areas (must be from a single test). The preferred composite ACT score: > 23.
Transferring into the Nursing Program
Transfer students who meet the prerequisites listed above and desire to enter clinical courses directly should complete the following steps to be considered:
Request all official transcripts be sent to the Registrar.
The deadline to complete the prerequisites and the steps listed above is April 1 to be considered for the following fall semester and August 1 to be considered for the following spring semester. Students who have questions or concerns may contact the Chair of the Division of Nursing.
---
Faculty Spotlight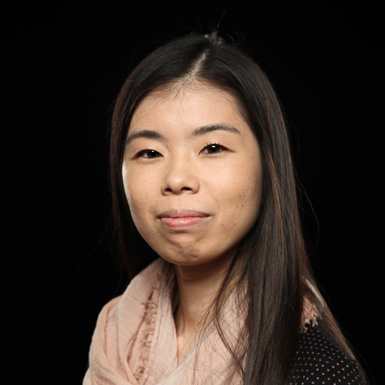 Ai Kato holds a bachelor's degree in nursing from BJU and a master's degree in nursing from Gardner-Webb University. Her classes include Nursing Research and Health Assessment.
Courses/Objectives
Program Objectives
Each student will:
Implement safe patient-centered care that integrates critical thinking, problem-solving principles and evidence-based practice across the lifespan and in all healthcare settings.
Utilize appropriate biblical worldview and ethical principles when applying clinical reasoning and judgment to make decisions and solve problems in the healthcare field.
Utilize interpersonal communication skills in order to establish and maintain therapeutic and collaborative relationships in the healthcare setting.
Demonstrate accountability for personal and professional behavior.
Apply leadership principles to the management of care including collaboration with clients and healthcare professionals.