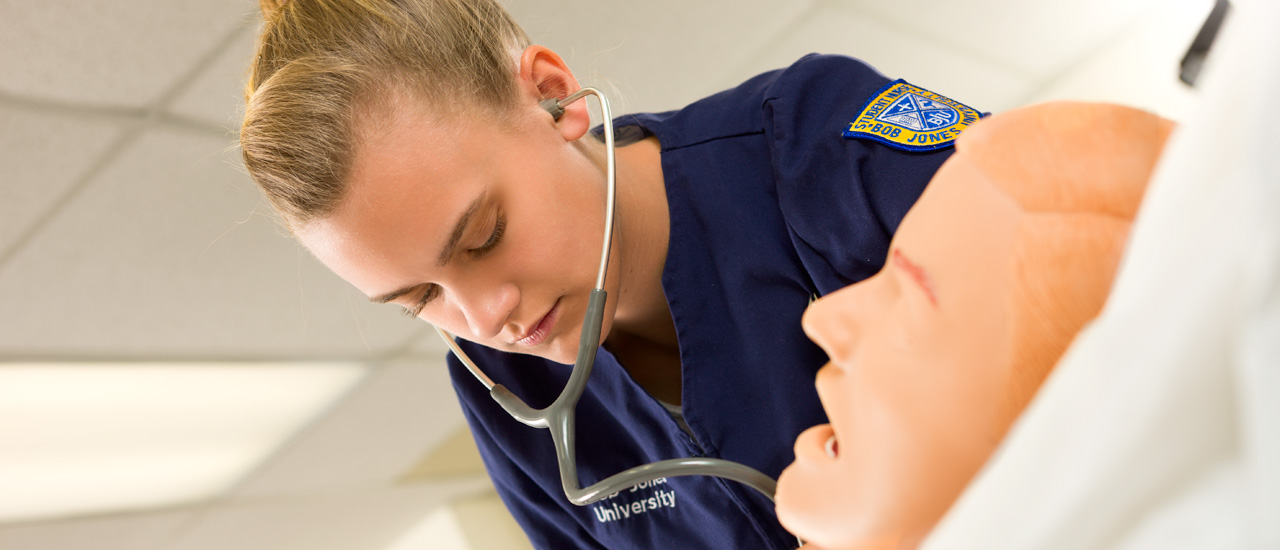 Nursing
Bachelor of Science in Nursing
BJU's nursing graduates have typically outscored state and national NCLEX pass rates for more than a decade.
Through professional faculty, a challenging clinical program and a biblical approach to the nursing profession, BJU's nursing program will equip you to serve the Lord as a skilled, confident and compassionate nurse.
Our cumulative NCLEX pass rate since 2002 is above 95%, and our graduates typically outperform national and South Carolina pass rates.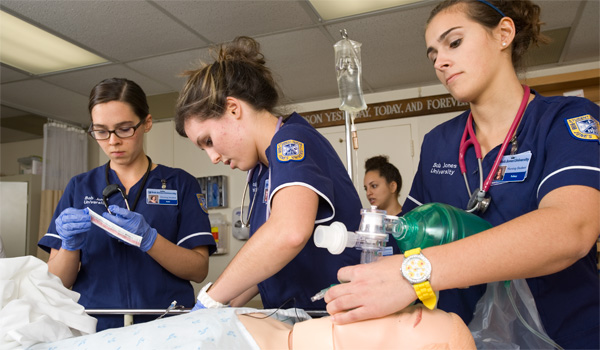 Program
As a nursing student at BJU, you'll gain a solid academic foundation through intensive courses such as Human Anatomy & Physiology, Pharmacology and Microbiology (to name just a few). You'll also gain important hands-on experience through a patient simulator lab with adult, maternal, child and newborn simulators, providing as life-like an experience as possible, complete with breath sounds and vital signs.
Before graduating, you'll complete six semesters of clinical experience (most RN programs feature only four semesters of clinicals). Practicum, a capstone experience during your senior year, will solidify your nursing skills and judgment, as well as give you opportunities for development of leadership and management skills.
To ensure your success, you'll have
a Kaplan Integrated testing program, which includes multiple standardized tests during the junior and senior years to monitor student progress and identify students who need extra remediation to help them succeed, and
a full-year NCLEX-RN review course, including a live review course at the end of the senior year.
BJU Core
You'll also benefit from the BJU Core, a unique combination of Bible and liberal arts courses taken by every BJU student. Bible courses, as well as daily chapel services and godly professors, will nurture your growth in Christlikeness. Liberal arts courses will broaden your horizons and equip you with skills essential both for nursing and for all of life—skills such as critical thinking and problem-solving, effective communication, ethical decision making, adaptability and much more.
Electives
The nursing program is highly specialized, leaving little room for elective classes. However, nursing faculty members do encourage nursing students to take extra counseling, ministry or Bible classes as they are able, in order to further prepare themselves for serving the Lord.
Accreditation & Recognition
Our nursing program is approved by the South Carolina Board of Nursing.
The baccalaureate degree in nursing at Bob Jones University is a new applicant pursuing initial accreditation by the Commission on Collegiate Nursing Education, One Dupont Circle, NW, Suite 530, Washington, DC 20036, (202) 887–6791. New applicant status is neither a status of accreditation nor a guarantee that accreditation will be granted.
Erick Duprey, '06
My nursing degree has opened doors for me in the area of mission work. My family serves as missionaries in the remote, isolated mountain villages of Papua New Guinea (PNG). There is almost zero access to medical care/treatment in most villages. I am able to help people physically, build relationships with them­, and direct them to the Great Physician of the soul!

As a missionary in PNG, I wanted to help people physically—but also spiritually as well. I went back to BJU and received a master's in biblical counseling in May 2012. I also completed a one-year internship and ordination program at my home church. I was then ordained into the ministry in April 2013.
Jobs
The nursing major at BJU opens the door to many career possibilities including:
Public and private hospitals
Doctors' offices
Missionary service
Nursing homes
Health departments
Rehabilitation centers
School nurse
Public health nursing
Large teaching hospitals
Other community services
Nursing fields

Anesthesiology
Acute Care
Cardiology
Cardiovascular ICU
Dialysis
Emergency Department
Labor/Delivery
Long-term Care
Medical Missions
Medical Surgical ICU
Neonatal ICU
Neuro-trauma ICU
OB Clinical Nurse Education
Operating room
Oncology
Orthopedics
Pediatrics
Rehabilitation
Wound Clinic
Graduate Schools
Our nursing graduates have been accepted into graduate schools including:
Binghamton University
Carson-Newman College
Clemson University
Columbia University
Emory University
Gardner-Webb University
Grand Canyon University
IUPUI (Indiana University—Purdue University Indianapolis)
Kaplan University
Medical University of South Carolina
Midwestern University
Richard Stockton College
Rush University
University of Arkansas for Medical Sciences
University of Illinois
University of Phoenix
University of South Carolina — Columbia
Valparaiso University
Vanderbilt University
Graduate Experience
Our graduates are currently working in a variety of nursing specialties, including:
Neonatal Nurse Practitioner with Pediatrix Medical Group of Tennessee, Nashville, Tenn.
Clinical Nurse Educator, Greenville Hospital System, Greenville, S.C.
Staff Nurse/Cardiovascular Intensive Care Unit, Spartanburg Regional Medical Center, Spartanburg, S.C.
Missionary Nurse (Family Nurse Practitioner), Gospel Fellowship Association, Papua New Guinea
Certified Hyperbaric Registered Nurse/Case Manager, Peninsula Wound and Hyperbaric Center, Salisbury, Md.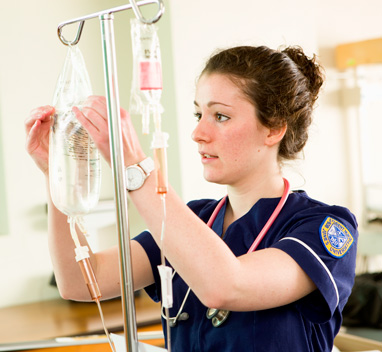 Career Support
BJU offers students a variety of ways to network with employers and organizations. A multitude of job opportunities are posted each year on Career Central, our online job board. In addition, more than 60 businesses and 150 Christian schools/mission boards/Christian organizations come on campus to recruit students through on-campus interviews and job/ministry fairs.
Career Services also helps students by holding seminars on resume preparation and interview techniques.
SimMan Patient Simulator
Several high-fidelity patient simulators—adult, maternal, child and newborn—are used in conjunction with a computer program to simulate the symptoms and reactions of an actual patient. The SimMan is manufactured by Laerdal Medical and is designed to aid in the teaching of skills pertaining to airway, breathing, cardiac and circulation management.
3-year Clinical Program
An essential part of your education as a nurse is three years of clinical courses, including a full semester of critical care courses and a 6-week practicum. That means that throughout your program you'll be working at local Greenville hospitals, such as Greenville Health System, Spartanburg Regional Healthcare System and Bon Secours St. Francis Health System.
University Nursing Association
The University Nursing Association is a student organization that gives all students in the nursing program a chance to build relationships with each other, encourages them as they face the challenges of their program and the nursing profession in general, and provides nursing services to the community as well. Functions of the UNA include organizing community outreach projects, student development opportunities, and fundraising projects.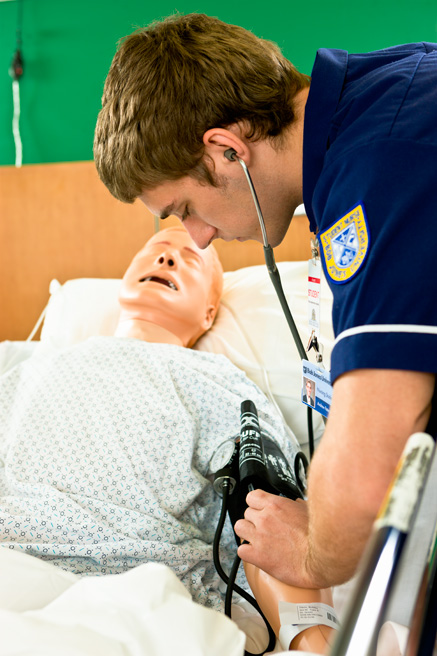 Nurses Pinning Ceremony
For nursing students, the pinning ceremony is the capstone of years of hard work and diligent preparation—and the commencement of a life of ministry through their chosen profession. Surrounded by family and friends, the new nursing graduates receive a pin in the shape of a cross and a Florence Nightingale lamp, and recite a pledge to serve God and others through nursing.
Mission Trips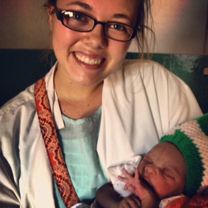 Holly Helm, '14
I went to Chad, Africa, with Dr. Joy Hart from Baptist Mid-Missions over summer of 2012 for a month. I learned SO much, assisted the African midwives in many baby deliveries, went on home visits to AIDS patients, and got to be in the OR at the hospital there. The biggest thing to see was that the AIDS patients didn't even have $2 a month for their medicine, so they would stop taking it and just get worse and worse; I saw patients who were so weak they couldn't even move and they looked like a skeleton. It was very hard to see but also gave me such a burden for those around the world.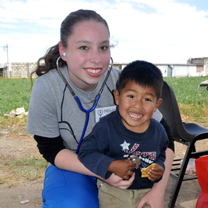 Megan Gibson, junior
Medical Missions Outreach — Arequipa, Peru — Summer 2013
We were able to treat almost 3,000 patients, and 909 made professions of faith. It was an amazing experience, and the Lord taught me so much through it. One thing that really stood out to me was the role the medical field can play in the Great Commission. Each morning, hours before the clinic opened, people would race down the gravel pathway to get in line. Several traveled from hours away, took time off work and kept their children out of school for the day so they could come to the clinic. Many of these people probably would not have attended a normal church service, but because they had a medical need, they were willing to come to a Christian clinic.
After treating their medical need, we had the opportunity to share with them their spiritual need, a need for a Savior. The Lord showed me that the talents and interests He gives us are the tools He has provided us to share the Gospel. As I continue my nursing education, I now have a much greater goal in mind. No longer am I just preparing for a career, but I am preparing for my role in sharing the Gospel. This coming summer I have the opportunity to serve on another trip with Medical Missions Outreach to San Pedro Sula, Honduras. I am excited to see how the Lord will work there.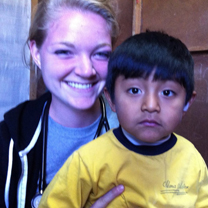 Claire Gamache, senior
Medical Missions Outreach — Peru — Summer 2013
We set up a 4-day clinic with the goal of establishing contacts with the local people for missionary David Gardener to get in touch with after we left. Each person who came through was given the Gospel. Many came to Christ, and hopefully, through the contact information they gave, they were followed up with and plugged into one of the 35 church plants there.
I realized just how broad the field of nursing is. You also have a lot more freedom in the medical field (depending on the place you go) compared to here in the states. I also learned what a tool nursing can be when you go into it with the right mindset. Yes, we went to Peru ready to help [meet] people's physical needs, but what we really wanted to do was help them spiritually. Most people came to get physical help, but by the grace of God, many left the clinic having been healed by the Great Physician. This trip really opened up my understanding to the responsibility that I have to share the Good News of Jesus Christ [with] all the world. Whether that is here in the U.S. or out abroad somewhere, I do not know. But I do know that I don't have to wait. It starts now.
Faculty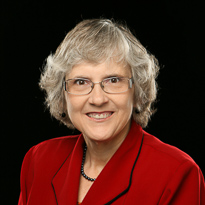 Suelane Hannah
Division of Nursing and Health Science
With advanced degrees in nursing as well as years of experience in a wide variety of fields—labor & delivery, geriatrics, medical-surgical intensive care, medical missions, community health and more—the nursing faculty at BJU know the demands and difficulties of nursing. And they're committed to preparing you to face any situation.
They are also passionate about serving Christ through nursing—and about transmitting that passion to you. Through their examples, you'll be inspired to view nursing as not just a career, but also a God-given ministry and calling.
Sample Course Outline
Program Objectives
Each student will:
Implement safe patient-centered care that integrates critical thinking, problem-solving principles and evidence-based practice across the lifespan and in all healthcare settings.
Utilize appropriate biblical worldview and ethical principles when applying clinical reasoning and judgment to make decisions and solve problems in the healthcare filed.
Utilize interpersonal communication skills in order to establish and maintain therapeutic and collaborative relationships in the healthcare setting.
Demonstrate accountability for personal and professional behavior.
Apply leadership principles to the management of care including collaboration with clients and healthcare professionals.
What's my next step?