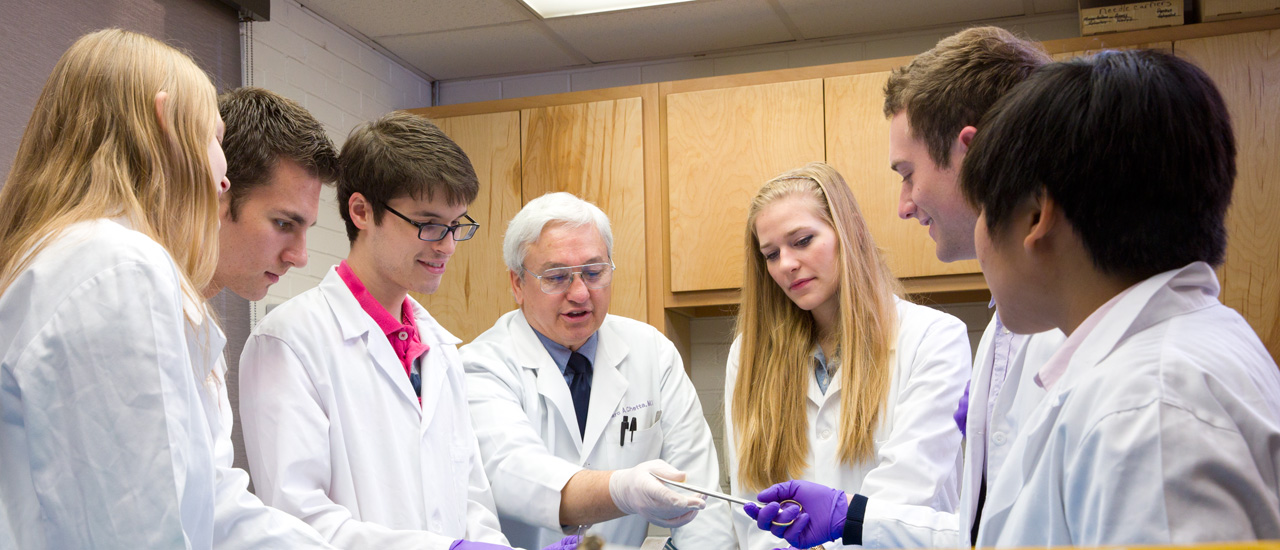 Premed/Predent
Bachelor of Science
More than 80% of our premed graduates are accepted to medical or dental school within a year of graduation.
You can be confident in the quality of BJU's premedical program—just take a look at our 25-year track record of success! More than 250 of our premed graduates are now practicing physicians or dentists. In fact, our premed/predent graduates average in the 84th percentile for the MCAT. And more than 80% of them are accepted into medical school within a year of graduating from BJU—that's 35% higher than the national average.
Medicine and dentistry are all about analyzing and solving the problems of patients. Students in our program learn to think analytically at a very high level and regularly apply what they are learning to solving problems. The premed program has been designed from the ground up to provide optimal preparation for medical or dental school programs.
Our gifted faculty and innovative problem-solving curriculum make BJU the top choice for a pre-medical/pre-dental education from a biblically faithful worldview.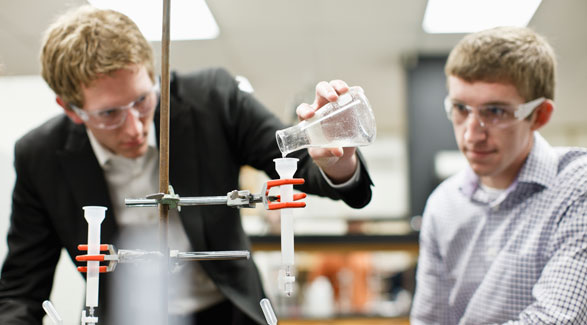 Program
Unlike many other schools, BJU offers a true premed program. Most programs that call themselves "premed programs" are actually biology programs with premed advising. In contrast, our curriculum is intentionally designed to give you the ideal combination of biology, chemistry, physics, mathematics, ethics, psychology, and sociology that will prepare you to be an outstanding medical school prospect. You will learn how to think logically, analytically and, most of all biblically, about the concepts that matter most in medicine.
As a student in the BJU premed program, you will have a hands-on education that includes courses in our cadaver lab and a medical internship in the largest hospital system in South Carolina. Our program's emphasis on physiology—how living things function—lays the foundation for thinking like a physician who knows how to diagnose and treat patients.
You will be taught by gifted faculty with superb academic credentials and advised by one of four experienced premed advisors who will help you negotiate the complex path to medical school admission. The premed/predent program also serves as excellent preparation for PA (physician assistant) and dental school.
BJU Core
To effectively work and minister in a medical field, you need more than just math and science skills. The liberal arts and Bible courses in the BJU core will round out your education. You will learn to communicate clearly through English and speech courses, and your biblical worldview will be strengthened by your Bible classes. The wide range of courses will equip you to effectively and compassionately minister to people from all walks of life.
Electives
The premed/predent program has a number of electives that allow you to focus your program. Students most commonly choose biology courses, such as bacteriology and virology, histology, immunology, and cell and molecular biology.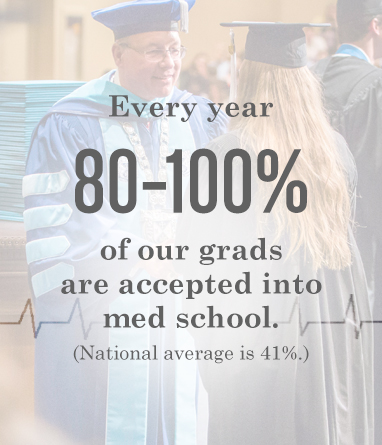 Nic Brennecke, '12
Medicine is a tremendous avenue by which one may "work out" the Christian faith and seek to be an avenue of common grace to the world.

The BJU pre-medicine program prepared me well for entrance into the world of medical school. The program was rigorous. A distinct Christian perspective was found in the science classroom, where the compatibility of a Christian worldview with modern science was clearly demonstrated. I was taught regularly from Scripture and grew much through involvement in a local church.

My time at BJU also helped me learn of the joy found in using God-given abilities in His service. At BJU I sat in class with professors who were experts in their fields and devoted to serving the Lord. I went to church with them, prayed with them, talked in their offices with them, and learned much from them. These men and women are using their individual interests and abilities in the service of God, and are excellent role models for the pre-medicine students.

I am grateful for an undergraduate institution that trained me excellently, helped grow me in my faith, and helped me begin to learn that "from Him and through Him and to Him are all things" (Romans 11:36).
Jobs
The premed/predent program at BJU opens the door to many career possibilities including:
Physician (Medical Doctor, MD)
Osteopathic Physician (Doctor of Osteopathy, DO)
Physician Assistant (PA)
Dentist (DDS, DMD, orthodontist, periodontist, pedodontist)
Forensic Pathologist
Optometrist (OD, Doctor of Optometry)
Graduate Experience
Our graduates have gone into a number of careers and have held jobs as a(n):
Cancer researcher
Resident in internal medicine at Yale
Resident in plastic surgery at Johns Hopkins University
Physician assistant
Resident in interventional radiology
Urology resident at Duke
Anesthesiologist
Pathology resident at Harvard
Principal investigator in aging research at University of Alabama-Birmingham
Graduate Schools
Since we launched our premed program 25 years ago, BJU graduates have been accepted in MD programs in more than 70 different medical schools in 28 states and 5 foreign countries. And that's before BJU became regionally accredited in 2017. Our graduates have entered prestigious residency programs throughout the United States, including programs at Duke, Johns Hopkins and Yale.
A few medical schools our students have attended include:
Indiana University School of Medicine
University of Colorado School of Medicine
George Washington University School of Medicine and Health Sciences
University of Maryland School of Medicine
Wake Forest University School of Medicine
Robert Wood Johnson School of Medicine
University of South Carolina School of Medicine (Greenville)
University of Leipzig (Germany) School of Medicine
Seoul (Korea) National University College of Medicine
Midwestern University College of Osteopathic Medicine
Michigan State University College of Osteopathic Medicine
Georgetown University School of Dentistry
Case Western University School of Dentistry
University of Minnesota School of Dentistry
Indiana University, School of Optometry
Southern College of Optometry, Memphis
Arcadia University (Physician Assistant)
Medical University of South Carolina (Physician Assistant)
Ohio College of Podiatric Medicine
Pennsylvania College of Podiatric Medicine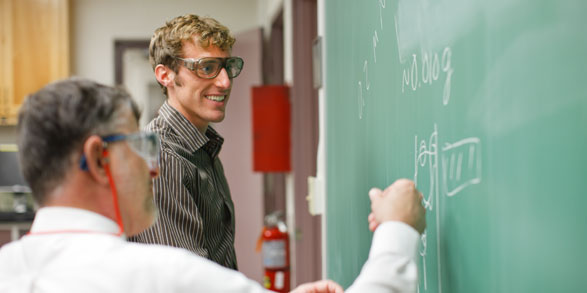 Career Support
BJU offers students a variety of ways to network with employers and organizations. A multitude of job opportunities are posted each year on Career Central, our online job board. In addition, more than 60 businesses and 150 Christian schools/mission boards/Christian organizations come on campus to recruit students through on-campus interviews and job/ministry fairs.
Career Services also helps students by holding seminars on resume preparation and interview techniques.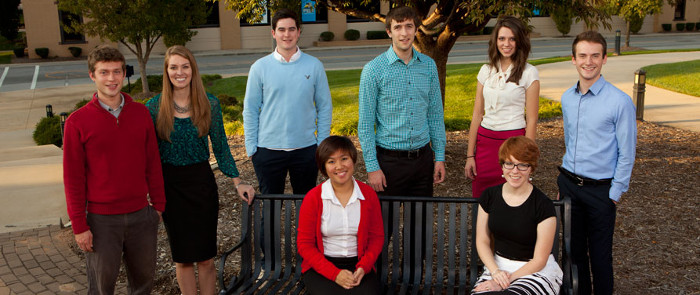 Premedical Association
You can find support, friendship and academic growth through the Premedical Association (PMA), a student organization that averages 100 members from freshmen to seniors. The PMA organizes trips to medical campuses, service opportunities at the local hospital and social events. The PMA also sponsors prominent speakers, such as Dr. Raymond Damadian, inventor of the MRI.
The PMA is a supportive community that encourages peer mentoring and will come alongside you to help you navigate the rigors of a premed education, MCAT preparation, and medical school applications. Many students have made lasting friendships through the PMA that encourage them to succeed in their field and edify them in their walk with God.
Student Medical Internship
Practicing medicine requires real-life experience. BJU's Student Medical Internship gives all premedical and predental students the opportunity to apply what they have learned to real-life settings. Not only does the experience help you make informed career and education choices, but it is also essential for admission into MD, DDS, and PA programs. Premed students complete a 40-hour internship through Greenville Health System's multiple campuses. Predent students complete a 40-hour internship observing various dentists within the greater Greenville area.
MedEx Academy
Greenville Health System has a new summer educational opportunity: MedEx Academy. The Academy is an initiative to support students' exploration of health-care careers and advanced training in health care. Internships in the Academy are competitively pursued by student from many universities in South Carolina and North Carolina because they are designed to give premed students a paid opportunity for shadowing, assisting, MCAT prep and research experience.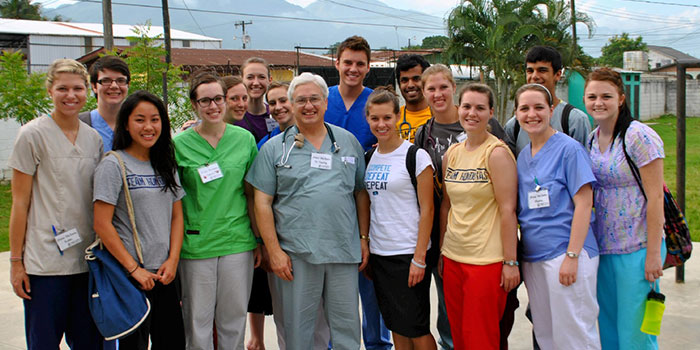 Medical Mission Trips
If you have a passion for ministry and medicine, you may be able to serve on one of BJU's short-term medical mission trips. Each summer there are opportunities to participate with Dr. Marc Chetta, the Medical Missions Outreach, and Grace Dental and Medical Missions, Inc. These outreaches pull students outside of their comfort zones and encourage them to serve Christ through serving others.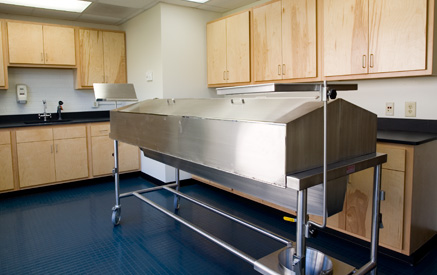 Cadaver Lab
BJU's cadaver lab—taught by an experienced medical doctor—sets our premed/predent program apart from most undergraduate programs. The cadaver lab provides an immense, three-dimensional view of the human body and equips you with first-hand knowledge to prepare you for your career. Our students come to grips with anatomy and physiology in a Christian context so that they can grow in awe of their Creator and prepare themselves for the stringent academic expectations of medical, dental and graduate schools.
Cancer Research Lab
For students interested in cell biology, the Cancer Research Lab offers a summer Research Immersion (RIU) program. This is an unparalleled opportunity for undergraduates to improve their research skills. As part of a collaborative research team, you'll test the anticancer properties of a variety of substances on several types of cancer cells. In addition, you'll get experience in writing and applying for research grants.
Faculty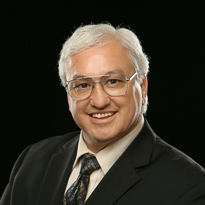 All our science faculty have PhD or MD degrees in the specialties they teach. They bring a unique set of research experiences to the classroom and are committed to a biblical philosophy of science, including a firm belief in a recent, six-day Creation.
Our faculty are passionate about teaching, student-focused, and approachable—making time for their students in and out of the classroom. They consistently evaluate and refine their teaching skills and courses by taking part every summer in our Summer Institute in Teaching Science (SITS). Their desire is to develop students' God-given abilities in the classroom, laboratory and field to equip them to serve Christ wherever He places them.
Mathematics Elective (Sc Majors) (3 credits)
Fine Arts Appreciation Elective (2 credits)
Program Objectives
Each student will:
Formulate a biblical philosophy of medicine incorporating observations and assessments of physicians/dentists in their ethical, professional and clinical environs.
Analyze the interrelationship among basic life processes and substances from a biological, biochemicaland biophysical perspective with special emphasis on the role of information and energy transduction.
Critically and logically evaluate the limitations of science and the central concepts of neo-Darwinism and construct counter arguments against them.
Interpret and critique experimental data and experimental designs, formulate testable hypotheses, and competently investigate hypotheses in the laboratory.
Apply the relationship that exists between structure and function on the cellular, organ system, and human levels and make correct predictions of the failure of homeostatic mechanisms as well as the positioning of cells during development.
Solve inheritance problems that demonstrate an understanding of fundamental transmission genetics and evaluate the role of epigenetic inheritance.
Apply the central dogma of molecular biology as a limited explanatory model for information storage and regulation of gene expression.
What's my next step?