Choosing a Church in Greenville
Your relationship with your church back home is important. And since you'll be away from the friendships, fellowship and discipleship you've had at home, it's important to get involved in a local church in the Greenville area.
If you're looking for a starting point for choosing a church, consider some of the tips below and take a look at some of the Greenville-area churches that you can visit. Some churches provide transportation if you want to take advantage of it.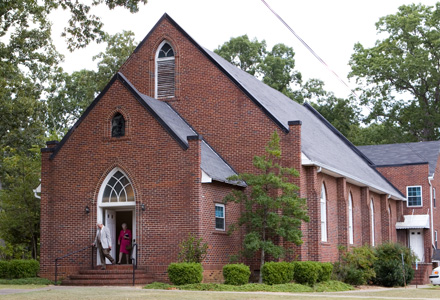 The Importance of Church
We're all accountable to God for how we respond to His commands. He makes it clear in His Word that as Christians, we're to live in community with other Christians. A local church is a natural way for community to play out. The University isn't a church or a substitution for one, though there are many ways for you to grow spiritually (Bible classes, chapel, prayer groups, etc.).
God also makes it clear that we're to remember to keep the Sabbath holy. We're to show our dependence on God and rest in Him in a unique way one day each week. That might mean that you sacrifice some work hours or study time to be with the church. You'll probably be busy with a whole lot of different responsibilities and activities, but decide now that you're going to make your relationship with a church top priority. We've set up an accountability system to help remind you, but ultimately, it's your relationship with God. Make sure you set aside time for Him and His people.
Choosing a Church
God gives wisdom to those who ask for it—so ask Him for wisdom when you're deciding on the right fit. He's placed wise people around you as well, so talk with your parents or other trusted spiritual leaders in your life about choosing a church. You can also ask your RA or roommates for suggestions. It may be helpful to make a list of a few options and to visit them before settling on one.
Getting Involved in a Church
Getting involved in a church means getting to know people and serving as God enables you. As you attend faithfully, look for ways you can meet others and ask the leadership what needs there are in the church that you can help out with. Some churches are immediately ready to have college students help out, and others want to get to know you and prefer that you join the church as an associate member before helping out.
Your time at college is a great time to grow spiritually. Remember that your relationship with your church is mutual. You'll find encouragement where God leads you, and your involvement—even if it's limited to faithful attendance and friendliness in your interactions—will encourage members of the church.
Agnew Road Baptist Church
400 Rainbow Dr., Greenville
Beth Haven Baptist Church
721 Neely Ferry Rd., Simpsonville
Bethel Calvary Baptist Church
11 Easy St., Taylors
Calvary Baptist Church
101 Calvary St., Greer
(864) 877–9759
Calvary Baptist Church
3810 Grandview Dr., Simpsonville
Cleveland Bible Church
711 Asheville Highway, Spartanburg
Choice Hills Baptist Church
5910 Old Buncombe Rd., Greenville
Colonial Hills Baptist Church
525 Taylors Rd., Taylors
Community Baptist Church
643 South Suber Rd., Greer
Community Bible Church of Holly Springs
2515 Holly Springs Rd., Inman
Cornerstone Baptist Church
8508 Pelham Rd., Greenville
Easley Bible Methodist Church
855 Gentry Memorial Hwy., Easley
Faith Baptist Church
461 Saco-Lowell Rd., Easley
Faith Baptist Church
1940 Duncan-Reidville Rd., Reidville
Faith Baptist Church
906 Hwy 14, Simpsonville
Faith Baptist Church
500 West Lee Rd., Taylors
Faith Free Presbyterian Church
1207 Haywood Rd., Greenville
Fellowship Baptist Church
614 Ikes Rd., Taylors
Foreign Students Fellowship Church
1140 N. Pleasantburg Dr., Suite B, Greenville
(864) 252–8490
Freedom Baptist Church
1907 West Parker Rd., Greenville
Gateway Baptist Church
128 South Main St., Travelers Rest
(864) 322–5600
Gethsemane Baptist Church
107 Gethsemane Dr., Greenville
The Gospel Baptist Church
103 N. Fork Shoals Rd., Greenville
Grace Baptist Church
930 N. Old Pendleton Rd., Liberty
Grace Baptist Church
8841 Augusta Rd., Pelzer
Grace Baptist Fellowship
check website for meeting location
Grace Bible Church
3203 Old Easley Bridge Rd., Greenville
Greenville Christian Fellowship
2220 State Park Rd., Greenville
Hampton Park Baptist Church
875 State Park Rd., Greenville
Heritage Baptist Church
511 South Main St., Fountain Inn
(864) 862–5348
Heritage Bible Church
2005 Old Spartanburg Rd., Greer
Hope Presbyterian Church
20 Sharon Dr., Greenville
(864) 235–6471
Iglesia Bautista Calvario
1311 W Poinsett St., Greer
(864) 380–2128
Iglesia Bautista de la Fe
2129 Poinsett Hwy, Greenville
Iglesia Bautista Fundamental Tabernaculo
126 E. Mountain Creek Rd., Greenville
Iglesia Bíblica Evangélica/Evangelical Bible Church
205 North Suber Rd., Greer
(864) 704–8525
Independent Bible Church
2202 East North St., Greenville
(864) 242–1351
Landmark Baptist Church
116 Landmark Ct., Easley
(864) 859–0793
Midway Bible Church
632 Spearman Rd., Pelzer
Morningside Baptist Church
1115 Pelham Rd., Greenville
Mount Calvary Baptist Church
115 Cedar Lane Rd., Greenville
New Hope Baptist Church
250 Fairview Ave., Hendersonville, N.C.
(864) 630–3055
Northside Baptist Church
515 Tindal Rd., Greenville
Overbrook Gospel Chapel
26 Overbrook Rd., Greenville
Palmetto Baptist Church
620 Powdersville Main, Powdersville
Paramount Park Baptist Church
705 Augusta St., Greenville
Suber Road Baptist Church
445 South Suber Rd., Greer
Summit View Baptist Church
31 N. Hwy 25 Bypass, Greenville
Trinity Bible Church
205 North Suber Rd., Greer
Unity Baptist Church
12 Piney Road, Greenville
(864) 246–6276
Victory Baptist Church
421 SE Main St, Simpsonville
(864) 228–8101
Westgate Baptist Church
1990 Old Reidville Rd, Spartanburg
(864) 228–8101