Packing for something new can be challenging—but we've got you covered. We checked with students who've had lots of experience packing for the school year. Their advice: if it doesn't have a practical use, don't bring it.
To save room, you may want to wait until you get here to buy certain products like detergent or hangers. There are plenty of shopping options here in Greenville. You may also want to save room in your car by shipping your items ahead of time.
Check out the list below for ideas about what to pack.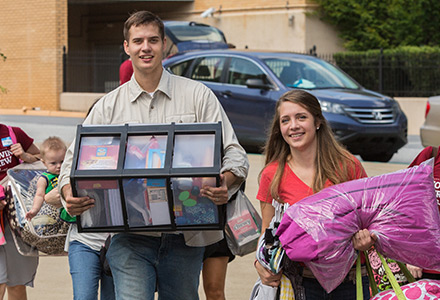 Clothing
Check out our student handbook for some clothing guidelines you'll want to keep in mind.
Clothes for:

Class
Church
Formal events
Sleep
Work
Sports/Recreation
Casual activities

Winter coat (and gloves, scarf and hat)
Spring coat
Raincoat
Shoes
As hard as it is to spend the money up front, it'd probably be worth your comfort to invest in a nice pair of durable, comfortable shoes for everyday wear. You'll want to bring church/formal event shoes and athletic shoes too. Don't forget the shower shoes and flip-flops or slippers for the residence hall.
Hangers
Hanging shoe rack
Laundry
Laundry basket
Detergent
Fabric softener
Stain remover
Dryer sheets
Personal Hygiene
Robe
Shower caddy
Shower shoes (cheap flip-flops work well)
Hair dryer
Soap/shower gel/shampoo/conditioner
Deodorant
Toothbrush
Toothpaste
Mouthwash
Floss
Linen
Bedding (twin sheets and bedspread/blanket)
Pillows
Towels
Washcloths
Extra blanket
Mattress pad
Technology
Printers are available across campus, and full-time students have an allowance of $30 each semester for printing.
Emergency Items
Sewing kit
Instant stain remover
Air freshener
First aid kit (bandages, ointment, painkiller, ibuprofen, vitamins, etc.)
School Supplies
Desk lamp
Pens
Pencils
Highlighters
Notebooks
Sticky notes
Index cards
Paper clips
Staples/stapler
Scissors
Put on Hold
Talk with your roommates about some shareable stuff for the room. That way you won't have extra stuff taking up space.
Iron and ironing board
Trash can
Can opener
Sandwich maker
Hot pot
Coffee maker
Refrigerator
All-purpose cleaner
Paper towels
Curtains
Mini Fridge
You can bring refrigerators or thermoelectric coolers under 4.5 cubic feet.
Valuables
Best to leave the valuable stuff at home.
Shipping Items
If you want to ship some of your stuff ahead of time, please send them prepaid to yourself at Bob Jones University. Also, be sure each piece of luggage and each package you send or check through on your airplane or bus ticket is addressed to yourself
Items
Dates
Address
Delivery Location
Large bulky packages (e.g., barrel, luggage, bedding)
Aug. 1 to Sept. 1
Individual's name with middle initial
BJU Central Receiving
1430 Wade Hampton Blvd., Suite 112
Greenville, SC 29609
Items will be delivered to your residence hall room.
Letters or small packages
After Aug. 1
Individual's name with middle initial
Box Number*
Bob Jones University
1700 Wade Hampton Blvd.
Greenville, SC 29614
Pick up letters at your campus post office box and small packages at the university post office.
All packages
After Sept. 1 and throughout the school year
Individual's name with middle initial
Box Number*
Bob Jones University
1700 Wade Hampton Blvd.
Greenville, SC 29614
Pick up letters at your campus post office box and packages at the university post office.
* After Aug. 1, you can log on to StudentCentral and find your campus post office box number on your profile page. Be sure to communicate your box number to your parents and others who will send letters and packages to you.
Insuring Your Personal Belongings
BJU doesn't maintain insurance to cover your personal possessions. If you want coverage of this type, you should contact your local insurance agent. If your parents have a homeowner's policy, you may already be covered.