If you are flying directly to BJU from your home, schedule your flight to arrive in the Greenville-Spartanburg International Airport (airport code GSP)
Do you need shuttle service from the airport or bus station?
If you need a ride to campus from the Greenville-Spartanburg International Airport, the Greenville Greyhound station, or the Greenville Amtrak station for the fall semester, please submit a request (BJU login required). Shuttle service is available on Monday, January 9, 2023. The cost for this service is $15, which will be billed to your student account. After you arrive and collect your luggage, make your way to the BJU vans parked just outside the baggage claim area. The shuttle drivers cannot leave the vehicles to meet you inside the terminal.
Residence Hall Move-In
When you arrive on campus on Monday, Jan. 9, locate the Welcome Center to check-in.
Check-in is where you can meet admissions, first-year experience, student life, get your room assignment (residence hall students) and ID card, register your vehicle, ask any remaining financial questions, and pick-up your class T-shirt and Welcome Week booklet. After you check-in at the Welcome Center, you can move into your residence hall.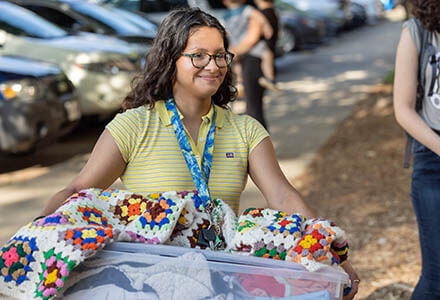 Check-in
After moving into your residence hall, your First-year Advisors will be in the Alumni Building, Academic Resource Center (Room 213) to help you register for classes and submit your schedule. Tech Resources will also be open and just down the hall from your First-year Advisor (Alumni 207). Bring your laptop and any devices. They will help you connect them to the campus network and download your free Microsoft software package.
If you have any questions, please email us and we will respond as quickly as possible.
We can't wait for you to join Bruin Nation!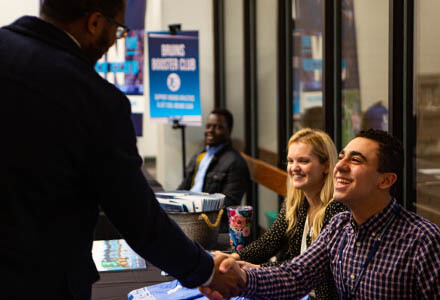 If you need special housing accommodations, please submit an accommodations request.
Auditions for Music Lessons and Groups
If you're taking music lessons for the first time at BJU or if you want to join a music group, you'll need to audition before you register for music lessons/groups. Music groups are open to all students, regardless of what academic program you're in. If you're planning to join a music group, you'll be able to reserve space for it on your schedule in StudentCentral when you register for classes.
Placement Tests
Placement tests are given to determine the level of instruction that you should register for. You should take all placement tests that apply to you before registering for classes. Following each test, you will be informed which course(s) you should register for and/or waive.
Meet Your Academic Advisor & Register for Classes
Your First-year Academic Advisor will be in contact with you during December. Please be sure to pay your deposit, so we can begin building your schedule.
The First-year advisors will be in the Academic Resource Center on Monday, Jan. 9. After you check-in at the Student Center, please go by the Academic Resource Center in the Alumni Building to meet with your advisor to help finalize and officially submit your schedule.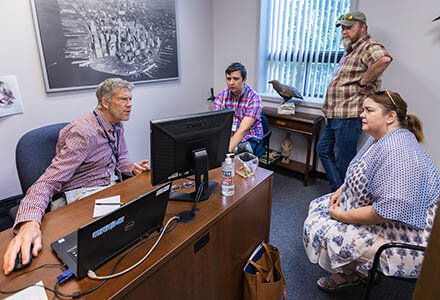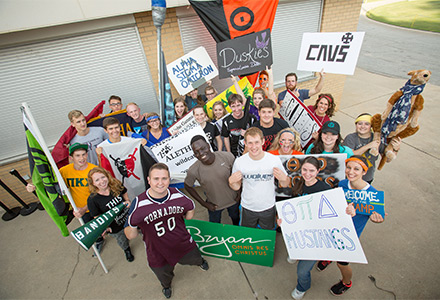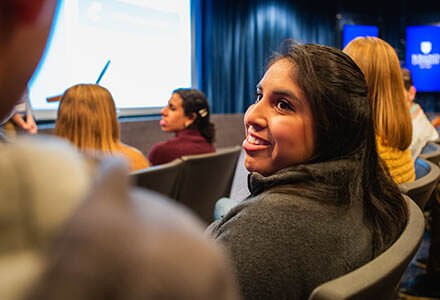 Presidential Welcome
We're glad you've joined Bruin Nation! You and your family are invited to the Presidential Welcome. Meet President Pettit and your student leaders for a short meeting.
The Bruins Way
This intense, but enjoyable time will get you up-to-speed with campus life and provide a good start for your academic career. You will meet and interact with current students, faculty and administrators who will give you the inside scoop about college life. You will also have the opportunity to meet society leaders and learn of opportunities for involvement. Start doing your research now about which society you think you'd like to join.
Opening Exercises
This is the first opportunity for our university family to meet together as we begin the new semester. Arrive a few minutes early to find your seat and meet the people you will be sitting beside for the next few weeks in chapel.
First-year Luau
Whether you are a new student this semester or a returning second semester freshman, Dr. Pettit and First-year Experience invite you to join us, other administrators and student leaders for a night of food, activities, prizes, and a lot of fun. Dr. Pettit will share some encouraging words to all first-year students.
Welcome Week introduces you to life at BJU and helps your transition to college life. We have exciting activities planned as you learn how to succeed at BJU.
Monday, Jan. 9
Tuesday, Jan. 10
Wednesday, Jan. 11
Thursday, Jan. 12
Friday, Jan. 13
Saturday, Jan. 14
Sunday, Jan. 15
Monday, Jan. 16
Tuesday, Jan. 17
Wednesday, Jan. 18
Thursday, Jan. 19
Friday, Jan. 20
Saturday, Jan. 21