Summer Orientation: Students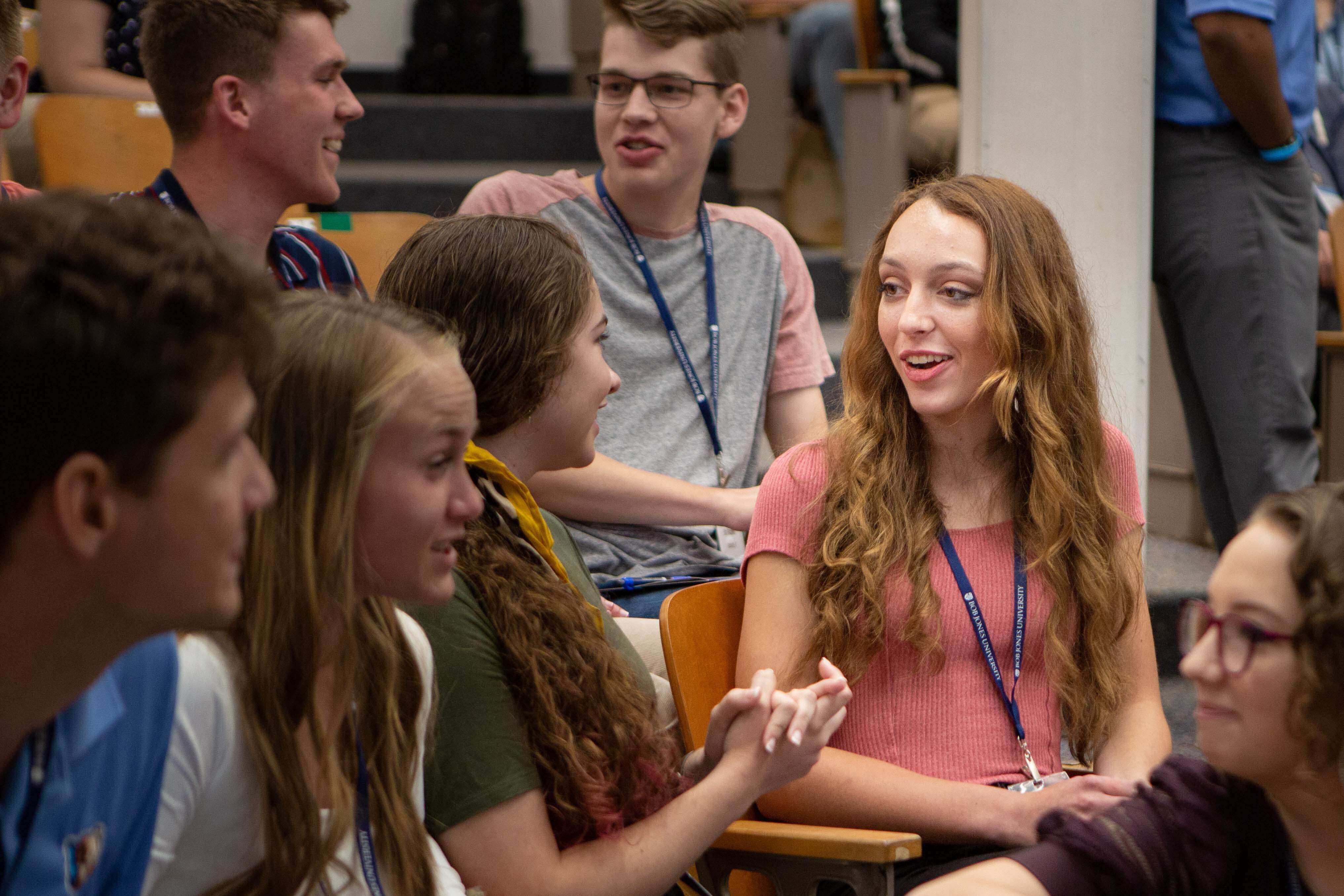 June 16–17
We're so excited that you are going to be a part of BJU!
At Summer Orientation, you'll get to set up your course schedule, connect with your professors, make friends with other new students—and be prepared to start your first year.
When to Arrive
Check-In
Friday, 7:30–9 a.m.
(Residence Halls)
Plan to arrive by 8 a.m. to move into your residence hall room and collect your packet before the 9 a.m. session. If you are staying in the residence hall, all of your check-in materials will be there. Please go to the residence hall first before coming to the Student Center for breakfast and the 9 a.m. session in Stratton Hall.
Driving Directions
Orientation
Friday, 8 a.m. — Saturday noon
Hotels for Families
We're pleased to be able to recommend the following locations for you to stay during your visit to Greenville. Be sure you ask for the special rate offered to guests of BJU. Please see our complete list of recommended Greenville area hotels.
Arriving in Greenville? We can pick you up
If you're arriving by plane, bus or train, we can give you a ride to and from campus. Shuttle service is provided from:
Greenville-Spartanburg International Airport (GSP)
Greenville bus station
Greenville train station
To request a shuttle, contact the Welcome Center by 5 p.m. the Wednesday prior to your arrival.
Arriving outside the Greenville Area
Shuttle Service from Major Airports
Vendors at these airports provide shuttle service.
Hartsfield-Jackson Atlanta International Airport (ATL) — 3 hours from Greenville
Charlotte-Douglas International Airport (CLT) — 2 hours from Greenville
Shuttle arrangements can be made by calling 800-669-6463. When scheduling flights, please keep in mind your travel time to and from BJU and the airport.
Personal Items
Bedding & pillow (twin size)
Toiletries, towels, washcloths
Clothes and shoes
Paper, pens and pencils for notes
Social Security card (needed to apply for campus job)
Official copies of your completed high school and/or college transcripts (if not previously submitted)
Financial Aid Documents
If you need to provide any Financial Aid documents, bring those. Contact Financial Aid with any questions.
Job Documents
If you have already secured a student job, you can bring the documents requested from HR.
What to Wear
Women
Class dress is recommended for Friday daytime meetings. (Modest dresses or skirts to the knee or business casual pants; shirts or tops to the shoulder)
For evening and Saturday, pants/jeans/capris are fine
We ask that you not wear shorts
Men
Class dress is recommended for Friday daytime meetings. (Collared shirts and casual pants)
For evening and Saturday, T-shirts/jeans are fine
Hair trimmed neatly (off the collar and with your ears showing)
We ask that you not wear shorts
Attending
You should! (Well, all new freshman/transfer students and their parents or guardians.)
Orientation is a fantastic opportunity for both you and your family to prepare for the school year. You'll get to tour campus, meet other new students, schedule your classes, discover opportunities for work and ministry, find out how to get help when you need it, connect with faculty, and much more.
Yes, we highly recommend it! As mentioned above, Summer Orientation is great preparation for your family too. They'll attend some sessions with you, and some sessions designed just for them.
They'll learn along with you what to expect during your years at BJU and how they can best support you. They'll also enjoy connecting with other families.
We invite your family to join you at Summer Orientation. We offer a special event for your siblings entering the 6th–12th grades. It's Friday from 9:45 a.m. to 5 p.m. and the cost is $25.
Absolutely! Orientation is a personalized experience. You'll get to figure out your course schedule, take care of financial aid and look for job opportunities. And you'll get to make your own friends as you connect with faculty, current students and other new students.
Plus, because BJU is always seeking to improve its programs and services, you never know what may have changed from when your family member attended! Orientation is the perfect chance to learn what to expect.
Definitely! BJU has its own mission, academic requirements, policies and student services. Orientation will help you understand what BJU has to offer.
In addition, as a transfer student you'll get to take care of important details like reviewing transcript evaluations, meeting with a faculty member and registering for classes.
Orientation lasts for two days, beginning at 8 a.m. on Friday and ending at noon on Saturday. In order not to miss any of the sessions or activities, please make travel plans according to these times. This will give you an extra night in the residence halls and allow you more time to spend connecting with our student leaders and other students attending Summer Orientation.
Accommodations
If you will be a residence student in the fall, you should stay in the residence halls. If you live in the Greenville area and will be a commuter student, you are strongly encouraged to stay in the residence halls for Orientation. Plus, it just makes it easier to get to the morning sessions, as well as get to know other new students.
Housing and meals for students are complimentary.