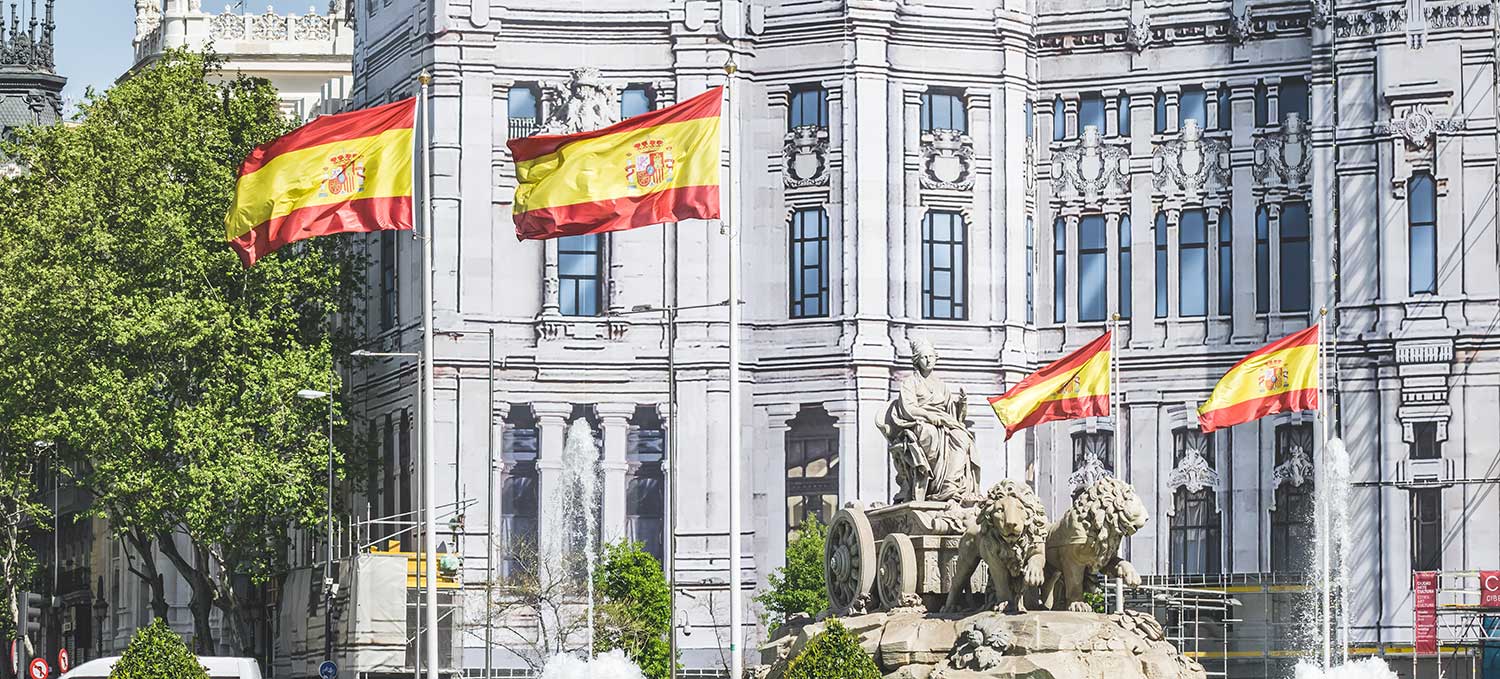 Applied Spanish for the Professions
Bachelor of Science
There is a large demand for professionals with language skills in fields such as business, education, public service and health professions.
Studying Applied Spanish for the Professions will prepare you for success in your career field where language proficiency is a key asset.
Be prepared to use your Spanish proficiency to further both your career and your future ministry.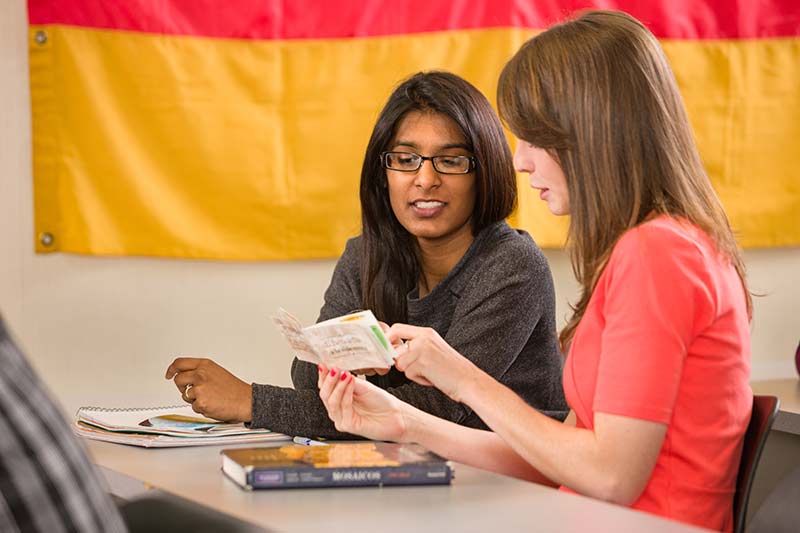 Program
BJU's Applied Spanish for the Professions is an interdisciplinary program that allows for flexibility in your studies while being rooted in Spanish courses. As you gain fluency, you'll develop your knowledge and communication skills in writing, speaking, history and literature. Because culture and literature are extremely important to many Spanish speakers, courses in these areas help you understand their world and connect with them on a deeper level.
In addition to your Spanish courses, the program is built on having a second area of study. That is accomplished by choosing a minor or doing a double or dual degree program. You'll work with your academic advisor to select the minor or program that best helps you meet your professional goals.
Your courses and opportunities outside of class will prepare you to speak fluently under pressure (this would be at the advanced level, according to ACTFL's proficiency guidelines for interpersonal communication).
BJU Core
Courses in Bible will help you articulate what you believe and help you confidently share why you believe God's Word. And through subjects such as history, economics and science, you'll be better equipped to weave biblical truth into your daily conversations and interactions with others.
In addition, you'll learn that language finds its home in history—that's why the BJU Core complements the program so well. Your studies in other academic areas, such as history, psychology and the arts, will give you a better understanding of all people. And coupled with your Spanish courses, your liberal arts courses will help you understand the worldview and values of native Spanish speakers.
Electives
One of the most important electives is the opportunity to study abroad in Spanish-speaking countries. Your other elective hours will be made up of the minor or double/dual program that you choose to study.
Jobs
With the increasing number of Spanish speakers in the United States, studying Spanish opens up your future tremendously.
Teacher/Instructor
Ministry/Mission work
Interpreter or translator
Manufacturer representative
International worker (airlines, banking, industry, business, journalism)
Government worker (State Department, Foreign Service, Department of Defense, Department of Agriculture)
Social worker
Graduate Schools
Our Spanish graduates have been accepted into graduate schools, including:
Middlebury College
University of Texas, Austin
University of South Carolina, Columbia
Auburn University
University of Georgia
University of Tulsa
George Mason University
Covenant College
Butler University
Winthrop University
University of Northern Iowa
Graduate Experience
Our Spanish graduates have gone into a number of careers and have held jobs such as:
Senior cybersecurity engineer at MITRE
Language and culture assistant, Comunidad de Madrid, Spain
Associate professor of Spanish, Clemson University, South Carolina
Senior associate consultant at Dixon Hughes Goodman LLP
Foreign language consultant, Wetzel Educational Services
Career Support
BJU's Career Services office helps both students and alumni through career advising, resume preparation, job search assistance, recruitment conferences and more.
In addition, over 60 businesses and 150 Christian schools/mission boards/Christian organizations come on campus to recruit students through on-campus interviews and job/ministry fairs.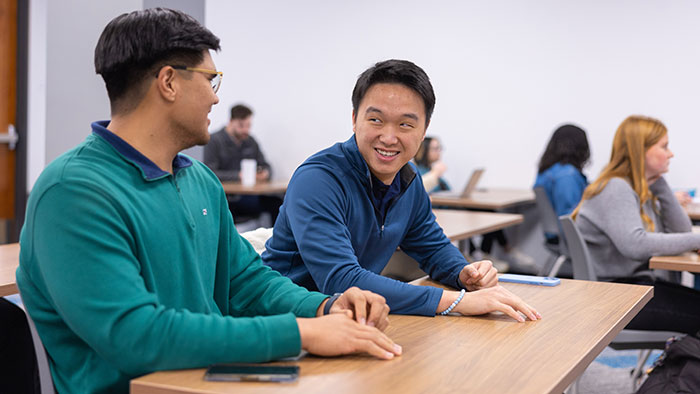 Practical experience, especially in a language, is essential. That is why BJU's Spanish faculty encourage your involvement with native speakers, both at BJU and abroad. These opportunities will help you better understand spoken Spanish and, in turn, help you better communicate with others.
University Language Association
The University Language Association is a student-run organization that brings in Spanish speakers from various countries and occupations to give you opportunities to see the connections between Spanish and future careers. You'll also learn about needs in Christian ministries around the world so you can give of yourself through prayer and other means for the glory of God.
Language Rooms
If you're a residence hall student, language rooms give you the chance to live near other students studying languages so that you have extra opportunities to practice conversing and improving your language skills.
Spanish Opportunities
There are a growing number of Spanish speakers in Greenville, S.C., providing numerous avenues of service. Your opportunities range from serving in a Spanish-speaking church to working at non-profit organizations that assist Spanish speakers. Spanish faculty members can help you get connected so you can grow in your proficiency in the language.
Study Abroad Program
During your time at BJU, you'll have the opportunity to travel to Spain in the summer. During the four weeks in Spain, you'll take two on-location immersion courses—you'll spend mornings in class and your afternoons visiting historical sites and using your skills in the Spanish language. View details.
Faculty

Amos Kasperek
Division of Modern Language and Literature
Your Spanish faculty are both knowledgeable and enthusiastic about their subject. All have traveled extensively to Spanish-speaking countries, so they teach from their firsthand experience of cultures and dialects.
In addition, they have presented academic papers at international conferences such as the Association for Classical Hispanic Theater and the South Central Modern Language Association. And above all else, they have a passion for God's work around the globe and equip you to serve God wherever He leads you.
Sample Course Outline
1st Year
2nd Year
English or Writing Elective (3 credits)
Electives (6 credits)
3rd Year
Spanish Elective (300/400-level) (3 credits)
Electives (3 credits)
Spanish Elective (300/400-level) (3 credits)
Spanish Elective (300/400-level) (2 credits)
Electives (4 credits)
4th Year
Spanish Elective (300/400-level) (3 credits)
Spanish Elective (300/400-level) (3 credits)
Electives (6 credits)
Spanish Elective (300/400-level) (3 credits)
Electives (11 credits)
Program
BJU Core
Elective
Program Objectives
Each student will:
Communicate at the Advanced level of proficiency in Spanish.
Describe Hispanic cultural products, practices, and perspectives based on personal contact with Spanish-speaking communities.
Articulate how a biblical worldview shapes engagement with Hispanic cultures.
Apply Spanish to produce a product or solve a problem in their target professional field.
What's my next step?