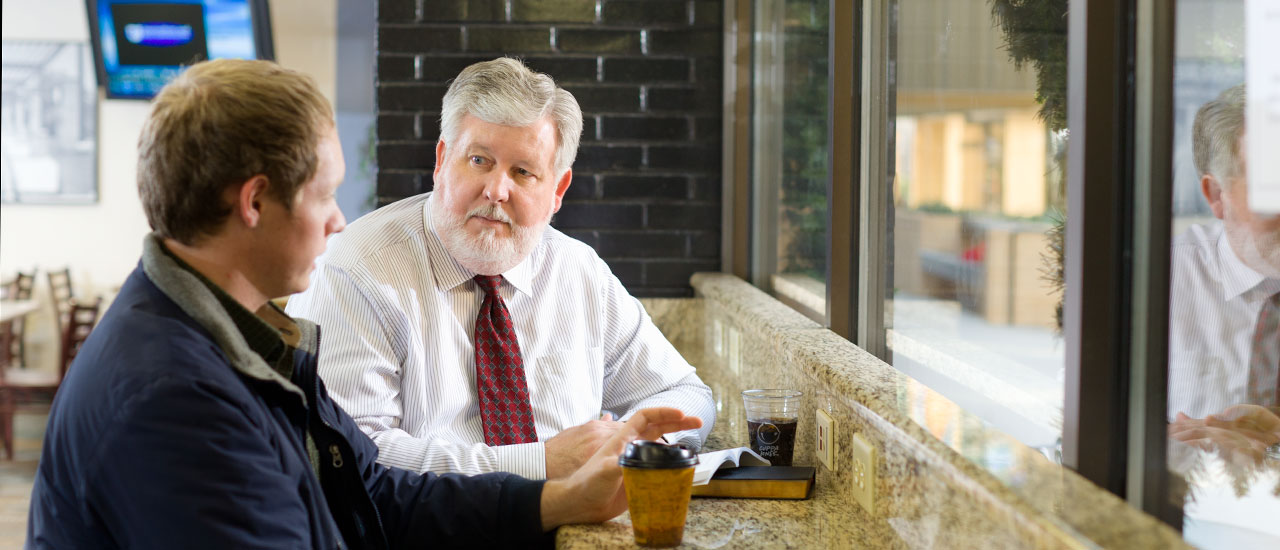 Biblical Counseling
Bachelor of Science
Counseling that is truly biblical, Christ-focused and Gospel-saturated—grounded in the doctrines of sufficiency and sanctification
Whether you desire to serve as a biblical counselor in full-time ministry or simply to encourage others in your workplace, church and family, the biblical counseling program at BJU exists to prepare Christians to assist believers in their progressive sanctification by pointing them to Christ through the ministry of the Holy Spirit and God's all-sufficient Word.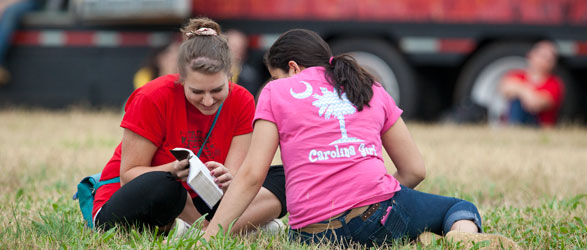 Program
The Bible classes (equivalent to a minor in Bible) will provide you with a solid foundation for your biblical counseling ministry. Including classes in hermeneutics, doctrines, Bible and theology—as well as courses on the various books of the Bible—you will learn who God is, how to interpret His Word and how the gospel pertains to every area of life.
In your counseling classes you'll learn how Christ-centered ministry is deeply rooted in the doctrines of sufficiency and progressive sanctification. You'll develop the skill to point people to Christ as you take the Bible and apply it to the spiritual struggles, trials and challenges that every believer faces.
Your psychology classes will acquaint you with secular and integrational counseling approaches, and help you critique them from a biblical worldview. You'll be challenged to understand and biblically evaluate the psychological diagnoses which are found in the DSM (Diagnostic and Statistical Manual of Mental Disorders). In addition, you'll not only study key areas of psychology (including social, developmental and experimental), you'll be assisted in formulating a biblical view of each area.
BJU Core
You'll also benefit from the BJU Core, a unique combination of Bible and liberal arts courses taken by every BJU student. As a biblical counseling student, the Bible courses are already included in your program of study. These courses, as well as daily chapel services and godly professors, will nurture your growth in Christlikeness.
In addition, liberal arts courses will broaden your horizons and equip you with skills essential for flexibility in an ever-changing job market—skills such as critical thinking and problem-solving, effective communication, ethical decision making, adaptability and much more.
Electives
The generous number of electives throughout the program will allow you to customize your experience, whether you'd like to focus on pastoral ministries, women's ministries, youth ministries, or an area such as business or writing.
Daniel Taylor, '10
Shortly after the completion of my degree in biblical counseling, I accepted a chaplaincy position at a local fire department.

I had very little idea of what exactly I was getting myself into. After an introductory crash course, though, I realized my undergraduate training would be invaluable.

Most of my work was "pre-counseling" or evangelistic in nature, but the Lord was able to use me as an instrument in the progressive sanctification of the few men who did know Him as Savior already.

Counseling is not, "I have arrived in my Christianity; let me pull you through yours now." Rather, counseling is, "I am a sinner like you, but by God's grace, let's seek Him together so that we can bring Him the most glory from our broken lives."
Jobs
Pastor
Missionary
Camp counselor
Chaplain (military, hospital, jail)
Christian school counselor
Children's ministry leader
Women's ministry leader
Local church counselor
Children's home counselor
Teen home counselor
Graduate Experience
Some of the positions graduates have ministered in are:
Wilds Christian Camp, Brevard, N.C.
Camp Ironwood, Newberry Springs, Calif.
Shepherd's Gate Women's Shelter, Greenville, S.C.
Greenville Rescue Mission, Greenville, S.C.
Piedmont Women's Center, Greenville, S.C.
Tent maker in South Korea
Missionary in Mexico
Early Interventionist, Brilliant Beginnings, Simpsonville, S.C.
Admission Counselor, BJU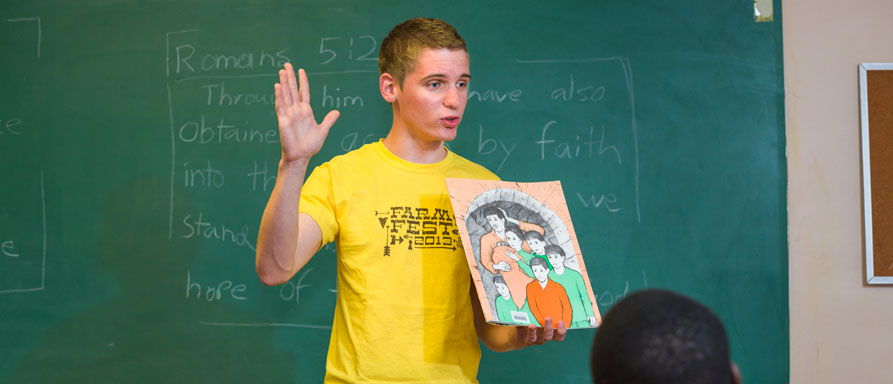 Weekly Outreach Ministries
Our students put into practice what they are learning by participating in weekly outreach ministries where they preach, teach and visit with people. Bible students also have opportunities to serve in local churches where they study under experienced leaders. An evangelist founded BJU and this emphasis remains to this day. Every week a variety of outreaches take place in the local community and beyond. From sports evangelism to nursing home outreaches, children's ministries to music ministries, prison outreaches to church ministries, you will have opportunities for practical education within a ministry that fits your gifts and desires. Many of these ministries connect you with local believers in need of spiritual encouragement or short-term partnering to share the good news to those in need of Christ.
Missions Advance
Missions Advance is a student-led group whose purpose is to stimulate missionary zeal and vision on campus. Their goal is to cultivate the student body's passion for God's glory, resulting in greater participation in world missions through learning, praying and mobilizing.
Learning: by inviting speakers, giving presentations, and providing missionary letters to better inform students' prayers
Praying: by spending a majority of the meetings interceding for God's work around the world and for God to send laborers into His harvest
Mobilizing: by offering avenues through which the student body can be involved in mission work while in school
Missions Advance meets every Monday and Thursday night.
Student Leadership Development
You can take advantage of the support offered in the Student Leadership Initiative. Several times each semester you will meet with fellow student leaders to learn more about being a servant-leader during panel discussions, guest speaker presentations and more.
Summer mission teams
A summer ministry opens your eyes to Jesus' church around the globe and to the needs people have. During this concentrated period of service in the field, you will experience the sweetness of communion with saints from other lands, and grow in your love for God's people and for those who have not yet encountered hope through Jesus Christ.
Faculty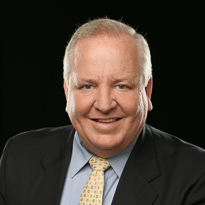 Steven Cruice
Division of Ministries
Our outstanding faculty has more than 218 years of combined teaching experience in preaching and other pastoral and evangelistic roles.
Many of our faculty hold either terminal degrees in their fields or have extensive practical ministry and teaching experience.
Our faculty's sound, exegetical teaching is combined with their desire to mentor you, as you prepare to serve Jesus Christ in ministry.
Sample Course Outline
1st Year
2nd Year
English or Writing Elective (3 credits)
Electives (3 credits)
3rd Year
Communication Elective (3 credits)
Apologetics & Worldview Elective (3 credits)
Apologetics & Worldview Elective (3 credits)
Electives (3 credits)
4th Year
Counseling Men or Women Elective (3 credits)
Bible/Theology Elective (3 credits)
Apologetics & Worldview Elective (3 credits)
Electives (3 credits)
OT/NT Elective (300/400-level) (3 credits)
Apologetics & Worldview Elective (3 credits)
Electives (3 credits)
Program
BJU Core
Elective
Program Objectives
Each student will:
Apply the theological framework of progressive sanctification and sufficiency of Scripture in relationship to biblical counseling.
Apply a biblical methodology that facilitates change and growth to the glory of God in individuals who struggle with multiple counseling issues.
Critique secular counseling theories and methodologies from a biblical counseling perspective.
What's my next step?