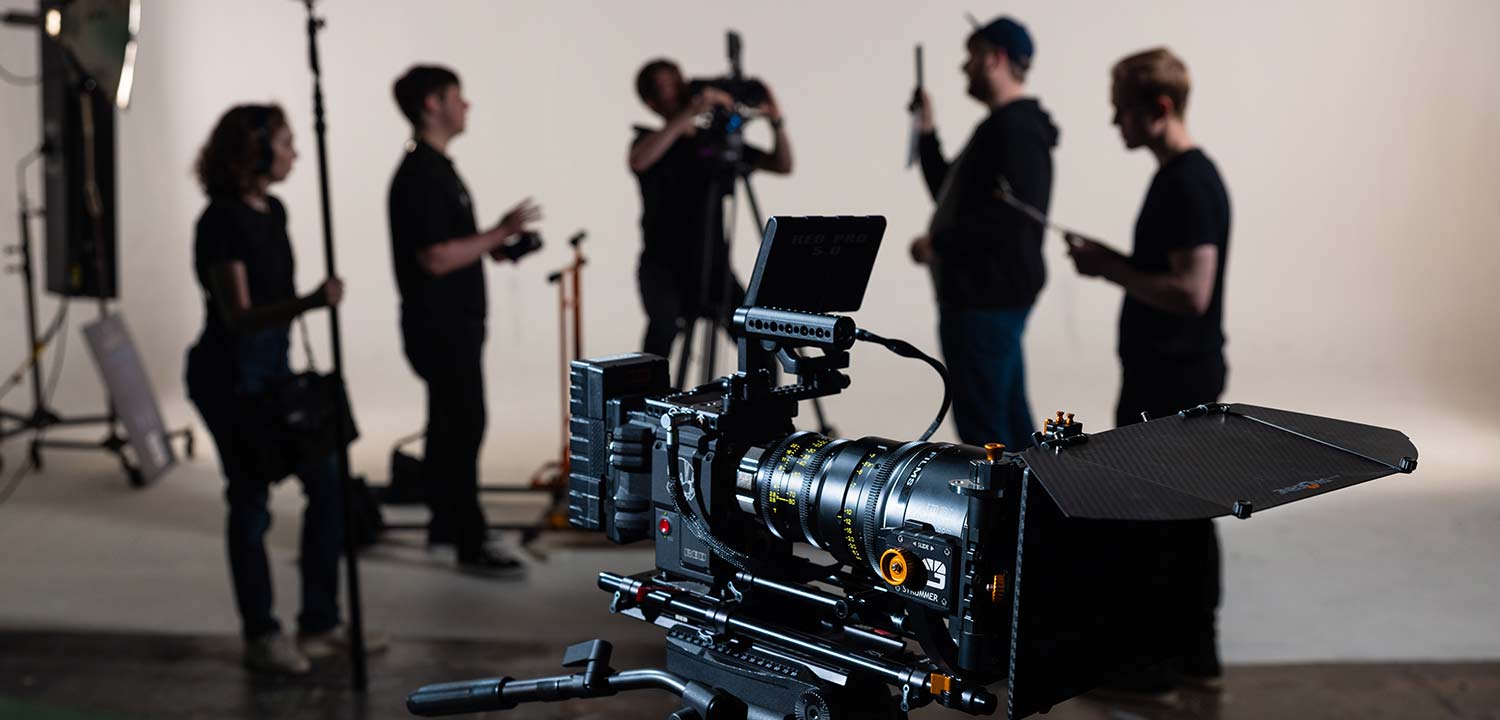 Film & Digital Storytelling
Bachelor of Science
Film is a powerful tool for Christians to communicate the truth about God, people and the world around us.
That's why at BJU you'll study how film—with its combination of many art forms such as acting, photography, music and prose—plays an important role in culture.
You'll learn how to think biblically and draw conclusions from God's Word as you develop your own philosophy of film. And most importantly, you'll learn how to use these elements to create compelling stories for God's glory.
Program
At BJU, you'll study the artistic, technical and storytelling aspects of film & digital storytelling so you'll be ready to take on the challenges of independent filmmaking. You'll take a comprehensive look at what's involved in filmmaking, from conceptualization and writing to directing and post-production. Additionally, because filmmaking is a team effort, you'll grow to appreciate the various indispensable roles such as gaffer, storyboard artist and sound recordist.
Your education at BJU includes more than experience in the classroom. Through various projects, you'll get hands-on experience in your craft. And during your senior year, you'll either direct your own film from start to finish or take part in other approved creative work. You'll find out what it takes to be a filmmaker and grow in your confidence as you go out into the industry to produce excellent work and share God's truth with others.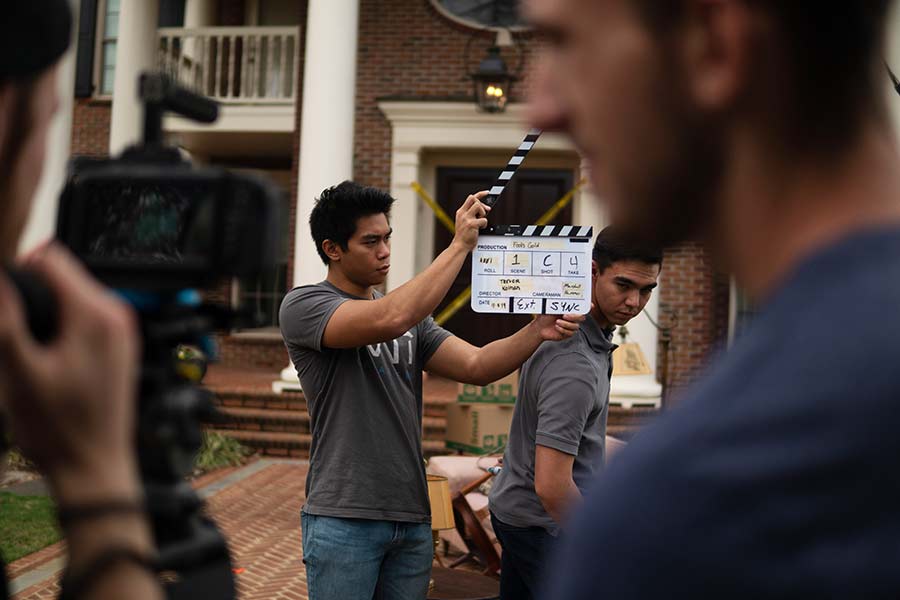 BJU Core
As a Christian, it's important to know how to use your vocation for God's glory. At BJU you'll grow in your confidence of the truth of God's Word through the BJU Core. Bible courses and chapel will develop your skills in thinking biblically about every area of life, even down to the themes and elements of the films you create.
You'll also explore subjects such as history, English and philosophy so you'll learn how to relate to people from a wider variety of backgrounds. Additionally, you'll experience a variety of fine arts events, including plays, operas and concerts that will stretch your imagination and inspire you in your film career.
Electives
As an independent filmmaker or director who also writes scripts, it's important to communicate clearly. Electives in both English and writing are great choices to accompany your major, as they'll give you skills that you can use in a variety of settings.
Additionally, courses in communication will help you understand people better and equip you to work more effectively with your film team and articulate your thoughts to others. Your experience gives you material to draw from in your vocation, so practically any elective complements your program studies well.
Tory Martin, '12
UX Designer at Frontline Technologies
I am incredibly grateful for everything I learned in the cinema program at BJU. The skills I gained from using professional equipment, learning about classic film techniques, and just being with friends and teachers have greatly benefited me working in the industry.

I also appreciate the continued relationships with my mentors: asking for advice, getting feedback on projects, and just chatting about films are all things I do regularly. I'd encourage anyone looking for a biblically based cinema education using industry standard tools to seriously consider the cinema program at BJU!
Jobs
The film & digital storytelling program at BJU opens the door to many career possibilities including:
Independent Filmmaker
Advertising & Content Marketing
Cinematographer/Videographer
Corporate or Freelance Media
Video & Audio Management for Ministries
Professional Photographer
Media Producer / Director
Film / Audio Editor
Motion Graphics Artist / Animator
Lighting / Compositing / FX Supervisor
Camera / Audio Equipment Operation
Graduate Schools
Our film & digital storytelling graduates have been accepted into graduate schools such as:
Academy of Art University, San Francisco
The Ohio State University
National University
Regent University
University of Wisconsin — Milwaukee
New York Film Academy
Tyndale Theological Seminary Amsterdam
Detroit Baptist Theological Seminary
Graduate Experience
Our graduates have gone into a number of careers and have held jobs such as:
Chairman, Jackson Marketing Group
Owner and videographer/editor, Front Row Video Productions
Cloud sales development manager, Adobe
Director of media, Baptist Mid Missions
Owner, Master Your Media
Owner, Richards Studio (represents High Museum, Atlanta Symphony and Alliance Theater in their photographic needs)
Lighting/compositing/FX supervisor, Reel FX Creative Solutions
Career Support
BJU offers students a variety of ways to network with employers and organizations. A multitude of job opportunities are posted each year on CareerCentral, our online placement service.
In addition, over 60 businesses and 150 Christian schools/mission boards/Christian organizations come on campus to recruit students through on-campus interviews and job/ministry fairs. The Career Services office also helps students by holding seminars on resume preparation and interview techniques.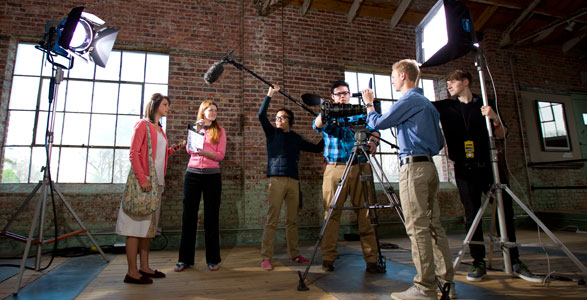 Film Projects
Two high points in the program are your film projects during your sophomore and senior years. In each of these projects, you'll experience the joys and challenges of a director. You'll choose the story you'll tell, write the script, select your project's actors and film crew, direct, and edit the footage.
Industry-Standard Equipment and Software
Part of becoming excellent in your craft is becoming familiar with your tools. That's why at BJU you'll get experience using industry-standard equipment and software. Here are just a few of the great features available:
Avid Media Composer
Pro Tools
Photoshop
After Effects
Maya
Final Draft
Professional HD cameras
Digital audio equipment
Professional recording studio
Spacious soundstage (3,750 sq. ft.)
Faculty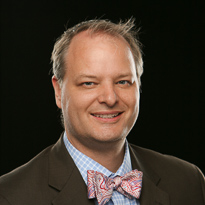 Faculty in the cinematic arts department have a passion for telling film stories and helping students learn the beauty of cinema. They have real world experience and have received awards for their marketing, animation, documentary, short and feature film work.
1st Year
2nd Year
English or Writing Elective (3 credits)
Electives (3 credits)
3rd Year
Cinema Elective (300/400-level) (3 credits)
4th Year
Program
BJU Core
Elective
Program Objectives
Each student will:
Articulate a biblical worldview in the art of filmmaking.
Produce his or her own quality cinematic productions.
Tell stories using the cinematic medium.
Participate in various cinematic productions in and out of the classroom setting.
What's my next step?