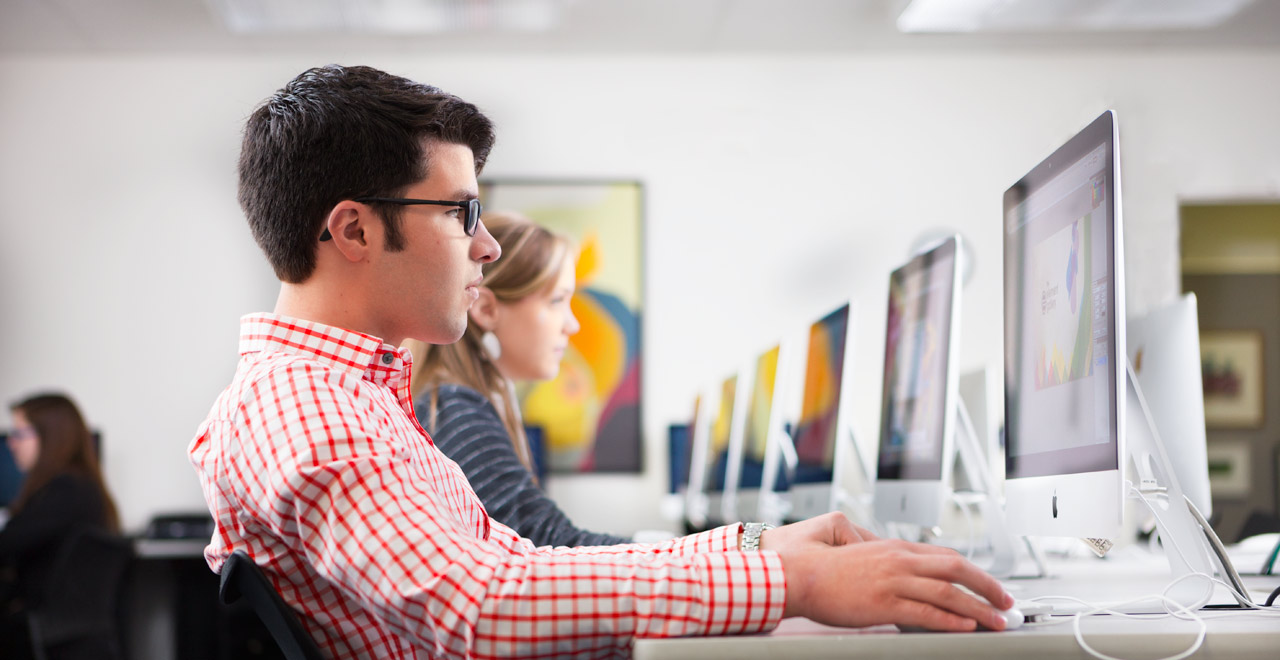 Graphic Design
Bachelor of Fine Arts
Built on a rich heritage in 20th-century art and design
Taking an idea from concept to reality can be the most challenging, but most rewarding part of being a graphic designer. At BJU you'll learn how to create work that connects with people, not just visually, but emotionally as well. In a small way, you'll imitate the Creator through creating beautiful things. You'll sharpen your artistic skills, solve communication problems, and decide for yourself how you'll define design and how you'll use it.
A Rich Heritage
The foundational courses and overall philosophy of BJU's graphic design program were developed by Emery Bopp, one of the early professors in the Division of Art and Design. After earning a certificate from Pratt Institute, Bopp enrolled in the graphic design program at Yale University, where he became a member of the university's first graduating graphic design class. At Yale he studied 2D design and color theory with Josef Albers, typography and printing with Alvin Eisenman, attended lectures on design by Alvin Lustig, and took a painting course from Willem de Kooning. The progressive teachings of these 20th century leaders in art and design that Bopp brought to BJU still resonate in the program today.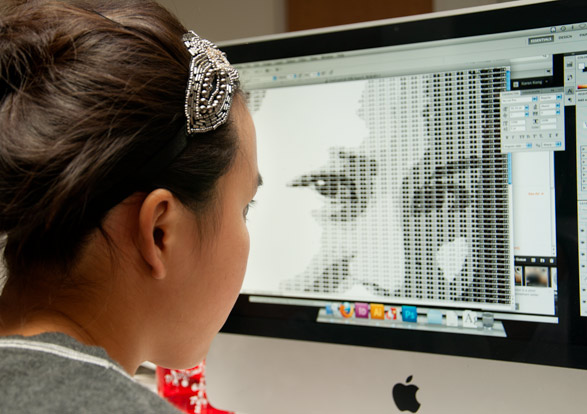 Program
Experience authentic graphic design through the lens of a biblical worldview at BJU. You'll feel the time and energy restraints that are common in the industry as you undertake challenges of creating a work using both your head and your heart—a work that people can identify with and feel. Through engaging projects, you'll learn the rewarding nature of designing rich visual solutions that satisfy the client and the audience. You'll take a look at implications for Christians in graphic design through in-class discussions on subjects such as ethical and moral dilemmas, fulfilling vows by meeting deadlines, tithing talent, and many more.
You'll study fundamentals in art, such as calligraphy and human anatomy, so you'll be able to succeed in a wide variety of situations in your field. But you'll learn more than the basics of art and using the right software to create excellent graphic design. What sets our program apart is the emphasis on communicating the client's message to the target audience in an aesthetic manner. Though mastery of essential technology is a vital part of design education and professional design practice, the technology serves communication, and a beautiful end product enhances communication.
BJU Core
As a graphic designer, you'll need skills to connect with people from a variety of backgrounds and to communicate effectively with them. That's one of the reasons you'll take the BJU Core—another is to give you broad base of knowledge to draw from for your inspiration. The Bible courses will connect your pursuit of God to all of life—even being a good graphic designer. You'll take what you learn from these classes to help you pursue God, and will let what you know about Him inform your business ethics and practices.
Electives
The graphic design program uses many of the elective credits available in other programs for prescribed art and design courses. Included in the program are two studio art electives, two business courses and 3 credits of general electives. In addition, you'll have the option of focusing on various specialties within the graphic design field, such as print, web, branding and experiential design.
Jenny Shahinian Persson, '98
Perseverance, focus and a good understanding of the fundamentals required to produce the end product were, for me, the tools I took with me after my years at BJU, and it's these qualities that I try to instill in my students as well.

I had the privilege of studying under some of the most influential people in my life. My mentor at the time was the wise and patient Emery Bopp. He pushed me to the limits artistically and he expected excellence. I can't begin to count the late nights trying to push myself creatively.

I cannot even begin to count the ways that [a liberal arts education] has opened doors in my life! The fact that I had a liberal arts education further allowed me to work in several areas later on in my life, both as a teacher and a designer. If there's one thing that I can say about BJU's liberal arts education it's that, at least for me, each course contained essential material that was somehow so concentrated that it made some of my colleagues think that I had majored in them!

The faculty, as well as the numerous dear friends that I made at BJU, taught me to think critically and develop self-confidence. The speech classes were the reason behind my being able to speak in front of large audiences at work later on in my life. We were bombarded with culture, and it's the reason behind how I observe beauty in the details around me. However, it's the humility in the faculty members that impacted my life the most—gifted individuals that poured their time and knowledge into me without ever drawing attention to themselves as being any more than servants for Christ. It's what inspired me to teach.
Jobs
The graphic design program at BJU opens the door to many career possibilities including:
Graphic designer
Graphic artist
Art director
Creative director
Brand manager
Web designer
Production manager
Graduate Schools
Our graphic design graduates have been accepted into graduate schools such as:
Academy of Art University, San Francisco
Texas Tech University
Boston University
Indiana University
Marywood University
Savannah College of Art and Design
Seton Hall University
Graduate Experience
Graphic Design graduates excel in a wide range of settings:
Vice President and Senior Creative Director, Erwin Penland Advertising, Greenville, S.C.
President and Senior Brand Strategist, BeKnownForSomething.com
Creative Director of Marketing, BJU Press
Web Architect and Design Manager, Answers in Genesis
Senior Art Director, Pennsylvania State University
Creative Director, Oobe, Inc., Greenville, S.C.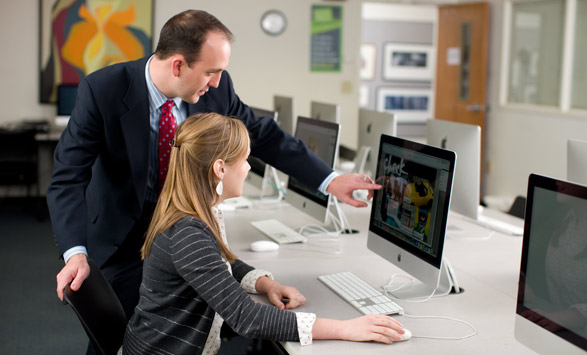 Career Support
BJU offers students a variety of ways to network with employers and organizations. A multitude of job opportunities are posted each year on Career Central, our online job board. In addition, more than 60 businesses and 150 Christian schools/mission boards/Christian organizations come on campus to recruit students through on-campus interviews and job/ministry fairs.
Career Services also helps students by holding seminars on resume preparation and interview techniques.
Internship Opportunities
Since our graphic design internship program began in 1989, we've helped more than 150 students find internships in advertising, marketing, and design firms, in-house design departments and ministry design studios in the Greenville area and across the United States.
Graphic design interns work with creative directors or art directors in the various internships during the year, both during the school year and in the summer. Our graphic design student interns consistently produce professional-quality work during their internships that become a part of their entry-level portfolios.
American Advertising Awards
Each year graphic design majors participate in the American Advertising Federation-sponsored American Advertising Awards, the nation's largest advertising competition. Students compete in a variety of categories, and winners in the local competition advance to district competition and then national competitions.
BJU graphic design students have won more than 40 awards—including two national awards—since the inclusion of the student categories in 2009. This event is key to networking in the Greenville market and beyond. Several of our graphic design students have even gotten jobs because of the work they submitted to the competition.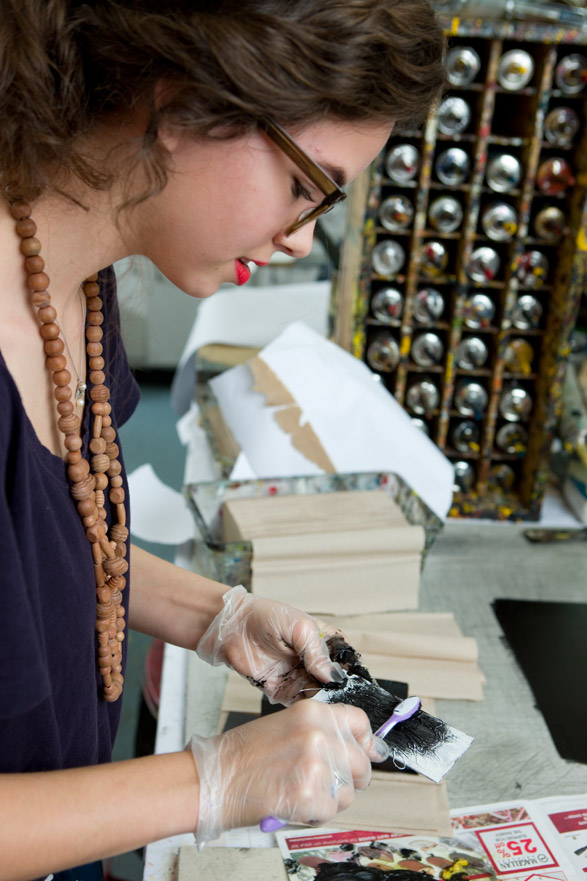 Midpoint Review
Each graphic design student goes through a midpoint review once the required courses are completed (it's usually the second semester during the sophomore year). The major component of the midpoint review is the portfolio, which is made up of class projects and other art and design work completed outside of class.
We've structured the midpoint review to make sure you're on track in the development of skills that will be needed as a professional designer, such as ability, creativity, problem-solving and project management. The midpoint review can help you figure out any unforeseen obstacles, offer you encouragement and direction, and prepare you further for more challenging experiences in the last two years of the program.
Design Requests
Each semester we get many requests from both BJU and the Greenville communities for graphic design services. Students can practice using their skills in problem-solving, client interaction, creativity and production through a wide variety of freelance projects. These are often great ways to get early experience in professional designing.
Portfolio Days
Many schools and professional organizations—such as the American Institute of Graphic Arts (AIGA) and the University and College Designers Association (UCDA)—hold portfolio review events throughout the year. We encourage juniors and seniors to attend these events and get additional feedback on their professional portfolios.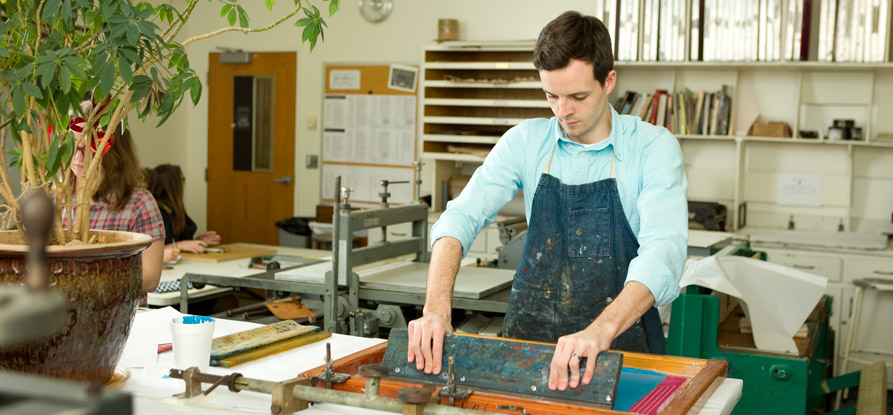 Faculty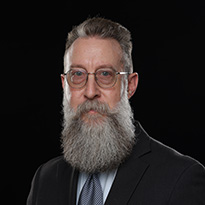 Jay Bopp
Division of Art and Design
Our excellent faculty members have gone through extensive design education, achieved high levels of skill in professional practice and spent years in the industry before joining the faculty (or while serving on the faculty). They are passionate about art and design and currently practicing in their fields.
Among them, they have won numerous art and graphic design awards, have served as competition jurors and workshop presenters and have published essays and articles in art and design journals.
Sample Course Outline
1st Year
2nd Year
English or Writing Elective (3 credits)
3rd Year
4th Year
Program Elective (3 credits)
Program Elective (3 credits)
Program
BJU Core
Elective
Program Objectives
Each student will:
Evaluate and analyze major achievements and individuals of graphic design history and the contemporary design community.
Create original solutions to design problems of varying complexity in a variety of media utilizing the theories of communication design.
Design a professional portfolio that meets or exceeds industry standards with utilization of design technology and implementation of typographic skill.
What's my next step?