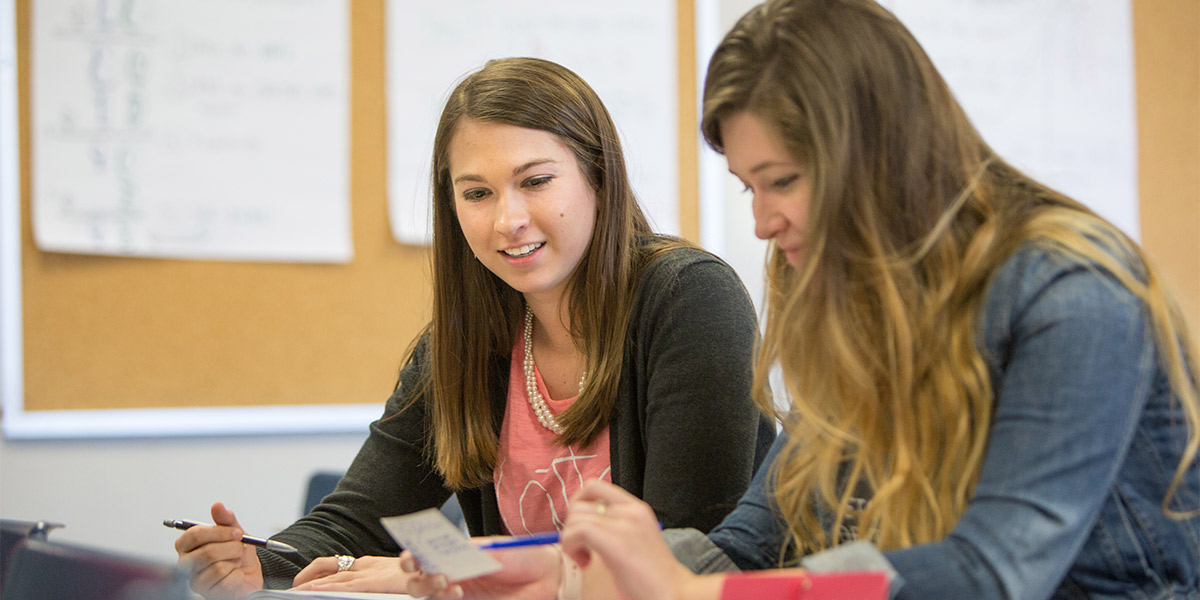 Interdisciplinary Studies
Bachelor of Arts or Science
Our most flexible degree program
Interdisciplinary studies lets you take charge of your college career and direct it toward a very specific goal when a single program doesn't quite fit the bill. It's about answering questions and connecting disciplines in unconventional ways—recognizing that your God-given interests may not fit inside a typical higher education plan.
If concentrating on one subject just isn't enough—if you want to truly own your major and direct the course of your college education—interdisciplinary studies may be the program for you.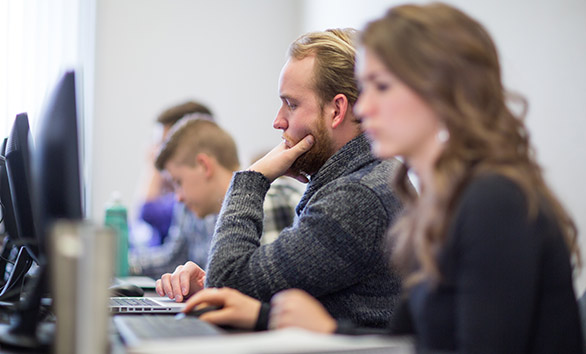 Program
When you pursue a degree in interdisciplinary studies (BA or BS), you'll hand pick courses from two or more programs of your choice. You'll still benefit from the liberal arts and Bible courses in the BJU Core, but your program courses will be up to you.
The combinations are basically endless—you can merge whichever programs you want to push you closer to your calling. This way you'll have the experience and skills you need for your specific career or ministry goal. By the time you graduate, you'll have a wealth of critical thinking skills and a dynamic, cross-functional skill set.
You may apply for the interdisciplinary studies program after earning 30 credits and a cumulative GPA of 3.0 or higher—usually at the end of your freshman year or early sophomore year.
To be accepted into the program, you must have a specific career goal in mind and demonstrate how an interdisciplinary studies degree will help you reach it. With the help of faculty members from each discipline, you'll propose your own learning objectives and course schedule, and you'll complete a capstone project demonstrating how you've integrated the disciplines.
BJU Core
In today's competitive job market, the ability to adapt to change is essential to success. The liberal arts courses equip you to thrive in any job situation and to be knowledgeable in subjects like art, history and science so that you can build common ground with future contacts.
And with the Bible courses, you'll learn how to apply truth to every area of your life. These courses will help strengthen and deepen your faith. The BJU Core will help you adapt to different situations, strengthen your ability to connect with others and more effectively communicate your testimony for Christ.
Electives
One of the strengths of BJU's interdisciplinary studies program is the huge selection of electives available. You can use these electives to dive even deeper into your disciplines or take a course just for the fun of it. Popular elective courses include foreign languages, business, communication and philosophy/psychology.
Career Support
BJU offers students a variety of ways to network with employers and organizations. A multitude of job opportunities are posted each year on Career Central, our online job board.
In addition, more than 60 businesses and 150 Christian schools/mission boards/Christian organizations come on campus to recruit students through on-campus interviews and job/ministry fairs. Career Services also helps students by holding seminars on resume preparation and interview techniques.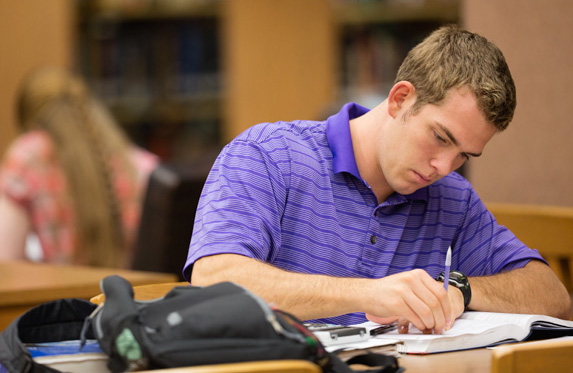 Student Organizations
No matter what you want to do with your program, there are organizations that can help you prepare for your career. Be sure to check out the available student organizations and get involved wherever you can.
These organizations help you meet people, learn more about various fields, and give you valuable experience in a wide variety of contexts. You may find that some of the organizations you choose help you figure out what to focus your program on, or they help you figure out what not to focus on—either way, when you get involved in organizations, you'll grow as a person.
University Language Association
The University Language Association is a student-run organization that brings in speakers from various countries and occupations to give you opportunities to see the connections between foreign languages and future careers. You'll learn how language can be a powerful tool in many ways, such as conducting business, caring for people and sharing the Gospel.
Fine Arts
Not only do you get to study great works of literature in your courses, but you also get to experience many in action. Through our Concert, Opera & Drama Series and numerous student plays each year, you'll watch characters from famous works—like Pride and Prejudice, Great Expectations and Romeo and Juliet—come to life on stage.
There are more than 20 music groups you can get involved in, ranging from a number of larger choirs to smaller instrument ensembles, such as the trumpet choir or the handbell choir. These groups are open for audition to all students regardless of your program of study.
Which faculty you'll have depends on which courses you choose to take. That means that you'll learn under faculty who are experts in their subjects, have many years of experience and teach in their areas of expertise.
1st Year
2nd Year
English or Writing Elective (3 credits)
Electives (6 credits)
3rd Year
4th Year
Program
BJU Core
Elective
Program Objectives
Each student will propose learning outcomes based on the significant questions, career field or graduate school identified in their application.
Faculty will ensure that the quantity and quality of the learning outcomes are at the appropriate level. Learning outcomes must also inform the selection of coursework and the culminating project.
What's my next step?