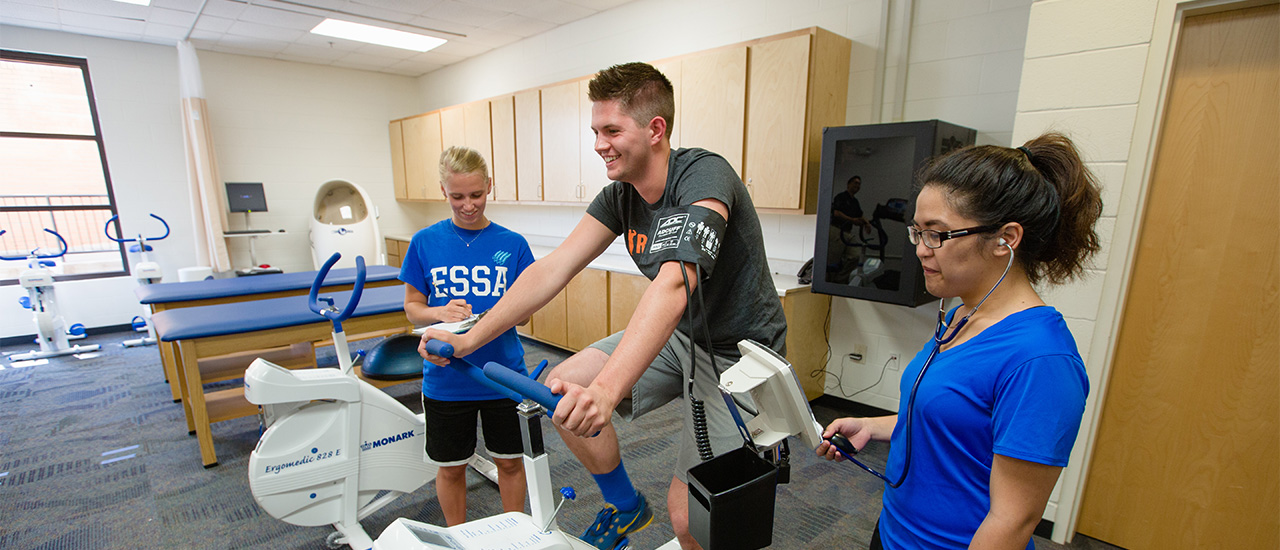 Kinesiology
Bachelor of Science
Program Overview
Has God given you the desire to better people's health through exercise and rehabilitation therapy? Are you fascinated by how the human body works during physical activity? Interested in how exercise can function as medicine?
Our kinesiology program will prepare you to excel in a wide range of sports medicine, injury rehabilitation and fitness-related careers. Through rigorous coursework that integrates biblical truth and experiential learning, our program will equip you to excel in this fast-growing industry or prepare you for graduate school.
Your Future
A kinesiology degree at BJU opens up a variety of employment opportunities to you.

Physical/Occupational/Recreational Therapist
Athletic/Personal Trainer
Chiropractor
Orthotist and Prosthetist
Sport Psychologist
Biomechanist
Exercise Physiologist
Corporate/Community Fitness Director
Fitness Specialist
Strength and Conditioning Coach
Cardiopulmonary Rehabilitation Specialist
Health Educator
Clinical Researcher
Career Support
BJU offers students a variety of ways to network with employers and organizations. A multitude of job opportunities are posted each year on Career Central, our online job board.
In addition, more than 60 businesses and 150 Christian schools/mission boards/Christian organizations come on campus to recruit students through on-campus interviews and job/ministry fairs.
Career Services also helps students by holding seminars on resume preparation and interview techniques.
Sports medicine, healthcare, fitness and wellness are projected among the fastest growing career fields over the next ten years.
(U.S. Dept. of Labor)
Testimonials
Joana Stayer, '16
As an incoming freshman, I had very little experience in the health and exercise field. The program equipped me to help people live better lives and gave me the tools that I needed to pursue a job in Wellness. I most appreciated the challenging anatomy, physiology, and biomechanics courses. Those classes, paired with three semesters of practicum and internship experiences helped me establish foundational knowledge and valuable clinical skills. Thanks to my wonderful teachers and internship director, I felt confident as I started my career as an Exercise Physiologist just a few months after graduation.
Learning Experience
Our kinesiology program combines coursework in both basic sciences and exercise sciences within a biblical worldview. We aim to equip you with evidence-based knowledge in the classroom and expand upon this knowledge through a combination of laboratory, practicum, independent study and internship experiences.
We'll provide you with the preparation needed to excel in a variety of professional fitness and wellness settings. You'll learn to assess client's health risk factors, blood pressure, aerobic fitness level, muscular strength and endurance, flexibility and body composition.
You'll become proficient in prescribing personalized, safe and effective exercise programs for apparently healthy individual and the athletic population of all ages and levels.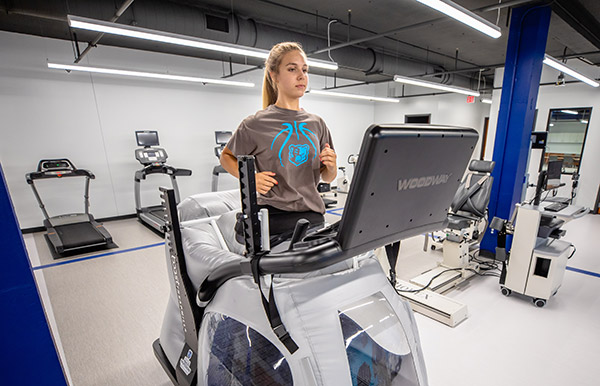 Additionally, you will learn to design tailored programs for individuals with injuries, disabilities, and chronic diseases such as cardiovascular, metabolic or pulmonary disease.
Our program also provides you exceptional preparation for graduate schools. The curriculum combines core kinesiology courses with key prerequisite courses required for graduate programs including physical therapy, occupational therapy, athletic training, chiropractic medicine, and recreational therapy.
Available Concentrations
You'll have the option to specialize in one of the program concentrations: Exercise Physiology or Sports Medicine & Rehabilitation.
Exercise Physiology
A focus on exercise physiology qualifies you for careers in a variety of fitness, wellness and clinical settings. This concentration also prepares you to earn the nationally recognized certifications.
Sports Medicine & Rehabilitation
This concentration provides an excellent academic foundation required for graduate studies in physical therapy, chiropractic medicine, occupational therapy, athletic training, sports psychology, biomechanics, prosthetic and orthotics, and other allied health programs.
BJU Core
In the kinesiology field, it's essential for professionals to be able to communicate well with others. Through courses such as music, art, speech and literature, you'll learn more about people from different backgrounds and with different values and how you can connect with them professionally, effectively and graciously.
And with courses in English, Bible and history, you'll learn skills in critical thinking through analyzing, evaluating and synthesizing information and ideas. What's more, you'll grow in your knowledge of God's Word and be better prepared to make a defense for the hope that is in you, with gentleness and respect.
Electives
You will typically find that courses in business, coaching, nutrition, psychology, and public health are most helpful in preparing you for a job in the health and fitness industry or for post-graduate study. If you are unsure of what electives would be best for you, our kinesiology faculty are happy to discuss with you the courses that would be best suited for your degree.
Faculty Spotlight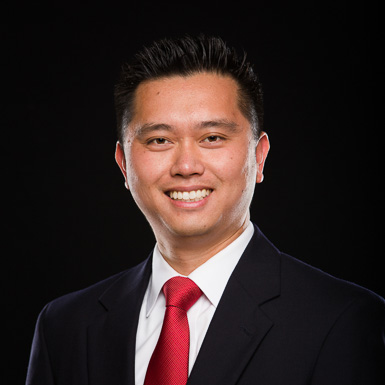 Stephen Chen holds degrees in biology and a PhD in exercise physiology. As a certified Strength and Conditioning Specialist and a member of the American College of Sports Medicine, he is passionate about student wellness and exercise performance in athletes. He also oversees the human performance laboratory in addition to his teaching.
Courses/Objectives
Program Objectives
General
Evaluate, interpret and integrate information from the scientific literature with critical thinking and analytical skills to solve problems related to physical activity and health.
Apply clinical and laboratory skills pertaining to health screenings, fitness assessments and movement analysis for apparently healthy, clinical, and/or athletic populations.
Design, administer and evaluate individualized wellness and fitness programs based on scientific principles and concepts in exercise science designed to reduce disease risk, avoid injuries and improve performance.
Communicate effectively in verbal, written and technological forms with other health professionals and varied populations served.