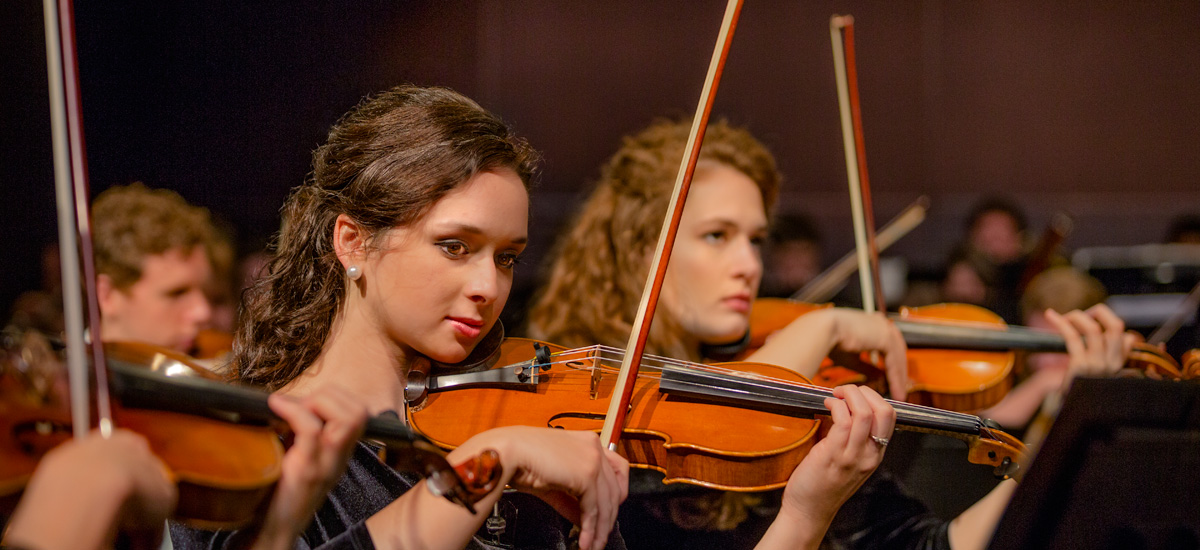 Orchestral Instrument Performance
Bachelor of Music
Excellent performance education rooted in theory, technique and artistry
God has given humanity the beautiful gift of music for our joy and for His glory. Here at BJU you'll explore the intricacies of music through careful study and concentrated practice under highly qualified and experienced faculty. Whether you're improving your skills with your instrument or learning how to use technology to compose, record or mix music, you'll grow in your knowledge and appreciation of music.
And you'll learn why excellent musicianship is important—especially for believers—and how to pursue that excellence in a way that displays the manifold perfections of God.
Available Principals
Bassoon
Cello
Clarinet
Double bass
Euphonium
Flute
Guitar
Harp
Horn
Oboe
Percussion
Saxophone
Trombone
Trumpet
Tuba
Viola
Violin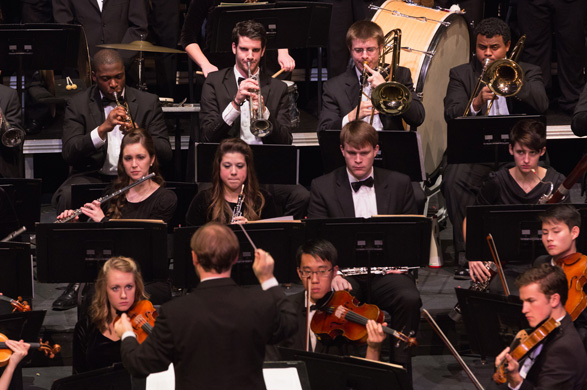 Program
Within the performance program at BJU, you'll build a solid foundation in theory and technique. You'll learn how elements—including tonality, harmonic sequences and chromaticism—work together to create coherent and expressive music, and you'll learn how to use each element to create compelling music. You'll sharpen specific skills in performance so you can grow as a musician and play your instrument expertly.
In addition, you'll build a solid foundation in music history, from ancient music through contemporary. Each period of music will help you understand how society and culture influence music and how Western music has developed through the years with the introduction of new instruments, styles and technologies.
You'll work closely with your professors beginning at your initial audition. From there, you'll work with caring faculty members who know what it takes to be a performer and who will customize the way they teach to meet your needs so you can excel as a musician, expand your repertoire and perform at your very best.
Audition
If you want to study in a music program, you'll need to audition so your music background and current skill level can be evaluated. The audition will help the music faculty assess your potential as a music student and will give them a good idea of how to equip you to reach that potential.
BJU Core
Liberal arts courses, such as economics, philosophy and speech, will challenge you to see life from a broader perspective. These subjects will also help you develop essential life skills such as critical thinking, problem-solving, creativity and effective communication—skills necessary for flexibility in your career. The importance of communication skills cannot be overstated for a musician, and these core courses will enhance your powers of expression.
In addition, your Bible courses will connect your pursuit of God to all of life, including your work as a performer. These courses will encourage you to make your relationship with God your top priority, and to view your ethics and practices in your career through God's Word. And more importantly, you'll learn how you can point others to the beauty and holiness of God and the hope found only in the person and work of Jesus Christ.
Electives
Orchestral instrument performance is an involved program, and much of your course schedule is already predetermined, with the exception of your second instrument concentration. If you wish to take additional Bible or liberal arts courses, you may want to do that through online courses.
Laura Majewski, '13
I chose Bob Jones University because I knew I could trust the spiritual, musical and academic content of the education I would receive. I have not been disappointed! The rigorous liberal arts core challenged my thinking and prepared me to interact professionally with future colleagues and students. My music classes and performance opportunities honed my skills and offered me real-life experiences that will be an asset in my future endeavors. I am thankful for the variety and abundance of performance experiences I received here (band, orchestra, opera, small ensembles, competitions and tours) that are not available to my peers at other institutions. However, the spiritual climate has impacted me the most. The emphasis on doing all—from Bible, English and science, to music theory and opera—for the glory of God will influence me for the rest of my life. I am thankful for the faculty members in every department who communicated passion for the Gospel in and out of the classroom. My teachers not only taught history, hermeneutics and counterpoint; they taught students. And they have inspired me to do the same.
Jobs
The orchestral instrument performance program at BJU opens the door to many career possibilities.
Orchestra performer
Band performer
Solo performer
Private studio instructor
Studio musician
Church musician
Graduate Schools
Our orchestral instrument performance graduates have been accepted into leading graduate schools including:
Boston University
University of Cincinnati College-Conservatory of Music
Cleveland Institute of Music
Florida State University
Louisiana State University
Peabody Conservatory
Rice University, The Shepherd School of Music
Southern Methodist University
University of Colorado
University of Illinois
University of Kentucky
University of North Carolina School of the Arts
Graduate Experience
Orchestral instrument performance graduates excel in a wide range of settings:
Principal trumpet, Green Bay Symphony
Private studio instructor
Suzuki violin instructor
Section leader, Kansas City Symphony
Principal clarinet, San Francisco Ballet
Principal oboe, Kentucky Symphony
Horn, 392nd Army Band
Horn, 98th Army Band
Violin, Huntsville Symphony Orchestra
Violin, Richmond Symphony
Trumpet researcher, designer and maker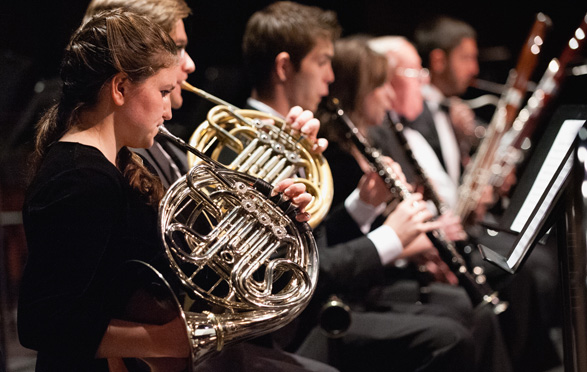 Career Support
BJU offers students a variety of ways to network with employers and organizations. A multitude of job opportunities are posted each year on Career Central, our online job board. In addition, more than 60 businesses and 150 Christian schools/mission boards/Christian organizations come on campus to recruit students through on-campus interviews and job/ministry fairs.
Career Services also helps students by holding seminars on resume preparation and interview techniques.

Music Groups
Membership in the University's bands, orchestras or choirs will provide you with unparalleled opportunities for further development of your musicianship under the direction of our accomplished faculty conductors. You will also be challenged to achieve your best in your chosen principal through private lessons, culminating in a senior recital.
Recitals
Once you complete your platform check during your sophomore year, you'll prepare for two recitals: one in your junior year and one in your senior year. These recitals are a significant part of the performance program and play a major role in preparing you for your profession.
Each of these recitals is designed to help you build your repertoire and teach you how to prepare for performances.
The Gustafson Fine Arts Center Music Library
In addition to a variety of online music resources, the Music Library offers you access to:
15,000 bound scores
5,500 chamber and choral music pieces
7,200 biographies and books on music
7,100 LP recordings
8,220 musical CDs
850 musical DVDs
Performances
At BJU, you'll experience a variety of excellent performances—as a performer and as a member of the audience. You'll grow through personal performances, through junior and senior recitals, large and small ensemble recitals, the Concerto and Aria Competition, Annual Music Contests, and Student Recital Hours.
Additionally, you'll be exposed to accomplished artists in the Concert, Opera & Drama Series, such as the King's Singers, Canadian Brass and Prague Symphony Orchestra. You may have an opportunity to perform under professional guest conductors in productions that are part of this series.
Practice Resources
Music practice is invaluable, and we have a number of resources available to help you master your instrument. Practice rooms are available in 4 buildings campus-wide, and you can take advantage of a music computer lab that is equipped with composition software such as Finale and MuseScore.
Faculty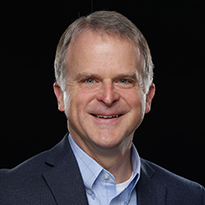 Bruce Cox
Division of Music
BJU's orchestral instrument performance faculty are graduates of some of America's finest graduate schools. Many currently perform in area orchestras such as Greenville Symphony and Spartanburg Philharmonic orchestras.
Some have also been winners in prestigious national contests such as the MTNA Collegiate Brass graduate division and the Holland America Music Society.
Sample Course Outline
1st Year
Applied Secondary - Piano (1 credits)
Private Instrn: Instrument Maj/Prin (2 credits)
Instrumental Ensemble Elective (1 credits)
Private Instrn: Instrument Maj/Prin (2 credits)
Applied Secondary - Piano (1 credits)
Instrumental Ensemble Elective (1 credits)
2nd Year
English or Writing Elective (3 credits)
Instrumental Ensemble Elective (1 credits)
Chamber Ensemble Elective (1 credits)
Private Instrn: Instrument Maj/Prin (3 credits)
Instrumental Ensemble Elective (1 credits)
Chamber Ensemble Elective (1 credits)
Private Instrn: Instrument Maj/Prin (3 credits)
3rd Year
Instrumental Ensemble Elective (1 credits)
Private Instrn: Instrument Maj/Prin (3 credits)
Chamber Ensemble Elective (1 credits)
Instrumental Ensemble Elective (1 credits)
Private Instrn: Instrument Maj/Prin (3 credits)
Chamber Ensemble Elective (1 credits)
4th Year
Private Instrn: Instrument Maj/Prin (3 credits)
Instrumental Ensemble Elective (1 credits)
Instrument Literature Survey (3 credits)
Instrumental Ensemble Elective (1 credits)
Instrument Pedagogy (2 credits)
Private Instrn: Instrument Maj/Prin (3 credits)
Program
BJU Core
Elective
Program Objectives
Each student will:
Apply knowledge of performance practices, music history and music theory relevant to performance settings.
Evaluate literature, materials, methods and technology used in successful studio teaching.
Perform public recitals that apply mature musical interpretation and advanced instrumental skills.
What's my next step?