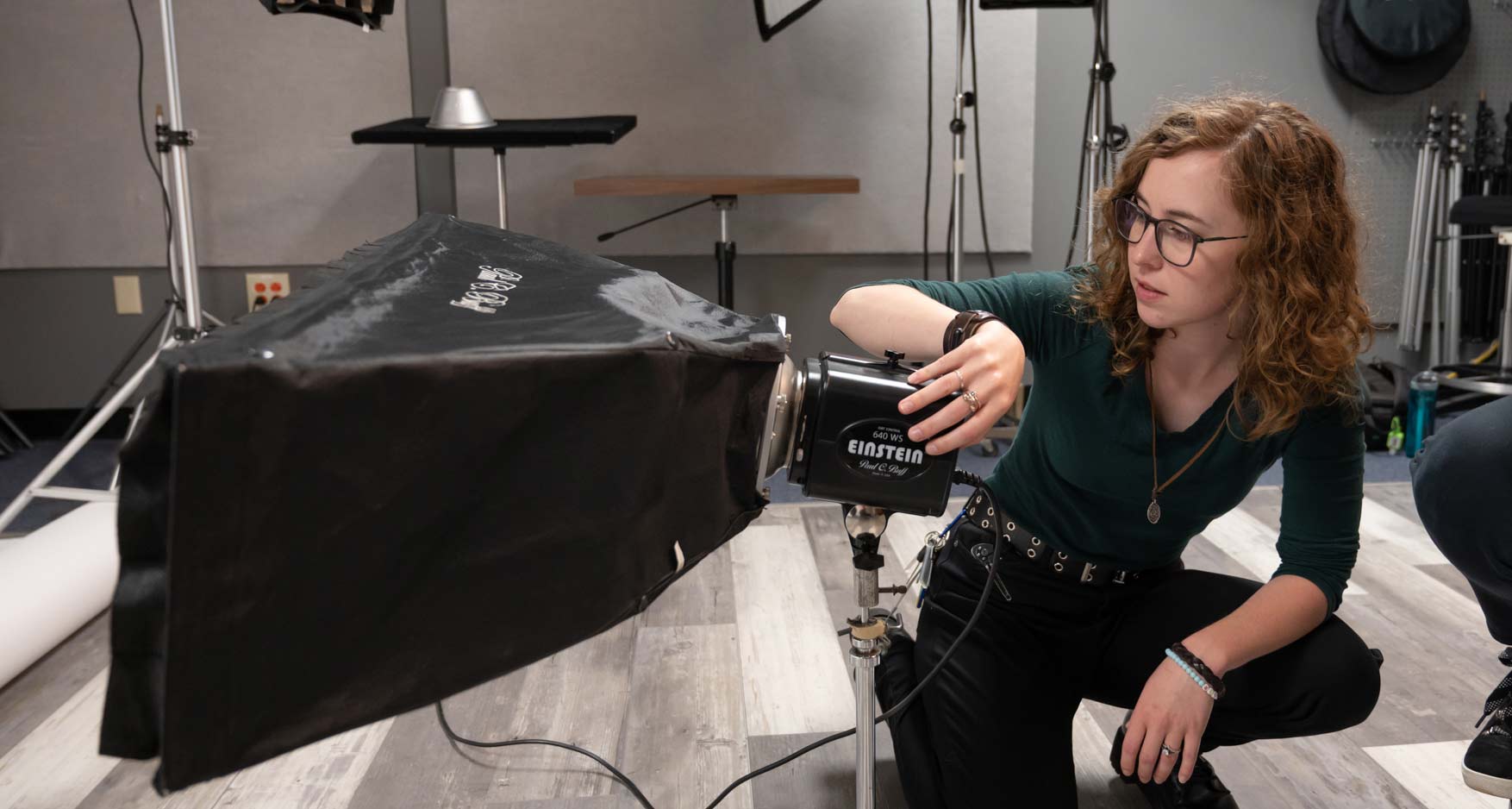 Photography
Bachelor of Science
In the beginning, God created light, and He knew one day we would be creating photography, which means "drawing with light." In the Division of Art + Design at BJU, we create works of art with that light to produce visual solutions in a fallen world.
Many photographic artists spend their lives searching for truth. As Christian photographers, we start our artistic training with The Truth!
Professional photography is more than "taking a picture." The photography field is an exciting multi-media profession with opportunities in commercial industries, fine art galleries and photojournalism reporting.
You'll learn how to produce innovative images through advanced camera work, strobe lighting mastery and postproduction retouching techniques with current industry software.
Throughout the program, emphasis is placed on creating engaging visual communication to produce successful photography solutions for contemporary career opportunities.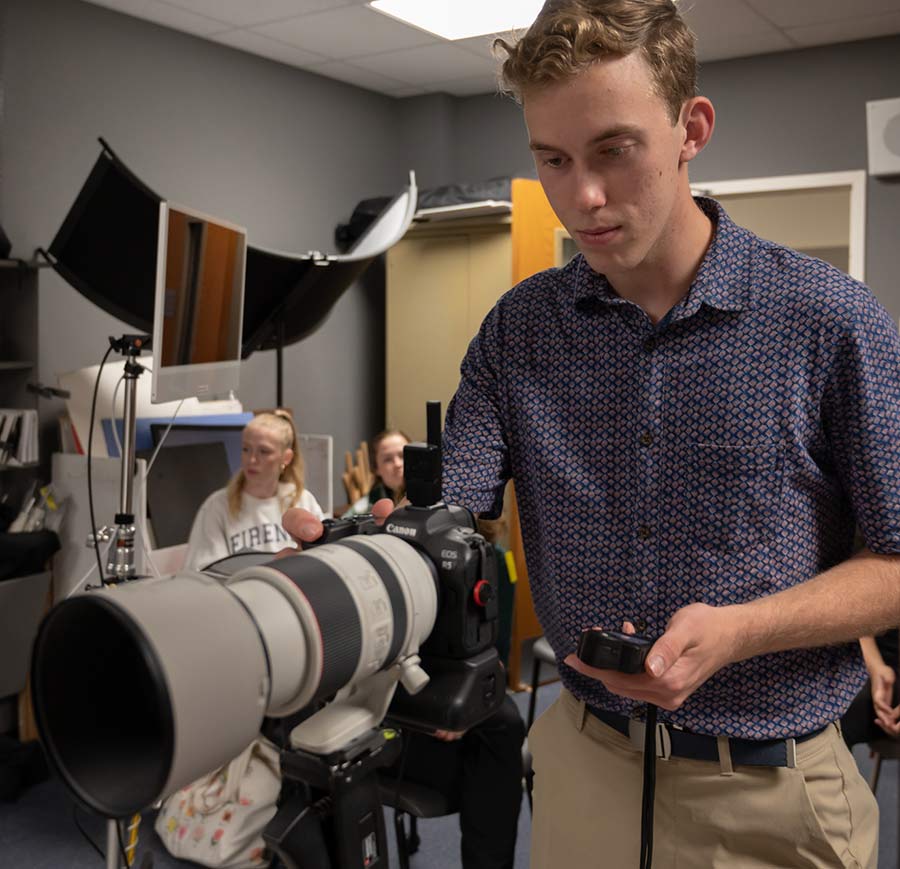 Program
What makes the BJU photography major unique is our well-rounded approach to photography education. Other universities may only emphasize one category of professional photography, such as fine art, BJU places equal emphasis on all three professional categories: fine art, commercial and photojournalism.
To be an industry leader, photographers need skills in all three areas. They must innovate and create original images with high aesthetic beauty, and they need to master the technical aspects through the science of photography, as well as be perceptive storytellers to document culture in an effective way. In our courses you will explore them all!
By the end of the program, you will select your primary area of emphasis for your senior internship and capstone portfolio. This curriculum will prepare you for the many opportunities in modern professional photography.
Electives
Photography sits at the center of emerging multimedia art careers. In addition to your advanced photography training, you will be encouraged to take classes in related storytelling fields of social media content development, video production and motion graphics.
Minors are available to broaden skillsets in areas such as film, marketing, business and journalism. You will also have room to choose to earn a certificate in an area such as business communication, digital media or animation.
BJU Core
As a well-rounded photographer you should not only be able to create innovative images, but you should also be able to write effectively, and speak charismatically to a wide audience. Emphasis is placed on refining your speaking and writing skills in the BJU Core classes.
Additional liberal arts courses, such as philosophy, economics and history, will challenge you even more to see culture from a broader perspective. This sharpened perceptual skill is invaluable to a photographer as you work directly with people and communities. Classes in technology are also invaluable as digital photographers work in an increasingly technology-driven global marketplace.
The Bible courses will connect your image-bearer identity to your creative career. Photographers are often tasked with bringing order out of chaos. With the knowledge you gain from the Bible classes, you can amplify your impact not only through biblically-based business principles, but in growing a heart to minister and give back to the community and ministries you encounter.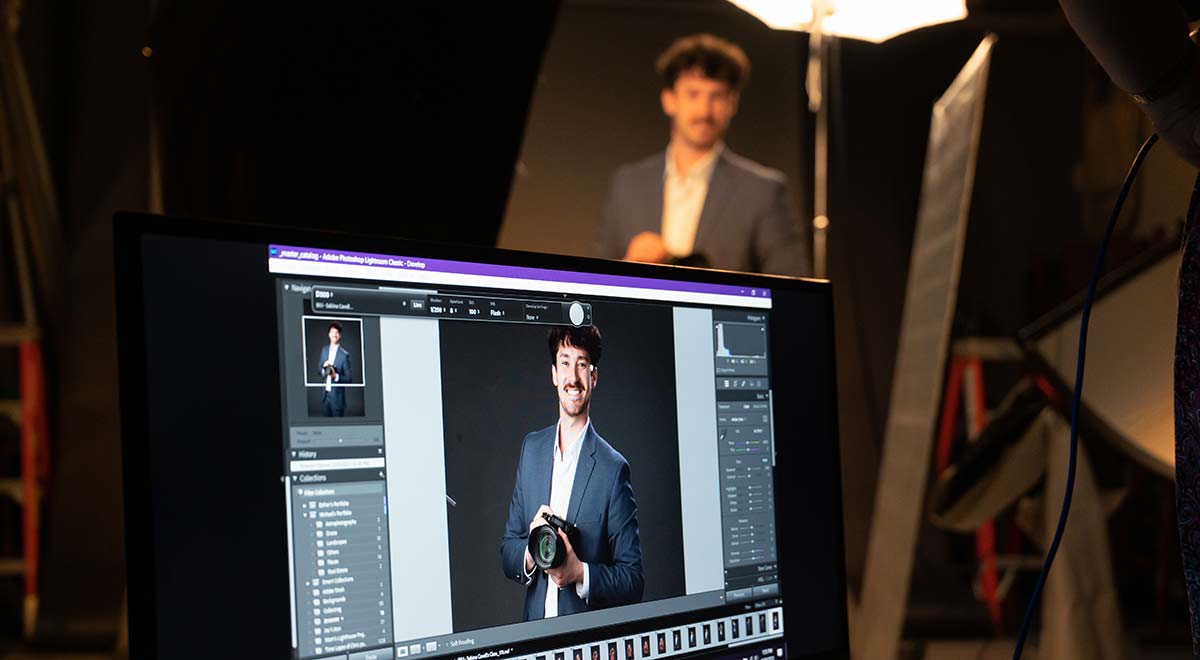 Jobs
The visual arts program at BJU opens the door to many career possibilities, including:
Portrait photographer
Photojournalist
Wedding photographer
Architectural photographer
Photography educator
Food and product photographer
Digital asset manager
Social media content creator
Photo retouching and restoration
Career Support
BJU offers students a variety of ways to network with employers and organizations. A multitude of job opportunities are posted each year on Career Central, our online job board. In addition, more than 60 businesses and 150 Christian schools/mission boards/Christian organizations come on campus to recruit students through on-campus interviews and job/ministry fairs.
Career Services also helps students by holding seminars on resume preparation and interview techniques.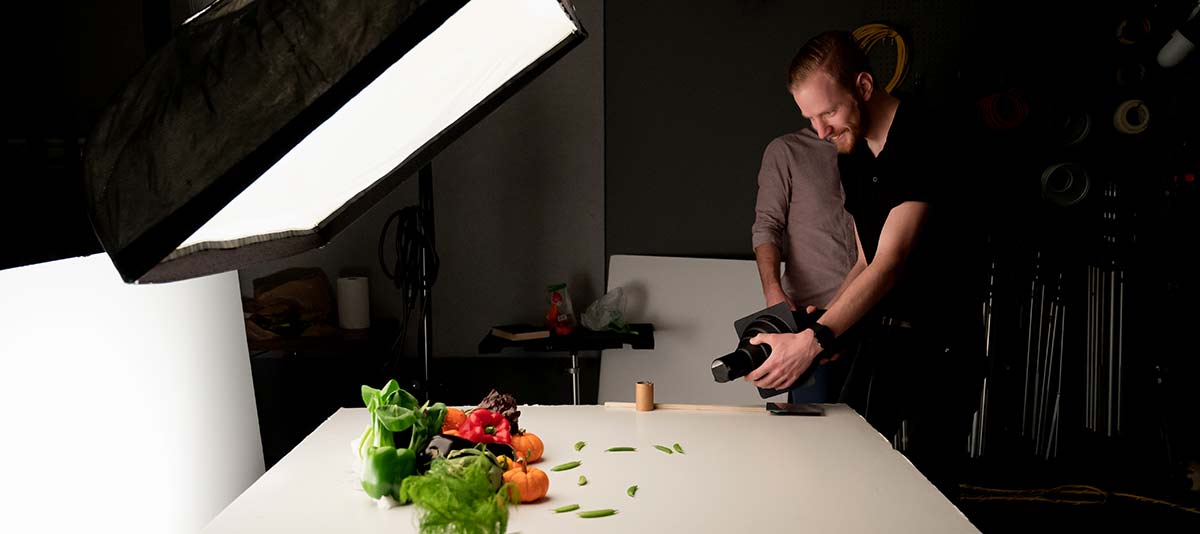 Industry-Standard Equipment and Software
Being excellent in your art and craft means mastering professional tools, processes and practices. That's why at BJU, you'll get experience using industry-standard equipment and software. Here are just a few of the great resources available to you.
Lightroom and Photoshop
Adobe Rush
Photomechanic
Professional mirrorless and full-frame cameras
Nikon and Canon DSLR cameras and lenses
Fully equipped photo studio and lighting gear
Still-life set with continuous lighting tools
On-the-job learning
As a photography student, you'll have the opportunity to apply for positions as working staff photographers on the student-run newspaper, The Collegian, or the university yearbook, The Vintage. These opportunities give you experience in project management through shoot assignments, deadlines and having your photography published!
You can also apply for a paid position as a student photographer for BJU Marketing. Through real-world shoot assignments, weekly critique and staff meetings, you can start building your portfolio and professional network.
Faculty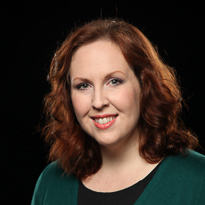 Rebekah Mininger
Division of Art and Design
BJU's photography faculty are all working artists who create and exhibit work on their own. They recognize the value of personal instruction, so they keep class sizes smaller and make an effort to get to know you individually so they can help you tailor your learning to your unique style and focus.
Sample Course Outline
1st Year
2nd Year
English or Writing Elective (3 credits)
Photography Elective (3 credits)
Photography Elective (3 credits)
Electives (3 credits)
3rd Year
4th Year
Program
BJU Core
Elective
Program Objectives
Each student will:
Articulate a biblical worldview through lens-based media.
Utilize best practices in the operation and execution of professional image-making equipment and software.
Implement advanced skillsets in file management and image manipulation.
Produce commercial, documentary, and/or fine art photography that exhibit technical prowess, conceptual depth, acute perceptivity, developed creativity, and God honoring aesthetic choices.
What's my next step?