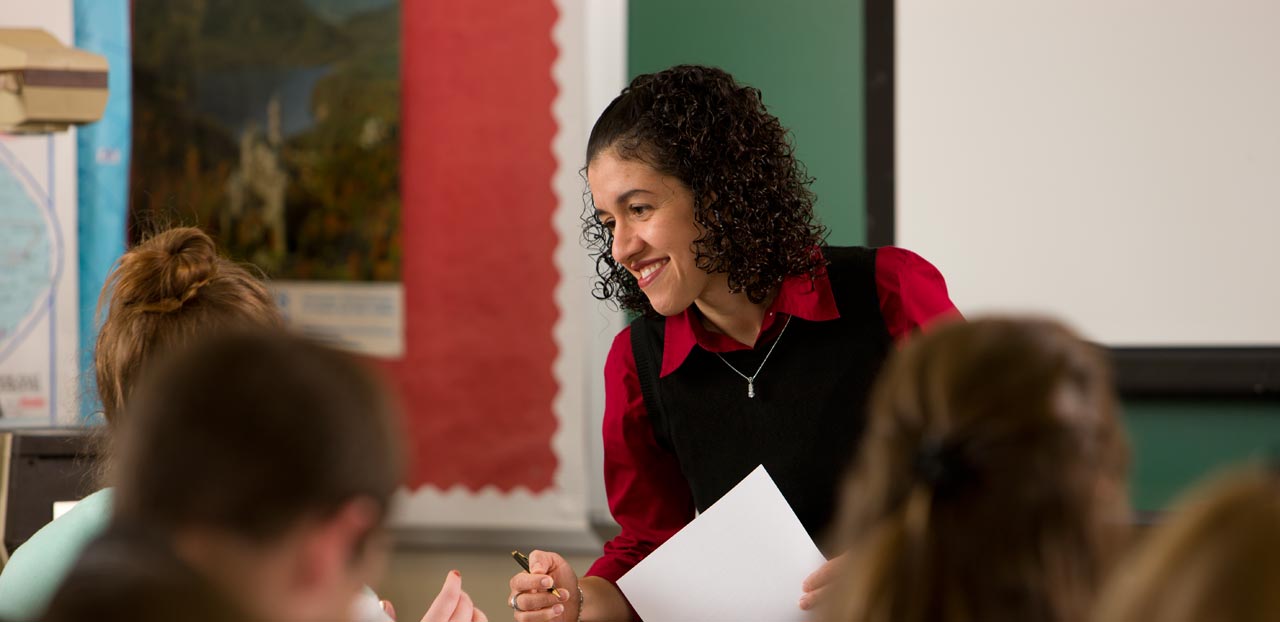 Teaching World Languages
Bachelor of Science
At the end of time, people of every language will worship around the throne of God. Studying world languages at BJU, you'll learn how language shapes how people think, and how you can use this knowledge to more effectively communicate as an educator.
You'll study the language heritage and worldview through courses in history and literature, plus you'll receive a solid foundation in the linguistic structures of language. More importantly, you'll explore the Word of God in Spanish or French so that you'll be able to edify believers and share the Gospel with the world.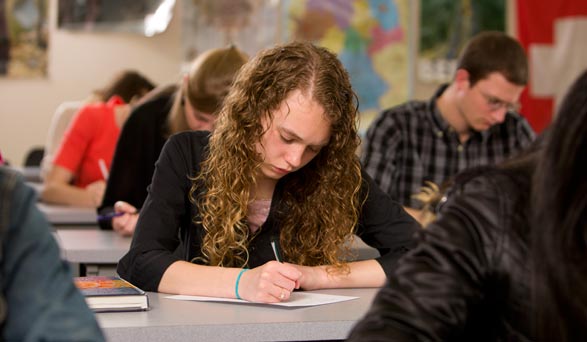 Program
BJU's Teaching World Languages program focuses on giving you a strong proficiency in the language. As you gain fluency, you'll develop your knowledge and communication skills in writing, speaking, history and literature.
Your courses and opportunities outside of class will prepare you to maintain an advanced proficiency in speaking under pressure. You'll also take several methods-focused classes that will stimulate your creativity in teaching and equip you with diverse instructional methods and knowledge of current educational technology.
You'll gain real-life experience in the classroom, culminating in a semester of directed teaching during your senior year. You'll have the opportunity to work with a teacher in a local public school, as well as a BJU professor, who will give you feedback every week.
BJU's program is approved by the South Carolina Department of Education, leading to initial South Carolina state licensure (licensed to teach grades K-12 in a public school setting).
BJU Core
The ability to connect with people from all walks of life—as Jesus did with farmers, soldiers and business professionals—is one of the many skills you'll strengthen through the BJU Core.
Courses in Bible will help you articulate what you believe and help you confidently share why you believe God's Word. And through subjects such as history, economics and science, you'll be better equipped to weave biblical truth into your daily conversations and interactions with others.
In addition, you'll learn that language finds its home in history—that's why the BJU Core complements the program so well. Your studies in other academic areas, such as history, psychology and the arts will give you a better understanding of all people. And coupled with your language courses, your liberal arts courses will help you understand the worldview and values of native Spanish speakers.
Electives
Teaching World Languages is a very involved program, and much of your class schedule is already predetermined. It's essentially a Spanish or French program, with electives in education taking up the remainder of your schedule. If you still wish to take additional Bible or liberal arts courses, you may want to explore the option of taking courses online over the summer.
Noel Ring, '12
Bob Jones Academy
As a member of an English-speaking church in town, I had a burden to expand my church's influence through Spanish. The Lord has allowed me to start a beginner's Spanish program in which I have been teaching a dozen home school students once a week for the past nine months. Lord willing, one day each of my students will be able to use Spanish as a tool to spread the Gospel to the lost.
Jobs
Teaching language continues to grow in its needs for professionals to fill its roles—BJU receives many more requests for foreign language teachers than there are graduates to fill the positions.
Teacher
Missionary
Interpreter or translator
Manufacturer's representative
International worker (airlines, banking, industry, business, journalism)
Government worker (State Department, Foreign Service, Department of Defense, Department of Agriculture)
Social worker
Graduate Schools
Our graduates have been accepted into graduate schools including:
Saint Louis University, Madrid Campus
University of Oklahoma
Universidad de Alicante
Indiana University
Graduate Experience
Our graduates have gone into a number of careers and have held jobs such as:
Middle school math and Spanish teacher at The Abbie School, Tucson, Ariz.
Teacher, Whitehall Elementary School, Anderson, S.C.
Dorm counselor at Puerto Rico Baptist College
Spanish teacher

Hillcrest High School, Simpsonville, S.C.
Greer Middle College Charter High School, Greer, S.C.
Riverside High School, Greer, S.C.
Greenville Classical Academy, Simpsonville, S.C.

Foreign language teacher at Bob Jones Academy (Middle School), Greenville, S.C.
English teacher for language institute in Barcelona, Spain
Teacher, Northwood Middle School, Greenville, S.C.
Career Support
BJU offers students a variety of ways to network with employers and organizations. A multitude of job opportunities are posted each year on Career Central, our online job board. In addition, over 60 businesses and 150 Christian schools/mission boards/Christian organizations come on campus to recruit students through on-campus interviews and job/ministry fairs.
Career Services also helps both students and alumni through career advising, resume preparation, job search assistance, recruitment conferences and more.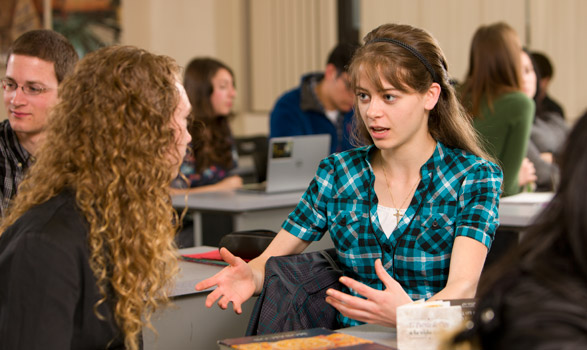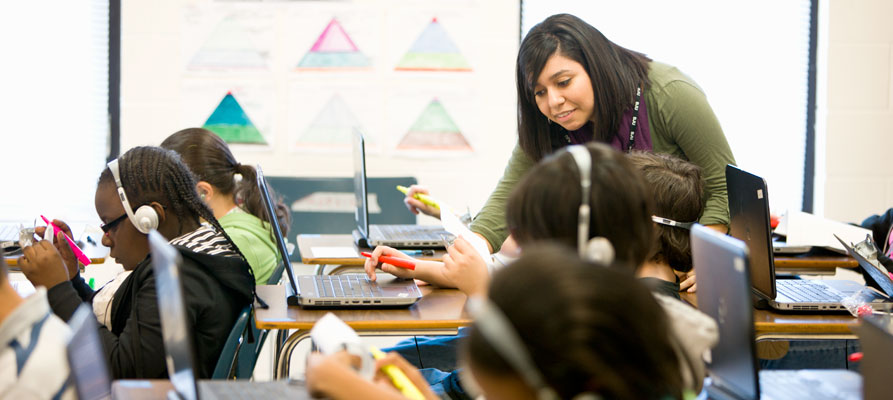 Practical experience, especially in a language, is essential. That is why BJU's Spanish and French faculty encourage your involvement with native speakers, both at BJU and abroad. These opportunities will help you better understand spoken Spanish or French and in turn help you better communicate with others.
Clinical Practice
Your teaching preparation moves gently from classroom observations to after-school tutoring to practicum two mornings a week. Meanwhile, your methods classes will give you plenty of practice in lesson planning. By the time you begin your clinical practice your senior year, you will be well prepared with numerous lesson plans under your belt and at least 100 hours of classroom experience. Clinical practice, the capstone experience of your teaching preparation, gives you the opportunity to work with a mentor teacher in a local public school and receive timely feedback in weekly meetings with a BJU professor. This semester of clinical practice, along with completion of required classes, passing scores on the Praxis II exam and a favorable recommendation, leads to South Carolina state teacher licensure for grades K-12.
Study Abroad Program
During your time at BJU, you'll have the opportunity to study abroad in the summer. During the four weeks, you'll take two on-location immersion courses—you'll spend mornings in class and your afternoons visiting historical sites and using your skills in the language.
University Language Association
The University Language Association is a student-run organization that brings in speakers from various countries and occupations to give you opportunities to see the connections between language and future careers. You'll also learn about needs in Christian ministries around the world so you can give of yourself through prayer and other means for the glory of God.
Local Opportunities
There are a growing number of Spanish and French speakers in Greenville, S.C., providing numerous avenues of service. Your opportunities range from serving in a Spanish-speaking church to working at non-profit organizations that assist Spanish speakers. Faculty members can help you get connected so you can grow in your proficiency of the language.
Spanish Churches
Greenville County is home to more than 36,000 Hispanics—that's more than 8% of the total population. Many Spanish-speaking churches have been established in the Greenville area, and many English-speaking churches have started Spanish-speaking ministries. You'll have many opportunities to use your Spanish-speaking skills for the Lord in ministries around the Upstate.
Faculty
Your language faculty are both knowledgeable and enthusiastic about their subject. All have traveled extensively to Spanish and French-speaking countries, so they teach from their firsthand experience of cultures and dialects.
In addition, they have presented academic papers at international conferences such as the Association for Classical Hispanic Theater and the South Central Modern Language Association. And above all else, they have a passion for God's work around the globe and equip you in serving God wherever He leads you.
Sample Course Outline
1st Year
2nd Year
3rd Year
French Elective (300/400-level) (3 credits)
French Civilization Elective (3 credits)
French Elective (300/400-level) (3 credits)
French Literature Elective (300/400) (3 credits)
4th Year
French Elective (300/400-level) (3 credits)
Program
BJU Core
Elective
Program Objectives
Each student will:
Communicate at the Advanced level of proficiency in the target language.
Describe target language cultural products, practices, and perspectives based on personal contact with native-speaker communities.
Articulate how a biblical worldview shapes engagement with Hispanic cultures.
Create and implement standards-based unit plans.
What's my next step?