High School Festival: Music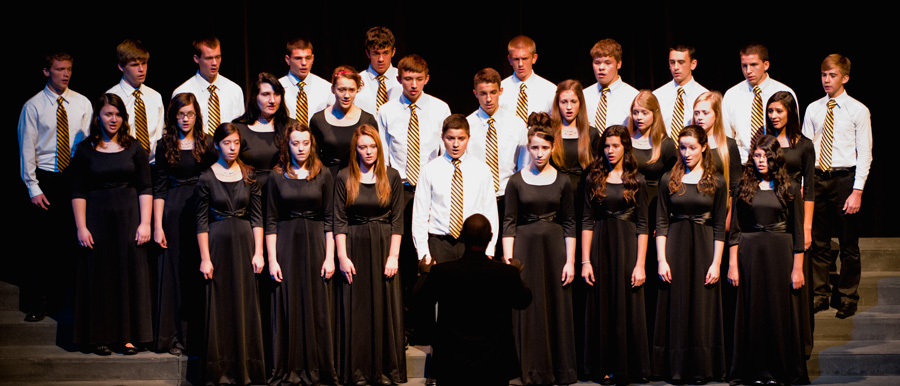 Finally see all those practice hours pay off. Receive valuable feedback and advice from our highly respected music faculty.
Competitions
Individual
Brass
Classical Guitar
Harp
Organ
Percussion
Classical Piano
Sacred Piano
String
Voice
Woodwind
Group
Small Vocal Ensemble (2–6)
Large Vocal Ensemble (7–16)
Choir (17+)
Brass Ensemble (4+)
Handbell Ensemble (4+)
Percussion Ensemble (4–12)
Piano Ensemble (2–4)
String Ensemble (2–9)
Woodwind Ensemble (2–9)
» Music Contest Guidelines
» Music Contest FAQ
Copyrights
By entering the competitions, you agree to abide by all Federal Copyright Laws.
Please submit a PDF of an original copy of your music for the judges. If you or your accompanist will be using music for any of your performances, those copies will need to be original copies.
Photocopies of music may be used only under the following circumstances (handwritten copies fall under the same guidelines):
The music is in the public domain—it is not copyrighted, the copyright date is before 1923 or the copyright date is between 1923–1963 and has not been renewed.
The copyrighted music has been ordered but not yet received, and you have a note from a music store stating that you have ordered and paid for the music.
You present a letter from the publisher or the copyright holder giving permission to copy the music.
You or your accompanist may reproduce single pages to facilitate page turns. The original published score must also be present on the music stand and/or music rack.
An emergency copy may be made to replace previously purchased copies which for any reason are not available for an imminent performance. The purchased replacement copies must be substituted at the earliest opportunity.
If you are using digital sheet music or something similar printed from an online download, you will need to provide proof of purchase or a "permission to use" letter with your music.
Please note further the following copyright considerations.
Copyrighted music may be edited or simplified provided that the fundamental character—melodically and harmonically—of the work is not distorted.
Copyrighted lyrics may never be changed without permission of the copyright holder.
Personal arrangements of a copyrighted work must have the written permission of the copyright holder.
Please direct any questions on copyright to Mr. Paul Jantz, (864) 370-1800, ext. 2750.
Limitations
Contestants may not compete against themselves in any group competition; therefore, they may not be a member of more than 1 group within any particular contest area (e.g., competing in 2 different small vocal ensembles).
Contestants (both individual and group) may win first place more than once in successive years performing different literature.
Any student who does not fulfill all of the contest requirements will forfeit their right to win but will receive judges' written critiques.
1st Place Individual Winners
$250 scholarship for the 1st semester of freshman year at BJU
Full scholarship to attend a BJU EDUcamp
2nd Place Individual Winners
3rd Place Individual Winners
1st, 2nd and 3rd Place Group Winners
Questions?
Submissions
Your video submission should be uploaded to YouTube as an "unlisted" video. Submit the direct link to the video on your registration form. Test your unlisted video link by logging out of YouTube and accessing the link.
The YouTube video should be labeled in this format:
Performer/Group name - Organization/School name - Competition Category
Individual Example: John Smith - Smith Homeschool - Classical Piano
Group Example: Concert Choir - Bob Jones Academy - Choir
Ensure your submission has good audio and video quality. The video recording must have been made no earlier than July 1, 2020.
For individual performers, the individual's face, hands, (and feet for keyboard competition categories) should be clearly visible throughout the recording.
The video must be recorded in one unedited take from one camera angle. Any evidence of multiple takes or of audio that does not match the performance will result in disqualification. If a specific contest category requires two separate selections, they should be recorded in one continuous unedited take.
Do not include fade-outs or video transitions.
The performance recorded for the video entry must be acoustic and not amplified. The only microphone(s) involved should be for recording
No sound editing is allowed and no reverb may be added to the recording. The recording must be honest and acoustic. As much as possible, it needs to be as if the judges were in the room listening to you perform live.
The video should be in the spirit of a recital or audition. It may be shot in a home, school, church, recital hall, or some other appropriate location, with or without an audience.
You are required to introduce yourself and your selections at the start of the video—either verbally or with a title slide. This is a simple introduction in the spirit of an audition. This introductory portion of the video entry must be limited to the following: –Performer/Group name – Organization/School name – Composer(s) and title(s) of your selection(s)
Once a video is submitted, no substitutions will be allowed.