High School Festival: Music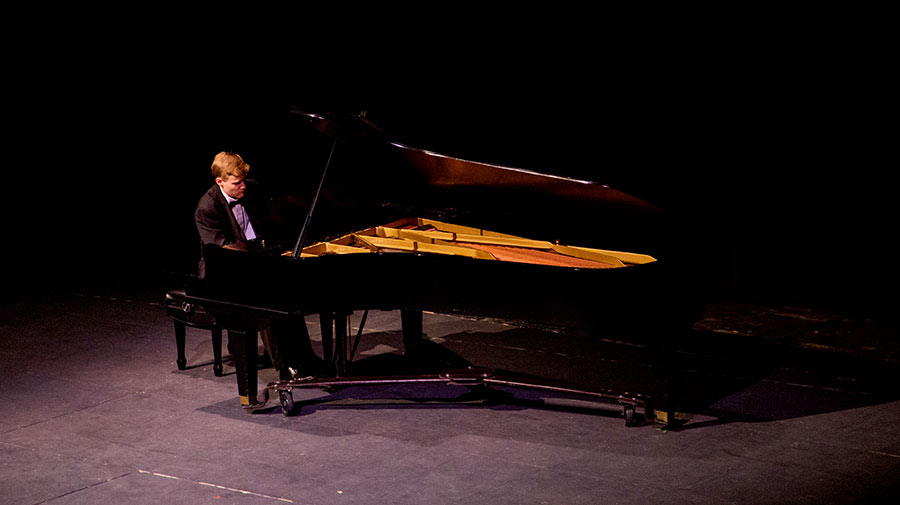 Finally see all those practice hours pay off. Connect with high school musicians and choirs from around the country while competing in group or solo categories. Receive valuable feedback, attend choir, orchestra or band rehearsals and get advice from our highly respected music faculty.
Competitions
*Musical periods are Renaissance, Baroque, Classical (including Beethoven), Romantic, Impressionistic and music since 1900.
If you are using digital sheet music (or something similar printed from an online download), please provide proof of purchase indicating the number of allowable copies, the source of the download (e.g., IMSLP) or a "permission-to-use letter" with your music.
All performers and accompanists who use music for their performances must use an original copy of the music. In addition, one original copy of each selection of music performed must be supplied for use as a judge's copy, with the measures numbered beginning with the first full measure. Possible exceptions to these policies are listed below in the copyright section. Recorded accompaniments will not be permitted.
Printable Guidelines for all categories | Music Contest FAQ
---
Copyrights
Please remember that you will need 1 original copy of each selection of music you perform for a judge's copy. If you or your accompanist will be using music for any of your performances, those copies will also need to be original copies.
Photocopies of music may be used only under the following circumstances (handwritten copies fall under the same guidelines):
The music is in the public domain—it is not copyrighted, the copyright date is before 1923 or the copyright date is between 1923–1963 and has not been renewed.
The copyrighted music has been ordered but not yet received, and you have a note from a music store stating that you have ordered and paid for the music.
You present a letter from the publisher or the copyright holder giving permission to copy the music.
You or your accompanist may reproduce single pages to facilitate page turns. The original published score must also be present on the music stand and/or music rack.
An emergency copy may be made to replace previously purchased copies which for any reason are not available for an imminent performance. The purchased replacement copies must be substituted at the earliest opportunity.
If you are using digital sheet music or something similar printed from an online download, you will need to provide proof of purchase or a "permission to use" letter with your music.
Please note further the following copyright considerations.
Copyrighted music may be edited or simplified provided that the fundamental character—melodically and harmonically—of the work is not distorted.
Copyrighted lyrics may never be changed without permission of the copyright holder.
Personal arrangements of a copyrighted work must have the written permission of the copyright holder.
Please direct any questions on copyright to Mr. Paul Jantz, (864) 370-1800, ext. 2750.
Accompanists
You may bring your own or inquire ahead to hire a BJU student accompanist. Accompanists are $45 per contest and should be paid in person when you meet them. You can request an accompanist in your registration. The deadline to request an accompanist is October 14.
Instrument Rental
A limited number of rentals are available. Rentals are $25 except for lever harps ($35) and pedal harps ($50). Specify your rentals in your registration.
Limitations
Participants may enter a maximum of 3 individual/solo contests. Contestants may not compete against themselves in any group competition; therefore, they may not be a member of more than 1 group within any particular contest area (e.g., competing in 2 different small vocal ensembles).
Contestants (both individual and group) may win first place more than once in successive years performing different literature.
Any student who does not fulfill all of the contest requirements will forfeit their right to win but will receive judges' written critiques.
Awards
1st Place Individual
Trophy
Paid program fee for the 1st semester of freshman year at BJU ($800–$1475)
$375 Scholarship for BJU EDUcamp
2nd Place Individual
3rd Place Individual
1st, 2nd and 3rd Place Group

Side-by-Side Music Experience
Students are strongly encouraged to rehearse and perform in one of the following side-by-side experiences hosted by members and directors of BJU performing groups.
Wind Band
Open to 9–12th grade students in brass, woodwind, and percussion. Students will rehearse and perform side-by-side with members of the BJU Symphonic Wind Band under the direction of Bruce Cox.
Orchestra
Open to 9–12th grade students who play violin, viola, cello or bass. Students will rehearse and perform side-by-side with members of the BJU Symphony Orchestra under the direction of Michael Moore.
Violin I must be able to play with confidence and ease in fifth position, Violin II and Viola in third position, Cello and Bass in fourth position.
Concert Chorus
Open to SATB singers recommended by their director.
Each school or homeschool group may select up to 3 balanced quartets of SATB for a total of 12 singers maximum. These singers will rehearse and perform concert choral literature side-by-side with the University Chorale under the direction of Andrew Huish.
Festival Singers
Open to SATB singers participating in any area of the Festival. This chorus will rehearse and perform side-by-side with the University Singers under the direction of Pattye Casarow.