High School Festival: Speech & Drama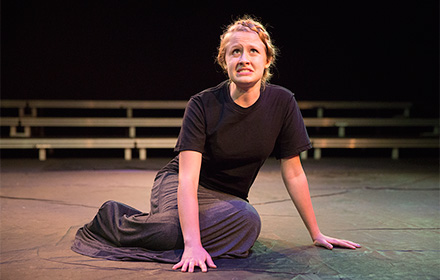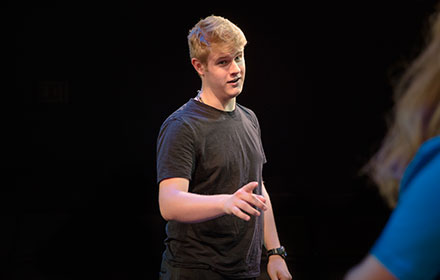 If you have a flair for the dramatic, love performing or want to stretch your creative writing skills, here's your chance. Compete in playwriting, group or solo performance categories and receive feedback from our respected and award-winning theatre faculty.
Competitions
Performance (Solo)
Time Limit: 4–6 minutes
One long or two short memorized selections from a novel, short story or play. Introductions and transitions are expected. Pieces should be fully memorized and video recorded in one unedited take.
Acting (Group)
Time Limit: 7–9 minutes
People: 2 or more
Scene excerpted and performed from a published play by a reputable author. A brief introduction is required for each scene. The quality of the literature will be part of the evaluation. No readers theatre, lighting, makeup or sound effects. Costumes, props and other set pieces will be left to the discretion of the performers, but judges are focused primarily on convincing performances. Scenes should be memorized and presented in one unedited take.
Original Oratory (Solo)
Time Limit: 5–7 minutes
Original speech to stimulate, convince, inform or move to action. May not deal with doctrinal interpretation or religious controversy. Must be delivered without notes and video recorded in one unedited take.
Playwriting (Solo)
Playwrights will write an original play without assistance that is approximately 10 minutes in length. The play can be from any genre (drama, comedy, farce, mystery, religious, etc.). Please use standard playwriting format from the guidelines and upload your play as a PDF document.
Limitations
Students may win first place more than once in successive years with different pieces.
Any student who does not fulfill all of the contest requirements will forfeit their right to win but will receive judges' written critiques.
Submissions
Your video submission should be uploaded to YouTube as an "unlisted" video. Submit the direct link to the video on your registration form. Test your unlisted video link by logging out of YouTube and accessing the link.
The YouTube video should be labeled in this format:
Performer/Group name - Organization/School name - Competition Category
Individual Example: John Smith - Smith Homeschool - Performance
Group Example: BJA Players - Bob Jones Academy - Acting
Ensure your submission has good audio and video quality. The video recording must have been made no earlier than July 1, 2020.
The video must be recorded in one unedited take from one camera angle. Any evidence of multiple takes or of audio that does not match the performance will result in disqualification. If a specific contest category requires two separate selections, they should be recorded in one continuous unedited take.
Do not include fade-outs or video transitions.
The only microphone(s) involved should be for recording
No sound editing is allowed. As much as possible, it needs to be as if the judges were in the room watching you perform live.
It may be shot in a home, school, church, recital hall, or some other appropriate location, with or without an audience.
You are required to introduce yourself and your selections at the start of the video—either verbally or with a title slide. This is a simple introduction in the spirit of an audition. This introductory portion of the video entry must be limited to the following: Performer/Group name – Organization/School name – Author(s) and title(s) of your selection(s)
Once a video is submitted, no substitutions will be allowed.