From Pet to Passion: Chris Carmichael, snake expert & professor
Chris and his twin brother Rob wanted a pet. Their parents agreed to hamsters and gerbils, but the boys discovered they were allergic. "That led to fish, but you can't hold fish," Chris says, "so we tried turtles, which then ate the fish, which we thought was really cool, so that led to more turtles and lizards."
Of course, the next logical step was snakes. At first Chris and Rob sneaked garter snakes in from their yard, but eventually they convinced their parents to let them get a snake as a pet. "Our allergist told our parents it was probably just a short-lived hobby and would go away soon," Chris says. But 40 years later, "we're both still working with reptiles!"
Passion and Persistence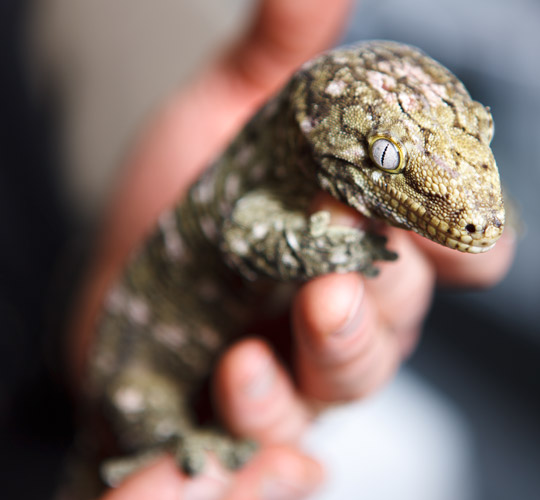 Gecko
A career with reptiles didn't just happen, however. Between Chris' first ball python at age 10 and his position as biology professor at BJU now, there were decades of intense study, research and fieldwork.
"In high school, academics was not my thing," Chris says. However, one of his high school buddies invited him to get involved with a program for high school AP biology students that allowed him to do some research for Abbott Laboratories.
"We did a lot of immunology, some robotics stuff, some software applications to science, lots of drug interaction studies. That allowed me to see the classroom science and then how to apply it to the real-world situations," Chris remembers. "The experience definitely piqued my interest to be pursuing college as a whole, specifically in the sciences." And pursue college he did, resulting in four degrees under his belt.
AS in Biology, College of Lake County, '84
BS in Zoology, Eastern Illinois University, '87
MS in Biology, Central Michigan University, '89
PhD in Biological Science, University of Southern Mississippi, '07
Relationships and Opportunities
Academic degrees weren't the only thing college provided for Chris. Everywhere he went, he formed relationships, and those relationships often turned into opportunities.
At the College of Lake County, "one of my professors, Dr. Mike Corn, saw my potential and my interest in reptiles," Chris says. "One summer he was taking a group to Costa Rica to study reptiles and asked me to come along. I was hooked!" He and Dr. Corn are friends to this day.
At Eastern Illinois University, he helped a graduate student with fieldwork for his master's project. "From there, he introduced me to [a professor from Central Michigan University], who was looking for students to go with him to New Zealand." Chris accompanied this professor to New Zealand, where he did work on the tuatara. "It's a very interesting reptile. Kind of lizard-like, but not a lizard," Chris says.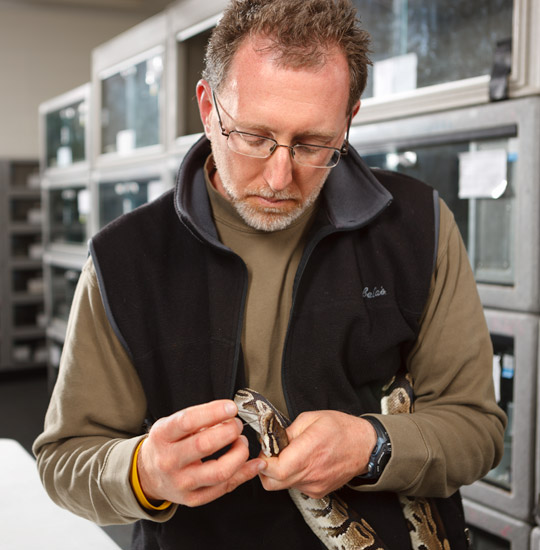 When Chris ended up at Central Michigan for graduate work, he took a herpetology class with this professor, who "turned out to be good friends with Ray Pauley at Brookfield Zoo, so I had a chance to get my foot in the door there," Chris says.
The problem was that Ray Pauley didn't hire men because he believed that women were more nurturing and more responsible, and thus made better zookeepers. "I just remember bugging him over and over to get an opportunity," Chris remembers. "So I gave him an offer he couldn't resist—I volunteered to do the worst job in the reptile room."
But Chris didn't hear back from Ray for several weeks.
Just as he was about to give up hope, Ray called him with a job opening. Chris' persistence had paid off. "It was definitely a humongously nasty job," he says. "They had me organize the cockroach-infested, moldy basement. But after a few weeks, they saw I was working hard and getting along with the other zookeepers. They then let me start working with the reptiles. That was my first zoo-keeping job and was another one of those pivotal moments in my life."
A Hiatus
Along with working at the zoo, Chris began working at an environmental consulting company—an opportunity from another professor of his, who owned the company. "I started doing wetland studies, underground contamination issues with aquifers, that kind of thing," Chris says, "and was eventually hired as an employee there. So when I finished my master's degree, I had a hiatus where I worked full time in the environmental corporate world."
As successful as he was in the environmental consulting business, Chris soon grew restless. Reptiles and research were still his passions. And he had gained additional interests in the meantime—teaching and soccer.
How could he possibly combine them all into one career? As God opened doors one by one, Chris discovered that he could. He ended up teaching biology and coaching soccer at a Christian college and also pursuing a doctorate in biology from the University of Southern Mississippi. "Being in the academic world made juggling all of these possible," he says.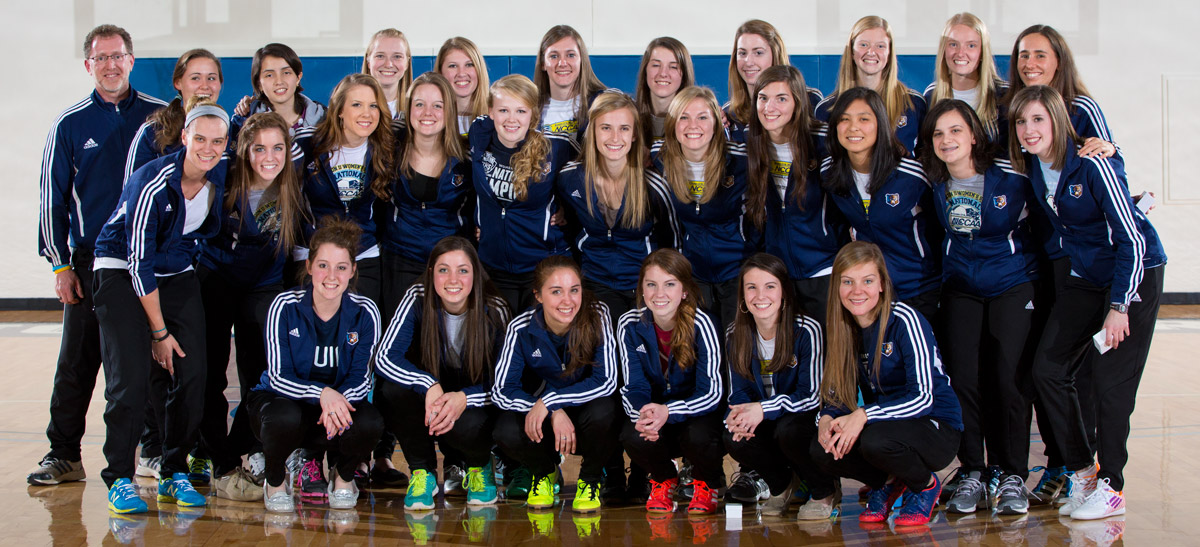 Bruins women's soccer team — 2013 NCCAA DII National Champions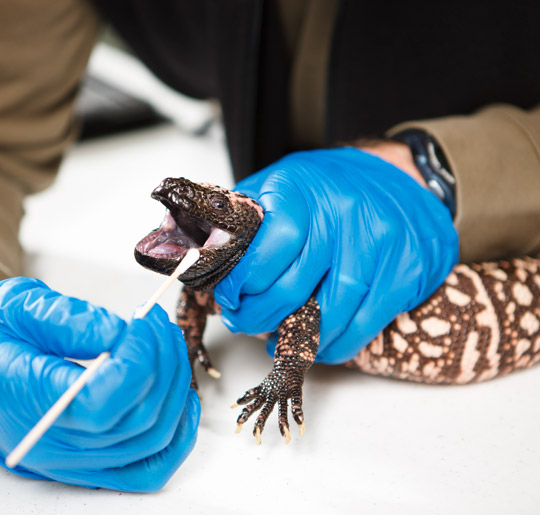 Gila Monster
Reptile Research
"Herpetology and animal behaviors are my two major areas," Chris explains, so it was natural for him to choose a dissertation topic that included both.
He began researching a species of Indonesian python. "This specific python is found on quite a few islands, but we looked at them on five different islands, and noticed there were some patterns of variation, morphologically and behaviorally," Chris says. "We were trying to resolve whether this was a multi-species complex or a subspecies complex. Much of my research was studying the morphology, like the different scale counts, and a lot of it was the behavioral side of it, such as looking at courtship behaviors and how males court females in different ways on different islands."
As he studied Indonesian pythons, he kept adding to his own collection of reptiles. This collection is no longer a few pet snakes—it features more than 150 reptiles, including boas, pythons, monitor lizards, chameleons, rhinoceros iguanas, Gila monsters, geckos and tortoises.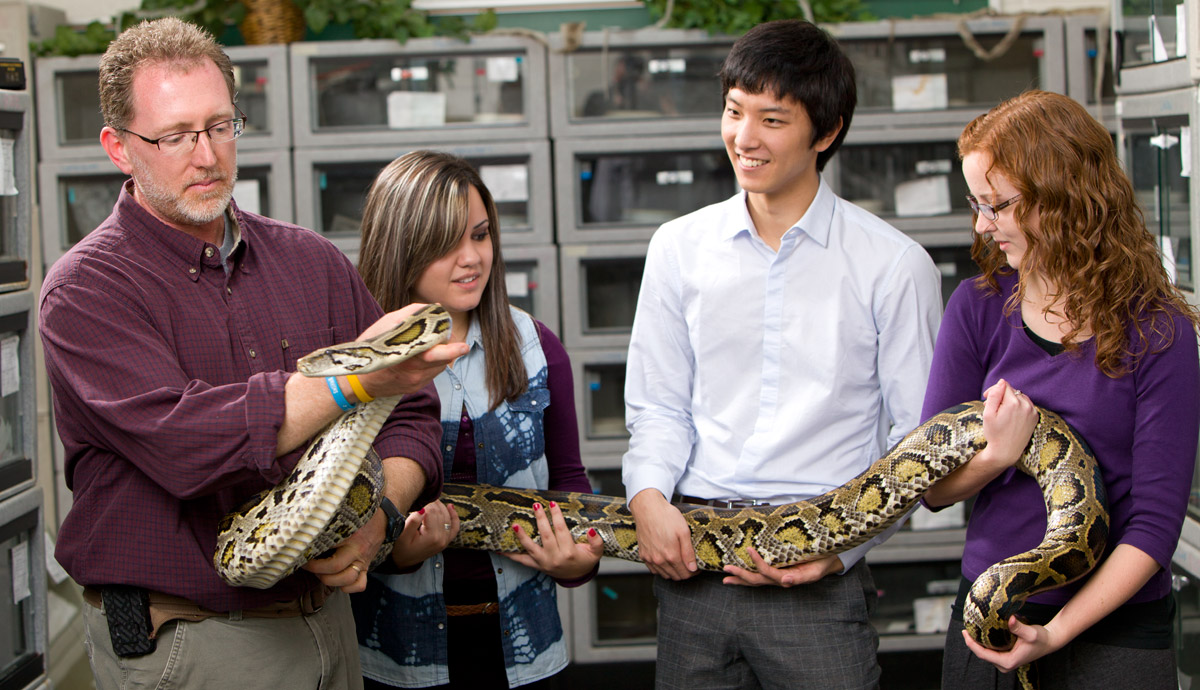 Zoo & Wildlife Biology
When God led Chris to BJU in 2012, Chris brought his years of expertise—and all of his reptiles—with him. He's teaching courses like General Biology, Ecology, and Vertebrate Zoology (and will be adding a new course in Animal Behavior in the fall), while spearheading the new zoo and wildlife biology track for BJU's biology program.
So why add a zoo and wildlife biology program? "People go into the sciences for one of two reasons: they like animals (or it could be plants), or they're interested in medicine," Chris says. "I think there's always going to be an interest in a program like zoo & wildlife biology, because I think people have an innate interest that God gives us to take care of his creation and work with animals."
An integral part of the program is his reptiles, housed in the new serpentarium on campus. Zoo and wildlife biology students who help Chris care for the reptiles come away with invaluable hands-on experience.
Students in the cell biology track have also benefited from Chris' reptile collection. In BJU's cancer research lab, students take the venom that Chris extracts from his eight Gila monsters and isolate certain proteins that may target and destroy cancer cells. They then test these proteins in the lab and record their results.
Chris' connections in the zoology world will provide even more opportunities for biology students. "Everywhere I've gone, I've used professional connections I have to get students jobs and interviews," he says. "It's a pretty small field, and I have a twin brother who's pretty well-connected, so usually my students could get their top or second pick in internships."
As Chris pursues the passions God has given him, he also strives to help students discover and develop their passions and how they fit into God's plan. "It's a matter of helping them to see their God-given talents, what God's will is for their lives and how they might serve Him."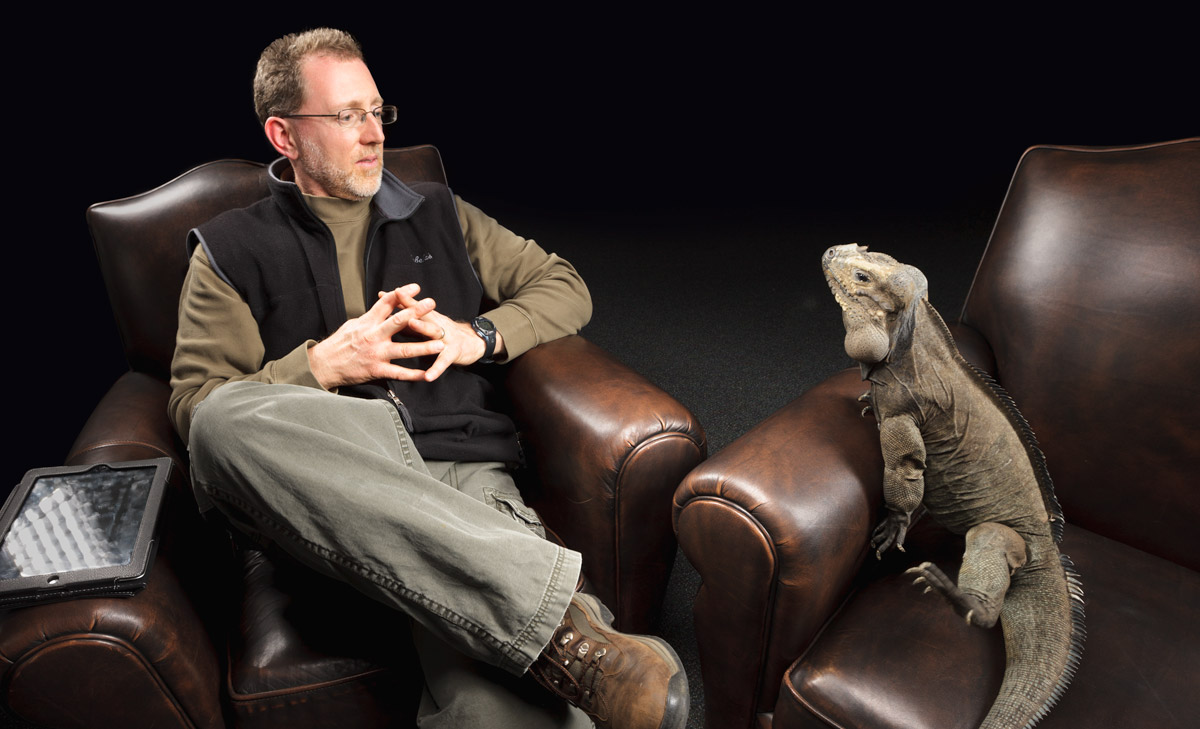 Rhinocerus Iguana
Learn more about our programs.