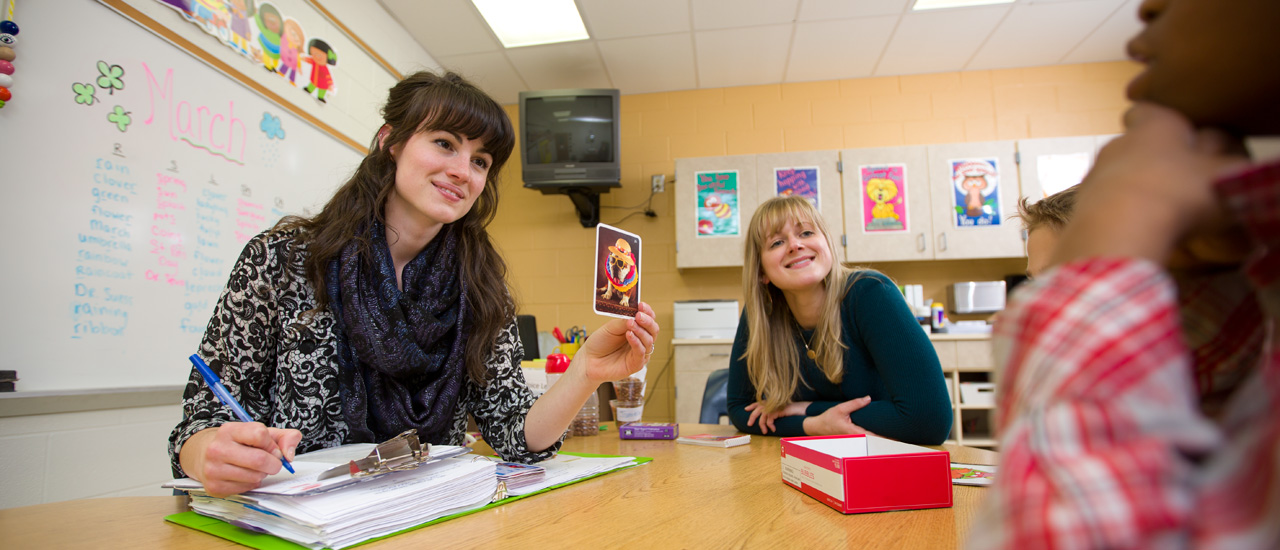 Communication Disorders
Bachelor of Science
Audiology and speech-language pathology ranked in the top 25 for the best health care careers of 2017 (U.S. News & World Report).
Communication disorders is a unique field, combining the rigors of science with the rewards of working with people.
Course content covers the broad scope of normal speech and language development and speech and language disorders, and provides a foundation of math, science and psychology for entrance into a master's program. BJU alumni have gone on to work in schools, clinics, rehab facilities, hospitals, research labs and many other settings.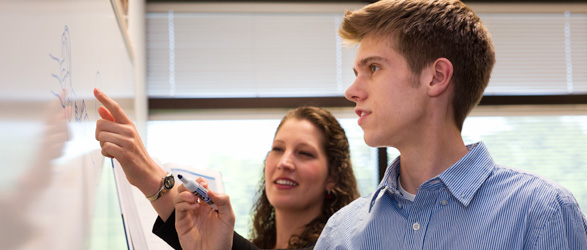 Program
From your very first major class, Introduction to Communicative Disorders, to more specialized classes such as Clinical Application of Phonetics, Disorders of Voice and Acquired Language Disorders, you'll be immersed in a learning environment that challenges you academically. You'll observe 25 hours of therapy sessions, respond to case studies, complete diagnostic projects, simulate a language disorder yourself (and describe your listener's reaction), and learn basic American Sign Language.
BJU Core
As a future speech-language pathologist or audiologist you will need to understand your role in caring for individuals of advanced age or those with severe disabilities. The biblical and cultural framework provided through the BJU Core will enable you to view your future students, clients or patients, not as mere physical beings, but as individuals fearfully and wonderfully made, created by God for a purpose. They, like you, are image bearers of God.
Electives
There are many electives that can complement your studies in communication disorders. You may choose to focus on other aspects of communication through classes such as nonverbal communication, organizational communication, or conflict management.
If you are exploring bilingual therapy, you could prepare by taking a foreign language. Classes related to voice development, such as voice & articulation or voice lessons for singers, could help expand your knowledge of the voice as well as improve your talents. Of course, as your schedule allows, you may also choose to take extra classes in areas that interest you but are not directly related to communication disorders.
Amy Vocu, '07
Riverside ENT
I thank God for placing me in a career as an audiologist, where I can help to improve the quality of life of my hearing-impaired patients of all ages.

My time as a communication disorders student at BJU helped to direct and shape my career. Before Mr. Schaedel (my first professor in communication disorders) passed away, he encouraged me to look into pursuing a degree in audiology. I knew that it would be a difficult path and that I would have to continue on to get my doctorate, but he had faith in me. He reminded me that if God directed me into audiology, then He would give me the wisdom, strength and energy to complete my degree.

Mrs. Miller also helped me to develop my academic skills and instilled in me a compassion and drive to meet the needs of my patients. I loved my time and experiences in communication disorders, and we always managed to have some fun along the way.
Jobs
After completing a degree in communication disorders, you will be prepared to pursue advance coursework for certification in the following fields:
Speech-language pathology
Audiology
Occupational therapy
SLPs and audiologists work in public schools, private schools, speech and hearing clinics, home health agencies, assisted living and acute care nursing facilities, rehabilitation facilities, and hospitals.
Graduates with a bachelor's in communication disorders are eligible to practice as a speech-language pathology assistant (SLPA) in 29 states.* SLPAs provide screening and therapy services under the supervision of a certified speech-language pathologist. BJU communication disorders graduates have become licensed SLPAs in California, Massachusetts, New Hampshire, New Mexico, Pennsylvania, Texas and South Carolina. Other vocational choices include:
Early intervention
Reading intervention
Special education
Applied Behavioral Analysis (ABA) therapy for individuals with autism
Teaching English to non-native English learners
*SLPA requirements for licensure vary by state. You should view the specific licensing requirements for your state. The S.C. Board of Examiners in Speech-Language Pathology and Audiology requires a bachelor's degree from a regionally accredited institution for licensure as a speech-language pathology assistant.
Graduate Schools
Our graduates have been accepted into graduate schools such as:
Alabama A&M
A.T. Still College of Health Sciences
Eastern Michigan University
Indiana University
Medical University of South Carolina
Misericordia University
North Carolina Central University
Old Dominion University
Purdue University
Radford University
Rockhurst University
South Dakota State University
University of Cincinnati
University of Mississippi
University of South Carolina
University of Utah
West Chester University of Pennsylvania
Western Kentucky University
Graduate Experience
Communication disorders graduates excel in a wide range of settings:
Speech-language pathologist at Pediatric Theraplay in Charlotte, N.C.
Research assistant at Communication Sciences Research Center in Cincinnati, Ohio
Audiologist at Ear, Nose & Throat in Norfolk, Va.
Speech-language pathologist in the Greenville County Schools system, S.C.
Private practitioner in Charlottesville, Va.
Speech-language assistant at Bow Elementary School in Detroit, Mich.
Postdoctoral researcher at Vanderbilt University Medical Center
Career Support
BJU offers students a variety of ways to network with employers and organizations. A multitude of job opportunities are posted each year on Career Central, our online job board. In addition, more than 60 businesses and 150 Christian schools/mission boards/Christian organizations come on campus to recruit students through on-campus interviews and job/ministry fairs.
Career Services also helps students by holding seminars on resume preparation and interview techniques.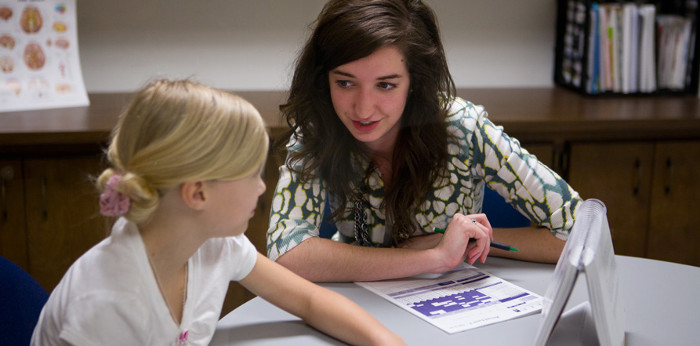 Practicum
The capstone experience of your undergraduate degree is a semester-long, full-time practicum with two certified speech-language pathologists in the Greenville County School System. You'll assist these SLPs with treatment of voice, stuttering, expressive language, receptive language, auditory processing, pragmatic (i.e. social language), articulation and phonological disorders. During each placement, experienced therapists will observe and critique your clinical performance with the goal of building your skills and giving insights into the therapy process. You'll also be exposed to Individual Education Plan (IEP) documentation and meetings.
Opportunities in Greenville
Communication disorders students complete therapy observations in a variety of settings, including the Meyer Center for children with special needs, Greenville County Schools, Greenville Hospital System and Bon Secours St. Francis Hospital. A number of students work with applied behavior analysis (ABA) therapy for children with autism.
South Carolina Speech-Language and Hearing Association
Every year, junior and senior Communication Disorders majors have the opportunity to attend the SCSHA convention, where presenters cover topics ranging from stuttering to traumatic brain injury to autism/Asperger's and many more.
Faculty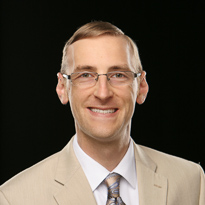 David Eoute
Division of Communication
With an average of 10 years of teaching experience and an average of 14 years working in the field, your communication disorders faculty are passionate about showing God's love to people with speech-language disorders and helping you become the best speech-language pathologist or audiologist you can be.
So be ready to ask lots of questions—every bit of their experience will be invaluable to you as you grow in your content knowledge and develop your skills.
Sample Course Outline
Program Objectives
Each student will:
Assess communication development and the effects of communication disorders throughout the lifespan.
Appraise assessment tools, intervention strategies and professional issues in the field of speech-language pathology.
Evaluate theoretical constructs and current literature in the field of speech-language pathology.
Apply knowledge of anatomy and physiology of the speech, language and cognitive processes to clinical practice.
What's my next step?