Bridge to College English Program
Bridge to College English (BCE), offered every fall semester, is a program to help non-native English speakers succeed at BJU.
When you enroll in the BCE program at BJU, you will enjoy:
small English as a Second Language (ESL) classes
encouraging Christian teachers
help in all areas of English (speaking, listening, reading, writing)
a focus on developing good study skills
earning five university class credits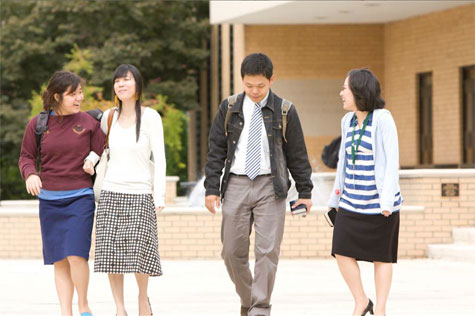 Minimum Entry Requirements
Learn more about the TOEFL (Test of English as a Foreign Language) exam.
TOEFL Internet (iBT)
TOEFL Paper (PBT)
Undergraduate
48 (section scores of 10)
460
Graduate
62 (section scores of 15)
510
Classes
ESL 090: ESL English (0 credits) — The BCE program includes ESL English as a daily class. This class will help you with spoken and written English, including grammar, vocabulary and pronunciation. It also includes reading and study skills as well as frequent and varied writing.
Com 101: Fundamentals of Speech (3 credits) — You and your BCE classmates will be in your own special section of Fundamentals of Speech. You will complete all the normal requirements for the course, but the teacher will help you with pronunciation and other oral skills.
Uni 101: Freshman Seminar (1 credit) — You will also take Freshman Seminar with other new university students. This small-group course will introduce you to the mission and culture of BJU. It includes many opportunities for discussion with your American classmates.
Bi 109: New Testament Messages (1 credit) — New Testament Messages is a large lecture class.
ESL 091: Conversation and Study Skills (0 credits) — To prepare for the New Testament Messages lectures before you attend class, you will also take Conversation and Study Skills. This class will give you more speaking practice for everyday topics, while working on vocabulary, prefixes, idioms, proverbs and pronunciation. At the beginning of the semester, you will also receive an outline or written notes for the New Testament Messages lectures. Later in the semester, you will develop your own skills in taking notes. You will be given extra time (if needed) to complete the New Testament tests.
Completing BCE
Near the end of the semester, you will take the TOEFL again. When you achieve the necessary TOEFL score, you will be admitted into a degree program for the spring semester. The spring semester will be the first of the normal eight semesters for an undergraduate degree.
As an undergraduate degree candidate at BJU in the spring semester, you will have these advantages:
You will be able to take a lighter load because of the one to five credits you already have.
You will be able to take the special section of English 101 that is open only to international students. This course in grammar and writing will further help you with written English.
Immersion
As you live in the residence halls at BJU, you will be surrounded by English. Although other students from your country may live nearby, we encourage you to limit your use of your native language as much as possible. The less you speak your native language and the more you speak English, the more quickly your English skills will improve!