On-Campus Courses for High School Students
Get Your First On-Campus Class Free!
Work ahead on college credit, get a feel for a specific subject and experience college life for yourself—all at an unbeatable price.
If you're a junior or senior in high school and have never taken a class on campus at BJU before, you can get your first class free. For any additional on-campus classes you take while still in high school, it's only $100 per credit!
Plus, you'll get free entrance to all Bruins games and free tickets to our Concert, Opera & Drama Series.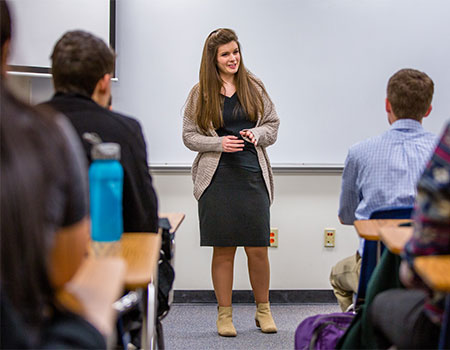 To qualify you must be a junior or senior in high school and have primarily A or B grades in your high school coursework. Credits are limited to a maximum of 9 per semester.
Available Free Classes
Find more classes. You'll primarily want to choose 100-level courses. Private music lessons, 300/400-level courses and courses that require a prerequisite or acceptance into a specific program are not currently available for dual credit.
As an on-campus student you'll …
Connect with your professors in person
Be a part of an exciting college atmosphere
Enjoy free admission to our fine arts performances, games and much more
---
Want to take a class online?
Get 50% off at only $225 per credit
Enjoy top-notch college classes from the comfort of your own home—or a nearby coffee shop
Connect with your faculty and classmates conveniently online
Fit the course to your schedule
More about classes through BJU SCOPE
Dual Credit
You may be able to earn dual credit when you take a class from BJU. Contact your school administrator or superintendent to see if you are eligible.