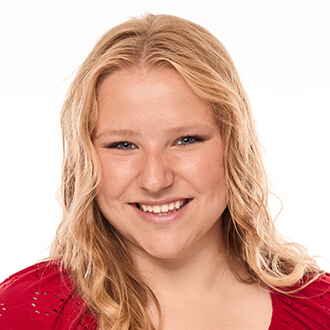 Hometown: Mosherville, Penn.
Undergraduate Degree: BIblical Counseling
What type of high school did you graduate from?
Homeschool
Why did you choose BJU?
I chose BJU partly because I had family attend here but also because I enjoyed the Christ-centered atmosphere where it felt ok to be excited about Jesus.
How have you grown over your years at BJU?
I grew a lot in personal confidence and trusting His plan. I began freshman year being so shy I was petrified to even go into the dining common at all. Over the years, however, I came to learn that being confident with who God made me brought to me the kind of friends that I will always be close to! It attracted people that also are real and not superficial. I learned how to trust God and be ok with His plan over my own.
What is your favorite class in college?
Theology and Practice of Biblical Lifestyle was my favorite class because of the professor. He made the class extremely practical. Even though there were several projects due throughout the semester, they were practical. They were able to be used in my life and not just tucked away in a file folder, never to be seen again.
What are your hobbies or interests?
I love chickens, flowers/gardening, going to thrift stores and farmers markets, music (singing and playing piano and ukulele), sewing, crocheting, knitting, animals and all things outdoors!
Any advice for incoming students?
Don't be afraid to put yourself out there sometimes. Sure, you might get laughed at once in a while, but being yourself is a sure way to make true friends instead of fake ones and enjoy your time as a student to its fullest!